World Mental Health Day? Shouldn't that be every day?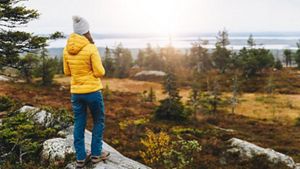 Debbie Bullock, Aviva's wellbeing lead, looks at how we would all benefit from thinking of every day as a mental health day.
World Mental Health Day comes around on 10 October every year. But, in a way, it falls on every other day, too. Because employers — indeed, all of us — need to keep mental health issues at the head of the agenda for 365 days a year.
Events like this are great for raising awareness, but it's all too easy to launch an initiative in good faith and then give the issues raised less attention as time elapses since the event itself. We need to do all we can to make sure mental health concern is never far from the minds of people at all levels of the business.

This is even more important at a time when so many restrictions have been lifted and it's tempting to think that things are gradually returning to normal. Because mental health issues caused by the pandemic are likely to stick around longer than the pandemic itself.

Poor performance and absence due to poor mental health can be as damaging for businesses as they are for the concerned individuals themselves. I've included my top ten tips on how employers can help protect the mental health of their employees. They're all based on approaches we've found to work well at Aviva, and they're designed to be effective whether the challenges employees face are a direct result of the pandemic, or related to other issues…

10 ways to help look after your employees' mental health all year round

1. Make sure everyone feels free to talk openly

Everyone needs to know that focussing on mental health isn't just for one day a year. To do this, you'll need to make sure the noise level doesn't drop. Regular communications — via channels such as email, intranet or posters within the workplace — are important here, but first and foremost we need to make sure the culture of the business encourages the conversations which these communications should prompt. Employees need to feel they can discuss issues of all kinds without fear of retribution or ridicule. 

2. Empower your line managers

It's important that line managers understand mental health and are happy to have a conversation with their team members about it — whatever the cause. They should be particularly aware of signs that someone is finding it difficult to cope with growing levels of stress. It's worth investing in some training to help line managers learn more about mental health in general, but also the specific challenges which may face staff at different life stages, and how these may lead to anxiety. This training need not be too time consuming and can often be delivered remotely, to fit in at convenient times alongside core duties.

3. Make full use of natural enthusiasm

If you've recruited wellbeing champions — volunteers from all levels of the business who enjoy supporting their colleagues — they will play an important part in making everyone aware of resources available and organising activities — including those relating to mental health. People listen to their peers!

4. Schedule catch-ups to maintain momentum

Leaders need to catch up regularly with team members and listen carefully to what they say about issues affecting wellbeing, then act on what they've heard.

These catch-ups would allow the people at the top of the business to understand what's happening at the coal face, and learn from initiatives designed to support mental health that didn't deliver as expected. 

5. Stay close to remote workers

Employees within a business frequently work in multiple locations, whether that means multi-site facilities, field work or — increasingly — working from home. it's helpful to gain an understanding of these diverse perspectives to avoid the feeling of disconnection which can lead to low morale and ultimately, poor mental health. Make sure you keep in close touch with all remote workers, helping you to stay engaged with them. 

6. Take care to avoid an 'always on' culture

As more employees work from home — and with increasing use of technology capable of blurring the lines between work and leisure time — the feeling of being 'always on' can easily arise. This can be a source of anxiety or stress. 
Simple measures such as the way we use email can help. If colleagues are sending an email at a time when the recipients are unlikely to be working, they could make a point of saying that they don't expect a reply right away. Encourage colleagues to create 'book ends' at the start and end of their day to create a clear transition between work time and personal time… and put all those work devices out of sight when not 'at work'.

It's also important for leaders to give a good example by keeping their own work-life balance in harmony!

7. Provide an Employee Assistance Programme (EAP)

If you don't already give your employees access to an EAP, it's worth considering this. An EAP can put employees into contact with third parties such as counselling and referral services, helping them to deal with personal problems that might affect their performance and wellbeing at work. It's important that employees know how they can access professional help when they feel in need of assistance that goes beyond the support they can get from their colleagues.

8. Have a company strategy on wellbeing

Employers, managers and colleagues need to create an environment of trust and confidentiality. To help with this, you could consider setting out your approach to wellbeing in the form of a company strategy.

This could include issues such as work-life balance and how support can be accessed by employees who need it. If you're unsure about which areas to focus on, your workplace benefits provider should be able to help. 

9. Lean on your workplace benefits provider

Don't be afraid to ask your provider for help with guidance and resources to promote wellbeing. From providing supportive apps and online tools to easing access to counselling and nutrition services, they should be able to promote a truly holistic approach to mental health which goes way beyond simple awareness. 

10. Set up year-round shared interest groups
Encouraging activities as diverse as lunchtime yoga and exercise classes, book clubs or discussion groups — whether online or face-to-face — can build a sense of community which is important to maintaining good mental health. There's a strong connection between physical and mental wellbeing, so more active pursuits will benefit mental health, too — boosting the resilience of employees, to the benefit of the business as well as participating individuals.

Keep these ten points in mind and your business should be able to develop a culture that provides effective mental health support all year round… not just for a particular day in October. But let's not forget how valuable events like this can be in providing the impetus that really gets things moving. We can make the time around World Mental Health Day the start of something that's as enduring as it is important.