Get your employees talking about mental health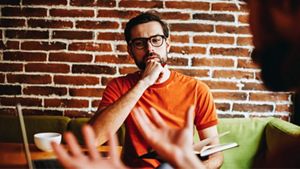 Jo Potter, Group Protection Account Manager, discusses how important it is for employers to start conversations about mental health.
Mental health means something different to everybody and can be affected by various influences: family, friends, work, sleep, exercise and diet to name just a few. So, it can be difficult for an employer to know where to start in tackling mental health issues in the workplace.
With so many people working remotely, it's more important than ever for employers to think about how to engage employees. The COVID-19 pandemic has disrupted all our lives — some more than others — but inevitably it has challenged everyone's mental health to an extent.
Mental health is not something businesses can ignore

In 2020, 57% of referrals for rehabilitation through Aviva's Group Income Protection were for mental health conditions. That statistic is largely reflected across a number of industries and it's much higher in certain sectors such as professional services.
At any given time, one in four people suffers with mental health issues. That makes it hugely important for employers to embrace any opportunity to remind employees help is available and to make talking about issues the norm.
As part of your solution, you could consider adopting an employee assistance programme. These are a great initial touchpoint for employees to confidentially discuss any issues and get in-the-moment support. They also help employers gain advice on how to handle potential issues in the workplace.
During the pandemic, employee assistance programmes have provided invaluable support. Alongside regular support, they can also offer live webinars on key employee concerns at this time: balancing work and home life, looking after your mental health, self esteem and many more.
With mental health, giving support as early as possible is vitally important. By addressing issues, signposting to help, and providing treatment quickly, early intervention can help you keep employees well and in work. And if an employee has to take time off, it can also help get them back to work more quickly. 
Let your employees know where they can find help
Often, employees are unaware of the support available to them. As an employer, you can use awareness weeks to promote useful services and educate your employees on what help is out there.
There are a number of awareness weeks centred on mental health throughout the year, which can help you highlight how different areas of support can work well together. For example, educational sessions — seminars or presentations — work well with interactive sessions or information stands with 'giveaways' to encourage engagement.
Virtual sessions with employees can make a big difference. Booking in time for a coffee and a chat can help employees to talk about how they are feeling and share ideas for copying during challenging times.
An approach like this not only helps promote the support available but also creates a 'feel good' atmosphere. As an employer, your workforce can see you're proactively looking after their health and wellbeing by putting practical steps in place to support them. 

Build a wellbeing strategy to keep your employees happier and healthier
We all have down days, so it's important to remind your employees that it's okay not to feel okay. It's also important to let them know where they can find help. Your wellbeing strategy should help you do that, giving you the opportunity to highlight the importance of mental wellbeing in the workplace.
You could create a calendar of events based on relevant topics and make this known to employees. You could use Wellbeing Champions within your business to co-ordinate local events, which works well for multi-sited organisations. 
Using absence management data, you can also identify specific trends impacting your business. Once you have this information, you can target these areas to promote the best return-on-time investment for these events. 
Employment engagement surveys are another fantastic way of gauging how employees are feeling. By including questions about wellbeing, you can gather invaluable data on what's on the minds of your employees. And once you know that, you have a chance to change things for the better and make a difference in your employees' lives.
Raising awareness of wellbeing issues will help you support your workforce
Many awareness days or weeks are often backed by charitable organisations who want to spread their message as far and wide as possible. Most of these charities want to spread their message as far and wide as possible.
To do this, they would provide online information which can be a great resource. You can signpost your employees to this information or use it as inspiration on topics you can cover throughout the year.
As part of your strategy, it's worth adding awareness dates to your diary to support your planning and help you promote wellbeing in the workplace.
With mental health such a concern for so many, this could be a great time to start talking about wellbeing with your employees. After all, the happier and healthier your workforce is, the more you'll succeed as an employer.