How the Retirement Living Standards can improve pension incomes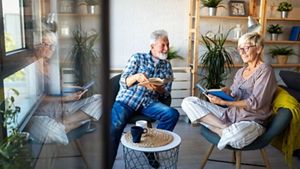 The Pension and Lifetime Savings Association (PLSA)'s Retirement Living Standards were recently updated. Discover how Aviva embeds the new figures in various initiatives.
Realistic measures that reflect the lives of everyday people
Living standards are currently a hot topic as inflation and energy prices threaten to play havoc with day-to-day financial planning. All the more reason to pay close attention to the recent update in the Pension and Lifetime Savings Association's (PLSA) Retirement Living Standards and their relevance for pension outcomes. These new numbers aren't the cold, unfeeling statistics you sometimes find from government sources; they reflect real people in everyday situations. The good news is that Aviva is already applying them to key areas of its pension business.
To recap, the Retirement Living Standards were introduced in October 2019 to help pension savers picture the kind of lifestyle they could achieve in retirement. Based on independent research from Loughborough University, they can help savers work out the income needed for three different standards of living in retirement, known as 'minimum', 'moderate' and 'comfortable'. Each standard is based around a basket of goods and services and takes into account different circumstances. For example, living inside or outside London or if the person is single, or cohabiting.
Recent research  for Aviva reveals that 40% of people don' t know how much they should be putting into a pension to have the lifestyle they want in retirement. That's why all these targets are so important to help savers achieve their desired outcomes.
New rates, new ways to transform pension savings
The single person rates have increased from £10,200 to £10,900 for the 'minimum' standard, £20,200 to £20,800 for 'moderate' and £33,000 to £33,600 for 'comfortable'. With real figures to play with, pension savers can more easily understand whether they are on track to meet their target retirement outcomes. The PLSA based the amounts required to take account of updated costs on an underlying basket of goods.
Using the Retirement Living Standards has the potential to transform an individual's retirement outcome. However, to make them as effective as possible they need to be fully embedded into interactions between savers and their pension schemes from when they first start saving, right through into retirement.
Three ways Aviva makes the Retirement Living Standards work harder
We build the Retirement Living Standards into features such as forecasting tools, financial education initiatives and scheme governance to help support pension savers to achieve their desired outcomes.
Retirement Forecaster
Our Retirement Forecaster tool helps our pension savers understand the likelihood of reaching each of the Retirement Living Standards and evaluate actions they could take – such as changing payments or retirement date – to improve their outcomes. When the standards change, like recently, savers can go online and assess the impact on their retirement plans.
Financial education
We've designed financial education material – used in workplace presentations – based around the Retirement Living Standards, as well as a video to explain the concept to pension savers. We also send 'nudge' communications to customers – explaining how they can use the standards when they get their annual benefit statements.
Scheme governance
As well as embedding the Retirement Living Standards into customer journeys, we've also integrated them into our 'Shaping Futures' scheme governance reports. This supports those governing a scheme so that they can see – for different age cohorts – the proportion of members projected to reach each of the standards. The information can be used to indicate where action most needs to be taken to improve outcomes through financial education campaigns, or changes to scheme design. From that, the success of any action can be regularly monitored in future governance reports.
To sum up, we believe that the Retirement Living Standards are crucial for effective pension planning, which is why we've placed them at the core of our strategy to improve customer outcomes. We've embedded them into key parts of customer journeys and have plans to embed them into even more interactions in the future.
Steve Jackson manages Workplace Savings and Retirement proposition strategy at Aviva. He's currently focusing on improving member engagement to deliver better member outcomes. He is a qualified actuary with over 30 years' experience in the workplace benefits market with different providers and the Regulator.