Technology: an enabler or a pressure point?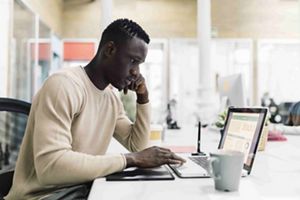 Debbie Bullock, wellbeing lead at Aviva, talks about how technology can lead to an 'always on' culture and how to address that.
Technology has changed our world so much. Communication is now immediate with emails, instant messaging, phone calls and video conferencing making things happen at lightning speed compared to just a few decades ago.
But there's also a downside to this. The ability to work from anywhere at any time can lead to an 'always on' mentality, which isn't necessarily a good thing.

With remote working currently the norm for many, people can find there is no escape when home is work and work is home.
It can be hard to switch off without the usual boundaries in place
This can lead to problems with mental health as employees feel pressure to work all hours of the day. While there's nothing wrong with checking the odd email now and again, where do you draw the line when the work phone or tablet is always there within arm's reach?
In our recent report 'Embracing the Age of Ambiguity', we asked respondents whether they agreed the boundaries between their work and home life are becoming increasingly blurred. The first time we asked that question in February 2020, 40% [1]Footnote 1 agreed with that statement. When we repeated the research in August 2020, that number had climbed to 52%. On top of that, 24% are troubled by work interfering with their home and personal lives.

Our research suggests the pandemic may have exacerbated the issue, with more people than ever before forced to work from home for months on end. Without the usual bookends of commutes or school runs to help structure the day, many employees find it hard to switch off. Plus, juggling work and home life in the same location has been stressful for many, with employees feeling they are never entirely at work, but never fully away from it either.

This pressure could lead to problems
While working remotely or flexibly has been beneficial for many, this blurring of home and work life can become a problem if it starts affecting employees' mental health. Some may experience symptoms like headaches, mood swings or difficulty sleeping as they work longer hours without taking breaks and have fewer social engagements to break the work cycle.
The pressure to be 'always on' can also lead to burn-out. This is a psychological, physical and emotional state people can find themselves in when they've been dealing with poorly managed stress for a long time.

There are also other factors at play. Remote working changes the way employees interact with both their colleagues and their employer. Many employees previously reported feeling lonely or isolated at work, but with remote working currently the norm for many, there is the potential for this issue to become even more of a concern.

The working environment can be a key driver of mental health conditions amongst the working population. So, it's no surprise that this blurring of lines between home and work has contributed towards employers reporting an increased number of employees with mental health conditions.

This is an ongoing concern for businesses as there is a link between wellbeing and productivity. Happy employees are important not only for the performance and survival of businesses but also as a magnet to attract talent.
5 ways to improve the situation for you and your employees
It's important we're masters of technology rather than slaves to it. Here are a few hints and tips to help you and your employees take control:

Set a time to finish work for the day
If you're lucky enough to have a dedicated room at home to work, leave and close the door until the morning. If not, put the work devices in a drawer, behind the sofa, anywhere out of sight. The phrase 'out of sight, out of mind' really does apply here.
Find an activity to signal the switch from work to home
This will fulfil the same function as your commute used to, helping you make the mental transition. It might be walking the dog, a YouTube exercise class, or preparing a meal – whatever suits you. 
Be clear about your usual working hours
Make sure others know your working hours, perhaps by putting them in your email signature or your work calendar. This helps them know when they could expect you to act and respond.
Model good behaviours
If you are a leader, role model these behaviours and talk about it openly with your team. You need to lead by example, not just talk a good game and then do the opposite.
Ditch technology sometimes
Find ways to interact with colleagues and friends and family, including some that don't involve a video call! Pick up the phone and have a chat, so you can move around instead of being fixed in front of a screen. Even if you do use video calls, think about having some strictly social events (no work talk allowed) to help people connect.
Remember, it's the repetition of actions which creates habits for sustainable change in behaviour.

To find out more about what employees really feel about working life today – download our Embracing the Age of Ambiguity report (PDF 9.2 MB) now.

Debbie Bullock, Wellbeing Lead, successfully leads the strategy and delivery of the award winning Wellbeing@Aviva programme in the UK for 16,000 colleagues. She regularly shares her experience as a wellbeing practitioner for the benefit of both individuals and corporate organisations.