What are the top three questions from retirement savers?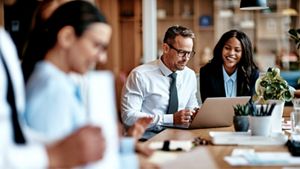 Laura Stewart-Smith talks about financial education and the questions that come up most often.
Over the last few months, we have seen an increase in financial "housekeeping" as many people reduce their spending. Financial security has never been more important as we move into what is likely to be a difficult period for the economy. Alongside that, financial education has long been a key objective for many employers and providers to support employees through choices relating to their pensions.
During my time working in financial education we regularly hear similar questions being asked by employees and it's likely that we'll continue to get these popular questions over the coming months.
So, what are those all-important questions?
'How much should I be saving?'
This is the big one. And yet it's one of the toughest questions to answer. As a rule of thumb, at Aviva we recommend people should save at least 12.5% of their salary, but that's just a guide and it's not necessarily right – or practical – for everyone.
We offer plenty of online information, tools and guidance – like our retirement planner – to help people better understand and plan for their retirement. The more engaged employees are with their pension, the more prepared they will be for retirement. The consequences of ignoring your pension could lead to poverty in retirement for some or an ageing workforce as people can't afford to retire.
'Should I make my own investment decision?'
A pension could become the greatest sum of money an individual ever has to manage but making an investment decision can be daunting for some.
Often a pension is the first time people face making this type of choice and, in this case, too much choice can be overwhelming.
To make life easier for pension savers, most schemes will offer a default investment choice. This is often a type of lifestyle fund in which members of a pension scheme are automatically invested, which will gradually move money to lower risk investments as a member nears retirement. Those who don't want to make their own investment choices usually stay in this fund.
While the default investment fund is the easiest path for many pension members to take, it can lead to complacency. But that doesn't mean no decision is necessarily a bad decision.
Most default funds manage investments in line with the selected retirement age from start to finish. They can be perfect for those who have no desire to spend time reviewing investments or taking advice. Plus, due to regulatory requirements, default funds tend to have a higher level of scrutiny from trustees and employers to make sure it's appropriate for the scheme.
Ultimately, the answer to this question depends on how comfortable the individual feels about making their own investment decisions. On average, around 70% [1]Footnote 1 of people don't make an investment choice. Of the 30% [1]Footnote 1 who do make a decision, nearly half do so once and don't regularly review their investment choice. 
'Should I transfer my pension?'
Over their working life, many people move from employer to employer, picking up a new pension scheme each time. Once you have several pensions on the go, it's easy to lose track of them and they could become more of an annoyance than a reassurance. 
Often, when an employee leaves an employer, they leave their pension pot where it is. It still belongs to them, but the scheme administrators continue to look after it. However, it's possible to transfer older pensions into a new pension scheme. In fact, the idea of having it all in one place appeals to many people.
The good news is that individuals don't have to decide straight away. Employees can generally transfer a pension at any time. However, just because they can doesn't always mean they should – it's a big decision and needs careful thought.
We don't want people to be financially disadvantaged by deciding to combine pensions. That means understanding the pros and cons of the new scheme in comparison to the old scheme. We'd always recommend accessing regulated financial advice before transferring a pension. An adviser will look at the person's full financial circumstances and recommend the best course of action for that individual. Please bear in mind an adviser is likely to charge for this service.
If you want to find out more about pension transfers, you can read more at Money Advice Service. 
Help your employees learn more about managing their finances
Financial housekeeping doesn't come easy to everyone and pensions in particular can be very complicated. For that reason, it's important to help your employees understand more about their finances. The more knowledge they have, the easier they will find it to manage their financial affairs. 
Being more engaged with their finances will also help lessen the stress on your employees and make them feel more able to face and plan for their future.
Laura Stewart-Smith is a Workplace Savings Manager for Aviva, she is diploma qualified in financial planning and has spent the last 15 years working in workplace benefits. She is an Aviva spokesperson specialising in employee engagement and financial education and is regularly featured in the media.