Let's talk about the menopause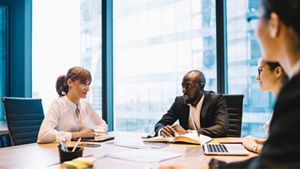 The menopause doesn't just affect women in the workplace – it's an issue for us all. So, why don't we talk about it more?
We're breaking down taboos in the workplace and that is a great thing. These days, we're all more open to conversations about mental health, wellbeing, sexuality and a whole host of other issues.
But there's one subject people still prefer to avoid and it's one that directly affects half the population at some point and indirectly affects the other half. What is it? The menopause.
It's a subject rarely mentioned at work. People don't even mutter about it unless it's in jest, but the menopause is no laughing matter.
Recognising the symptoms isn't easy
Part of the problem is that while people generally know about hot flushes and night sweats, they don't realise how many other physical, mental and emotional changes the menopause can bring. In reality, the 34 symptoms [1]Footnote 1 are many and varied and can have a huge impact on an individual's health and wellbeing.
Andrea Woodhouse, senior legal counsel at Aviva, says: "I didn't recognise many of the symptoms I experienced as being connected to the menopause. When my mind went blank, I began to worry I may have dementia or brain cancer. The psychological effects of the menopause are some of the least widely known.
"And until it happened to me, I didn't realise how debilitating night sweats can be, how tired they would make me and how much stress they would put on my relationship. I feel very much like I lost 10 years of my life to battling through the menopause symptoms without knowing what the cause was. And that's just my experience."
Everyone experiences their own personal menopause, struggling with different symptoms. Three out of four women experience symptoms of the menopause, while one in four experience severe symptoms [2]Footnote 2.  For the lucky few, the menopause will be easy, but for most it's a hugely stressful time of life, often made more difficult by the secrecy that surrounds it all.
Andrea's experience of the menopause and how it affected her at work has driven her to urge companies to look more into the issue. She says:
I'm passionate about the need to raise awareness of the menopause and the problems it can cause in the workplace. People going through this need support, not to feel swept under the carpet. Because this isn't simply a problem for middle-aged women – it's a problem for everyone.

Andrea Woodhouse, senior legal counsel at Aviva
Menopausal employees are an integral part of the workforce
The average age for women to reach the menopause is 51 [2]Footnote 2.  It can be earlier than that and the symptoms can go on for years. And the symptoms can start up to 10 years before, so from 41 on average.
According to the ONS, menopausal women are the fastest growing demographic in the workplace [3]Footnote 3.  One in four women [4]Footnote 4 think of leaving the workforce because of the difficulties the menopause inflicts on them. Even worse than that, one in 10 actually do [5]Footnote 5. 
Research by the University of Leicester in 2017 [6]Footnote 6 revealed the menopause has an adverse effect on businesses and families. By ignoring the problem, businesses make it harder to recruit and retain older women. This also affects issues like diversity in the workforce and the gender pay gap to name but two.
As an employer, you face losing valuable, experienced employees, who should be in the prime of their career.
Let's start by raising awareness…
Firstly, we need to raise awareness about the symptoms of the menopause and how they can affect everyday life.
By making it easier to find accurate information about the menopause, we can help people understand and recognise the symptoms they're experiencing. We can also help educate others so they can better understand how the menopause can affect those going through it.
…and offering practical help
There are practical things you can do to help menopausal employees too. Here are a few examples of steps you could take:
Introduce line manager training on this issue – being able to spot symptoms and offer help can mean employees getting the help they need as soon as possible
Create an accepting environment – an open, supportive culture and positive language can help people dealing with the memory and concentration lapses the menopause brings
Offer flexible working – this can be a godsend to people who aren't sleeping at night
Allow working from home – an employee suffering from flooding may have to change their clothing often and suddenly, which could be hugely distressing and embarrassing
Relax uniform policies – wearing cooler, looser clothing can help with hot flushes
Let employees set up support groups – knowing you're not alone can be hugely beneficial
Provide workplace aids – a desk fan can help with hot flushes
Signpost to helpful information – help your employees find accurate information on the menopause
These issues could be incorporated into a menopause policy or guidance.
Let's make the menopause more manageable
Every good business owner knows their staff are the most important part of their business. It makes complete sense to invest time and money in them – and that should include supporting older, experienced employees going through the menopause. Often they are an integral part of the workforce and helping them cope with the menopause could also help increase your business resilience.
Ultimately, the menopause isn't just about those experiencing it.
It affects anyone who lives, works or socialises with them.
It affects businesses – your workforce, your resilience, your bottom line.
It affects us all.