More than a pinkie promise: building an age diverse workforce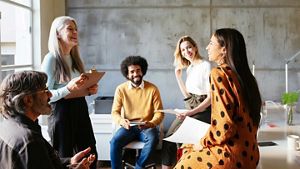 The Age-friendly Employer Pledge could help put age diversity goals in action.
Whether a pinkie promise between kids or a handshake agreement between adults, making a commitment is meaningful. 
As the landscape of work shifts through different places, spaces and ever-changing faces, employees may look to see what support their employers are giving. 
With three quarters (76%) of employers recognising the importance of having employees aged over 50, based on our Working Lives report, aiming for a more age diverse workforce may be a pledge worth exploring. [1]Footnote 1  
"There are more than 1.2 million workers over the age of 65," says the Chartered Institute for Professional Development (CIPD) and "over 10.4 million older workers account for close to a third (32.6%) of the workforce." [2]Footnote 2  So, there's no shortage of talent and these figures will continue to grow in the coming years [2]Footnote 2 , especially with current skills and labour shortages pushing vacancy rates to record highs. [3]Footnote 3  
In the last year, one in ten (10%) employers have introduced support for retaining over 50s employees for the first time. [1]Footnote 1  And for those employers who aren't sure where to begin, the Age-friendly Employer Pledge (from the Centre for Ageing Better) may be a positive first step. 
3 ways making the pledge could help your business 

In addition to making the pledge ourselves, more than 200 organisations pledged to become an Age-friendly employer. It's "a nationwide programme for employers who recognise the importance and value of older workers, are committed to improving work for people in their 50s and 60s (and beyond) and are prepared to take action to help them flourish in a multigenerational workforce." [3]Footnote 3  
With support and leadership, recognising the importance and value of older workers can help businesses flourish. With the skills and labour shortage costing UK businesses up to £6.6 billion each year, finding and keeping over 50s may help employees (individually and collectively), businesses and the economy to grow. [3]Footnote 3   
And having a multi-generational workforce could mean: 

securing business knowledge and skills – building a team with different ages, including 50 plus, pulls together a range of skills, information, knowledge, experience, and perspectives. When met with a challenge, this is empowering. And it's about keeping this expertise in house, within the teams, not just locked away in one person's mind. As employees share their skills and knowledge amongst different ages, there's a lower risk to the business of losing this information if people leave. For most skills and knowledge, it's about experience, agility (mental, social, emotional) and the willingness to share – age isn't the point. 
lowering turnover – over 50s employees may lend a sense of stability to a business. Whether because they've found their long-term home and life in a community they're less willing to leave or because they've had more time to find a job that fits them best, older workers may be seen to be more loyal. This may help create a company culture that encourages staying, especially as positive working relationships are nurtured between younger and older employees. 
increasing productivity – having 10% more older workers than an average company may give a one-off boost that's worth a little more than one year of growth. So, having more workers aged 50 plus can help businesses become more productive. [4]

Footnote 4

  
Like us," says Aviva's Diversity, Inclusion, & Resourcing Director Jonny Briggs, "many companies recognise the importance and value of their employees who are 50 years plus. But, sometimes, it may be hard to know where to start in attracting, keeping, and supporting an age diverse workforce. We're proud to be an Age-friendly Employer and recognise that keeping our promise is a long-term commitment.
Building the pillars for your employees  

The pillars of the colosseum in Rome weren't built in a day and neither will those supporting over 50s employees. But there's advice and support available to help businesses who are keen to nurture their older workers.

Recruitment – "Our research," says the Centre for Ageing Better, "shows that making job ads more appealing to older workers does not deter younger workers." [3]Footnote 3  Avoiding phrases like 'recent graduate' or 'newly qualified' and adding a diversity message that includes age-inclusivity may bring more age diverse candidates. Making sure job adverts focus on specific behaviours and skills rather than personality traits also encourages the best applicants for the job, not simply based on age.

It may also help to look at the data, specifically whether older applicants are likely to get an interview or which positions are attracting more or less older applicants.

Culture – workplace attitudes and beliefs toward older workers could be understood by asking questions and reviewing the data or responses. Whether through anonymous surveys or internal community chats, it's important to regularly ask:

do older workers feel safe, included, and valued within their team?

do they have a voice in their skills development and training needs?
what steps can be taken to show equitability with our older workers?
Progression – it's important to meet over 50s workers at their needs. This may look like exploring training and development for career progression, making sure there are regular meetings with managers to support next steps. Or it may sound like conversations about pensions, money matters and what resources are available to help financial planning. 

Retention – keeping older workers might have a lot to do with the culture of the workplace and whether their health and career goals are supported. "We know," says the Centre for Ageing Better, "that flexibility is the key factor that attracts workers in their 50s and 60s, and it enables people to stay in work." [3]Footnote 3  Having flexible working options may be attractive to all worker, but especially relevant to those with caring responsibilities or who have long-term health concerns. 

For those who are in perimenopause or menopause, an estimated 13 million women in the UK, may find the option of flexible working a positive step in caring for their symptoms. [5]Footnote 5  Beyond this, for example, offering employees support through apps for menopause could help keep older employees more comfortable and active at work. This means having access to consultations, live chats, mental health support, exercise workouts, and educational content. And creating a safe online space for employees to chat about menopause (anonymously if they choose) can help create a culture of empathy and acceptance in the workplace. 

Making a pledge means showing what you value and holding someone's trust close to hand. If you'd like to learn more about becoming an Age-friendly Employer, check out the steps here.