The top five risks troubling UK businesses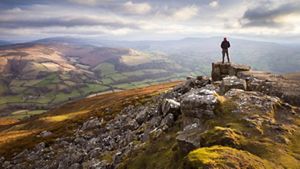 In our second annual Aviva Risk Insights Report, we asked business leaders what keeps them awake at night.
We talked to over 1,250 leaders from small, medium and large UK businesses, covering 9 industry sectors, about what they see as the key risks for the year ahead. Here are their top five risks:

The economy – 37% say economic concerns are one of the biggest risks they are exposed to, although 61% of firms are more optimistic about their own prospects that the UK's as a whole (34%)
A shortage of skilled workers – Shooting a whopping six places up the list from last year to second place, 28% of businesses cite this as a major concern
Loss of reputation and brand value – a quarter of companies view threats to their brand and reputation as one of their five biggest risks
The impacts of Brexit – This particular issue seems far from done for firms, with 78% saying they are worried about its effect on their business, trade or general disruption
Public health events and Business interruption including supply chains (joint fifth place)

With the COVID-19 pandemic still ongoing, 24% of firms are still nervous about what it means for their business. 24% also worried about issues like the supply chain causing problems for smooth business operations.

Rounding out the top 10 were:


Changes in legislation and regulation (22%)
Cyber security (20%)
Market developments, including mergers and acquisitions (17%)
Mental health and wellbeing of employees (16%)
New and changing technology (16%)
Interestingly, climate change and environmental risks didn't make the top 10 for the second year running. It came in at 14th place, with just 8% citing it as a top five concern. However, of those that did rank it as a top concern, 67% saw it as both urgent and worrying.
Getting behind the headlines
The economy
The headline figure here is that only 34% of businesses have confidence in the UK economy as a whole. Confidence is notably lower for smaller businesses with only 48% saying they are confident about their own economic future, compared to 73% each for both mid-market businesses and large corporates.
The skilled worker shortage
The issue of a shortage of skilled labour has hit the headlines recently, and it's definitely causing concern among businesses. Our report shows it is the most pressing of all the risks, with 71% of businesses saying that solving the worker shortage was 'urgent'.
The impacts of Brexit
The ramifications of the UK's exit from the EU remains an ongoing headache for British businesses, with one in four (25%) saying the impacts of Brexit are one of the biggest risks they face. It is the top issue business leaders worry about (78%) and the second most urgent risk to address (70%). Companies of all sizes across most sectors told us Brexit will have a negative long-term impact on their business.
On top of that, firms also cited this as being the single risk most in danger of being given too low a priority as the UK returns to business as normal. More business leaders said the UK is in danger of ignoring the uncertainty around trading after Brexit (24%) than any other risk, including business interruption due to further lockdowns (21%).
The supply chain
The fragility of the supply chains has made news headlines this year. Businesses are responding to this risk with 53% telling us they are taking steps – or planning to take steps – to de-risk their supply chain. This figure rises to two-thirds or mid-sized businesses and corporates.
Businesses are managing the increased risk to their supply chain, with 26% aiming to cut costs and 14% aiming to avoid reputational risk. Brexit and the disruption caused by the pandemic are the catalysts here, with 19% saying Brexit 'forced' a change, and 18% citing the pandemic.
Business resilience
After several challenging years, we did hear positive responses here with 86% of businesses saying they believe they are very or somewhat resilient.
This confidence could be misplaced, though, as 75% of businesses don't regularly update or test their business continuity plan. However, 2020 saw a massive increase in risk management activities due to the pandemic. Our survey showed only 8% of businesses are looking to reduce this.
It's better to be prepared for what may come
Adam Winslow, CEO, UK & Ireland General Insurance, Aviva, said: "Aviva's Risk Insights Report captures British businesses as they emerge from the pandemic, eager to grow, but still clearly constrained by a host of pressing and interconnected risks."
"Businesses have really shown their mettle over the last couple of years, adapting to an ever-changing set of urgent risks. The year ahead is likely to pose continued challenges, including the threat of flu and COVID-19 this winter, as well as seasonal weather events, both of which could put additional pressure on staffing shortages and supply chains."
"Now is the time for businesses to double-down on their risk management and business continuity planning to prepare for a wide range of potential stresses and risks. Business continuity plans should be regularly tested. And risk management strategies should – if not already – be at the centre of an organisation's planning and strategy so that they can best prepare and protect themselves from a range of extreme and high-risk events."
It takes Aviva to help you build your business resilience with up-to-date insights on risks.