Why it's good to keep your employees volunteering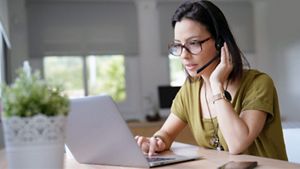 With all the new guidelines surrounding coronavirus, traditional approaches to volunteering have had to change.
But that doesn't mean it has to stop. Instead, the world needs volunteers now more than ever.
At Aviva, we know the value of volunteering, so much so that we give our employees 21 paid hours leave every year for volunteering. We've seen first-hand what a difference it makes to those being helped and those doing the helping. It's likely you've seen the same thing with your own community and workforce.

Volunteering gives a healthy, positive boost to all concerned. But while we're in the middle of a global pandemic, your usual volunteering opportunities are probably no longer allowable.

Although restrictions on movement are slowly relaxing, it will be a long time before your staff can volunteer as a group to makeover gardens or paint rooms for charities or care homes.

But that doesn't mean there aren't still opportunities for volunteering and there are very good reasons to make sure your people can still do something for others.
It's good for your community
With everything so different, there are plenty of ways your employees can make a difference within the community while still observing all the new rules and requirements.
Many charities are currently under enormous pressure to keep offering their service, which is often needed more than ever at the moment. They are desperate for volunteers and welcome any extra hands they can get.

Your staff can volunteer to do all sorts of essential or helpful things, such as:

Shopping for elderly or vulnerable people
Picking up prescriptions and delivering them to the door
Checking on people who are shielding or self-isolating to see if they need anything
Driving essential supplies to places or people in need
Delivering hot meals to people unable to cook for themselves
Answering phone calls or emails for helplines or charities
Remotely connecting with care homes to keep up residents' morale
Digital volunteering
Offering their skills to people who need their help
Making PPE for key workers
Donating blood
There are just a few examples of the ways volunteering has had to change under the current need to observe government guidance on social distancing and protecting public health.
It's good for your employees
Volunteering has a positive impact on mental health. That feeling of doing good for someone else helps release endorphins, the body's natural happy hormone, giving people a genuine boost to their mood and overall wellbeing.
It helps improve empathy for others, builds self-esteem and helps those who take part feel like they are part of a team.

All of that is important in normal times, but at the moment, it could make a significant difference to your employees.

With normal routines and connections disrupted, some of your employees may be struggling with social isolation, loneliness, a lack of purpose. Feelings like this can affect anyone, but if you've had to furlough your staff, many may be struggling to fill their days and feeling useful. That could lead to mental health problems.

Volunteering is a great way to manage or improve mental health. It gives people something to do and the feeling that they're part of something bigger, that they can make a difference.

It may be something as simple as picking up litter during their daily exercise. It could be helping charities that call or video chat with elderly or shielding people to help them feel less alone. It may be offering to walk dogs for people who can't leave their house.

Whatever they choose to do, volunteering can tick so many boxes, helping your staff be their best selves at a time when anyone may be struggling.  So, all in all, while volunteering may seem like the last thing you need to think about at the moment, it could be a game changer for so many people in these strange times.