Equal parental leave: why it's good for employers too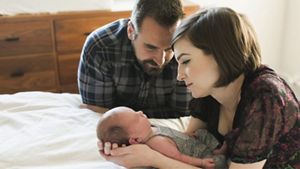 A year's passed since we've started offering men the same parental leave as women. The policy been popular — but we've found some insights.
Parents employed by Aviva are eligible to the same amount of paid and unpaid time off, regardless of gender, sexual orientation or how they became a parent (birth, adoption or surrogacy). Under the policy, all UK employees are able to take 12 months of leave when a new child arrives, including 26 weeks at full basic pay.
Our figures reveal an encouraging response. Across Aviva, more than 700 people, including almost 300 dads, used the scheme in the first ten months. In the UK during the same period, around 500 parents took time off and almost half were male.
As we thought, dads want to spend time with their new arrivals, just as mums do. But the scheme is also continuing to deliver benefits when parents return to the workplace — and not just for the parents themselves…
Coming back to work a changed man
Dads are returning to work with new insights, not only about themselves, but about how women might feel when they take maternity leave. Many have said they view things with a fresh perspective. They can see what women have experienced for generations: worries about perceived commitment to work, about balancing a family with a career and anxieties about returning to work. As a result, they are more thoughtful about others' situations.
When more people can make the best of their abilities in the office, it's good for us as an employer and as a business. And more than this, we're convinced that having employees with the ability to appreciate other people's perspectives goes a long way towards helping us understand our customers' challenges, motivations and attitudes — enabling us to design and market products and services that meet their needs more effectively.
Caroline Prendergast, Aviva's Interim Chief People Officer says:
"The feedback from our returning parents has been fantastic. If we are going to create a diverse, inclusive workplace where everyone can thrive, we must avoid viewing people as just one thing — a woman, a carer, an older worker — and instead see the value they can add. By better understanding one another as employees, we can better understand our customers, so there are benefits all round. We want to create an environment where everyone is recognised solely for their talent."
Our experience has been a positive one — and we think it could inspire other employers to look at the bigger picture when it comes to parental leave. And don't just take it from us, here's what the policy has meant to some of our employees.