Putting ESG at the heart of My Future Focus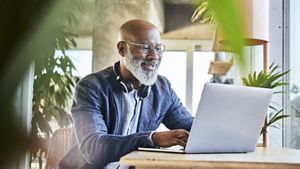 With more advisers and trustees considering ESG concerns, we outline how we're going the extra mile to embed ESG in our My Future Focus solution.
My Future Focus is our default investment solution, which is managed by our dedicated asset manager Aviva Investors.
As a global investor and a major pension provider, we have a duty to invest responsibly. We must also use our resources to try to deliver long-term, sustainable returns for our customers. And as a steward of people's money, we have a responsibility to act on issues – from climate change to tackling gender inequality and more.
That's why we've put environmental, social and governance issues (ESG) at the heart of the design and management of My Future Focus.
Tapping into our expert in-house ESG resources
Our dedicated in-house team of more than 30 responsible investment analysts plays a pivotal role in this.
From plastic pollution to the circular economy to human and labour rights, each analyst is an expert in their area, fully up to date with the latest developments.
The team's pedigree shines through with insightful thought-leadership, enhanced by their work with charities and NGOs, reflecting a personal interest to see positive change. The breadth of experience has been gained by work on specific climate change, agricultural, and corporate reporting projects.
Making research a key part of My Future Focus
The ESG team shares its research with the investment team to help managers stay on top of the latest ESG developments. This could be from a regulatory or science-based target perspective, showing what this means for companies and industries held in My Future Focus and their ability to create value over the long term.
We also use the research to update our proprietary ESG data models, combining internal and external data to provide quantitative assessments of ESG risks at company and portfolio level. It feeds into an ESG score for each company. Our analysts also work with the investment managers before investing, company meetings and voting.
Our qualitative and quantitative data feeds directly into how we actively manage the underlying funds in My Future Focus. We've optimised our regional equity funds to have a higher ESG score than their benchmarks. This includes a carbon intensity reduction pathway targeted to meet Aviva's net zero ambitions (cutting carbon intensity by 25% by 2025, 60% by 2030 and net zero by 2040).
Using exclusions for a better future
The investment managers who look after My Future Focus use exclusions to align the solution with Aviva's net zero target and our overall approach to responsible investment.
ESG considerations are a non-binding, but critical part of the investment process viewed alongside other risk factors. The portfolio managers are empowered to make the right decisions for the best investment outcomes, both for our customers and the businesses in which we invest.
We don't invest in companies and sectors that generate prescribed levels of revenue from:
controversial weapons and civilian firearms
unconventional fossil fuels (arctic oil, oil sands)
tobacco production and distribution
thermal coal, and 
UN Global Compact violators.
Targeting carbon transmitters
Although walking away from heavy carbon emitters would be the easiest thing to do, it's better to deliver change through engagement.
That's why we launched our Climate Transition Escalation Programme in February 2021. The first initiative of its kind, it helps 30 systemically important carbon transmitters along their journey to net zero.
Driving positive outcomes with engagement and shareholder voting
All the businesses we invest in and engage with – whether on net zero and climate change, diversity or tackling plastic pollution – must prove they are committed to positive change.
We need to see a roadmap with clear objectives and evidence of the progress companies are making towards their goals. In the first half of 2022, we carried out more than 500 engagements, including talking to utility firms on the UK's cost of living crisis. We work with companies to set out climate transition strategies, examine gender diversity on the board, and encourage including ESG as a target in renumeration strategy.
We know there is strength in numbers, so we also collaborate with other asset managers, charities, NGOs and the government to drive change.
Ahead of COP 26, we worked with other asset managers to advocate for creating an International Platform for Climate, which aims to make sure global financial systems can support climate goals.
Alongside engagement, voting also plays an important role in helping to change firms' practices. In board meetings, we will vote against items we believe are not in the best interests of our customers. For example, we've done this where we have concerns about executive pay or the lack of a clear pathway to net zero despite our engagement efforts.
Pushing for more and better
We've put ESG at the heart of My Future Focus. From our proprietary ESG team's research feeding into investment decisions to optimising passively managed regional equity funds to aligning with our 2040 net zero target, ESG is present in every aspect.
The outcomes we've already achieved through engagement and voting, our Climate Transition Escalation Programme, our work with other stakeholders to the International Platform for Climate underline our commitment to ESG.
We are constantly expecting more from ourselves, from companies, from government and other asset owners and managers. And we'll continue to push for more – for the sake of the planet and our customers.