Why boosting your employees financial wellbeing could be a game changer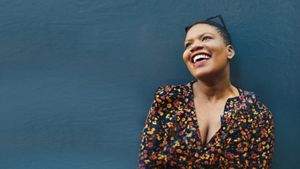 Our Age of Ambiguity research highlights that nearly two in three employees are 'just getting by financially'.
In Evolving in the Age of Ambiguity (PDF 9.15MB), the third in our series of reports into accelerating change at work, we look at how good savings behaviours can lead to better overall physical, mental and financial wellbeing for employees. However, our research shows only 35% [1]Footnote 1 of employees are showing positive signs of practising good saving behaviours.
Good financial wellbeing could make a difference
Our report highlights the positive influence of good financial wellbeing on individuals and the businesses they work for. It shows the associated benefits range from better mental and physical health outcomes to improved feelings of job satisfaction, security and stability.

Yet the findings also reveal that 43% of employees do not feel financially on track to live the kind of life they want in the future. At a time of rising inflation, [2]Footnote 2 the results highlight the need for businesses to better support financial education in the workplace.

Unlocking hidden business benefits

Investing in improving your employees financial wellbeing could prove beneficial to your business.

Encouraging and enabling a saving culture can help instil good savings behaviours in your staff, which can lead to a number of positive outcomes for your business, including:
boosting employees' sense of job security and stability
reducing employees' sense of being stuck in a job due to lack of opportunity elsewhere
improving employees' sense of being on the right career path
increasing employees' job satisfaction and enjoyment.
Building solid foundations for your business begins with getting the right talent in place. With attracting and retaining talent a priority, taking steps to look after your employees' financial wellbeing can make a big difference.

Empowering your people financially increases job satisfaction and optimism

Laura Stewart-Smith, Head of Workplace Savings at Aviva, says: "The pay-off from practising good saving behaviours extends well beyond a number on a back statement and being able to afford what you want now and in the future. Our research shows people's underlying sense of security and wellbeing – physical and mental, at work and at home – can be fundamentally impacted by the act of saving, with potential benefits in almost every aspect of day-to-day life.

"With many people facing financial challenges, these findings present a new opportunity for employers to build deeper, lasting relationships with their employees by taking steps to support their financial education and wellbeing. Saving behaviours are not only good for financial preparedness - they can also empower people in their careers, which has a knock-on effect on their sense of job satisfaction and optimism for the future.

"The fact so many people feel financially exposed suggests there is a mountain to climb, but as people start to plan career moves for 2022, now is the time for businesses to act to support employees' wellbeing and engagement to boost retention. The majority of people recognise their employer is not responsible for keeping staff financially on track, but businesses can play a key role in achieving this goal and reap the collective rewards."

Download our report to find out more

Packed full of insight and suggestions, Evolving in the Age of Ambiguity (PDF 9.15MB) is available for you to read now.

It identifies the four personality types that influence behaviours and encourages you to look at the financial wellbeing of your employees as part of a wellbeing circle, including physical and mental health.

By helping your employees improve one area of their wellbeing, you'll find you're helping them improve their overall wellbeing. That's good for them, but you may be surprised at the hidden benefits it also unlocks for your business.