Group Life: helping employees in life, not just death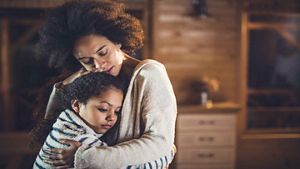 Finding protection that cares for employees through life's high and low notes, and supports their family in the unthinkable, may build a stronger workforce
As the boundaries between work and personal life try to harmonise around each other, for some employees, the two worlds may echo one another.
Whether it's going to team events with colleagues, sharing cheeky memes with work mates, or sharing big life events, employees' lives aren't separate.

And neither are those difficult moments, the lowest notes of life, like death and bereavement.

As a business's workforce grows, the challenge is finding ways to celebrate the joys of life with employees while also supporting them in times of hardship. For employees, finding an employer who can help their families, both inside and outside of work, when the unthinkable happens may give them some peace of mind.

It may not be obvious how to achieve this balance, especially through the whole of an individual's employment. Yet, research suggests that employee wellbeing (physical, mental and financial) may affect productivity. [1]Footnote 1 This means, caring for your workforce could build a stronger business.

And that doesn't mean just in death – it means showing employees you care for them in life.
With many of us feeling the uncertainties of the future," says Dr Doug Wright, Aviva's Medical Director, "helping to protect people from the unexpected consequences of ill health, or at the worst an early death, is even more important.
Here are three points to think about when reviewing Group Life options.
The flexibility
Finding Group Life cover that has flexibility may not only increase confidence for the business, but it could build trust.
For a business, this could mean choosing different levels of benefits for different types of employees. This means giving the same benefits to groups of employees, such as directors or managers. Or it may be more appropriate to offer the same level of benefits to all employees.

But having the option to choose, and building a benefits package that best supports your workforce, is an advantage. For current and incoming employees, this shows that their needs are being prioritised.
The life (before death) 

As the beat of life continually changes, finding Group Life cover that recognises the importance of supporting employees in their daily life (before death) is powerful. Imagine offering a benefits package that can work as hard in caring for employees during their employment as it could in unexpected death. 
Traditionally, this type of benefit would only make an appearance for the employee's family upon their death. And it wouldn't directly change the quality of life for the employee, during their employment with a business, or have any direct (or even indirect) impact on their loved ones.

But, maybe it could.

Finding a package that supports your employees in life, as well as after death, may be a benefit to attract new talent and make current employees feel valued.

Physical health – giving employee's access to care for their physical health, as part of their Group Life cover, may have them singing a fresh, new tune. This may look like discounts for health and fitness clubs or online workout classes. And encouraging regular exercise with available options could mean a healthier workforce with increased strength and productivity.
Mental / emotional health – offering resources to help employees with their mental and emotional wellbeing may positively impact both their spheres of influence, inside and outside of work. This could be a suite of videos and articles helping employees to manage mental ill health, stress and anxiety or it may be a mental health toolkit for managers.
And empowering employees to care for their own health holistically (physically, mentally and financially) may be possible with apps like Aviva's Digicare+ Workplace, provided by SquareHealth. From annual health checks to nutritional and mental health consultations, this puts control of their wellbeing in their back pocket and a few clicks away. 
And, with one finger prick (blood test) away, the annual health check can be done at home, so there's no need to attend a hospital or clinic. Checking twenty different health markers, it can spot problems early on and covers common issues like the risk of diabetes, cholesterol status and liver health. Employees then receive a personalised health report, including recommendations on actions they can take to help their health. 

With the Digital GP service, it also means employees can book a GP consultation seven days a week (with choices of GPs available) and it's available to spouses and children. As any parent or carer in winter months knows, with more bugs than snowflakes flying, it's a relief to have options.

The point is that your employees' life shouldn't be defined by their death.
The after (death)
Should the unexpected happen, and the song reaches a full stop, there's silence. The focus is on the family and supporting the bereavement process, both financially and emotionally. Finding a Group Life provision with a bereavement hotline or services that potentially work with children may help your employee's family to cope with the pain of loss.
And since your employees' life shouldn't be defined by their death, neither should their families.

To find out more about Group Life insurance, visit our website.

If you are a financial advisor, check out more information here. 

Terms and residency restrictions may apply; wellbeing services are non-contractual, which can be removed at any time.