Don't let poor number skills hold your people back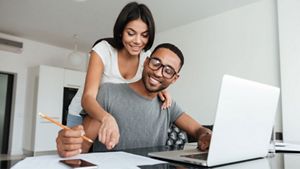 Encouraging your employees to improve their numeracy skills could improve their financial and mental wellbeing.
How many times have you heard people around you say, "Oh, numbers are not my thing" or "I'm no good at maths"? You might even have muttered those words yourself.
But you can help change that mindset by helping people recognise being better with numbers isn't a special talent but something we can all learn.
Numbers are everywhere. They're a cornerstone of everyday life. From working out and sticking to your household budget to cooking a meal, checking your change in a shop and planning a journey, we all use numbers every day.
But a report [1]Footnote 1 by KPMG found that one in two UK adults of working age struggles with using numbers. According to the report, 50% of the working-age population only have the everyday maths skills we expect of primary school children. And this lack of numeracy skills is costing the UK economy around £20 billion a year.
Better numeracy skills could improve financial and mental wellbeing
Most businesses realise it's important to look after the wellbeing of your employees. Alongside physical and emotional wellbeing, that includes financial wellbeing. If anything is guaranteed to cause stress for your employees, it's money problems – and low numeracy skills could play a big part in that. 
There's also a link between struggling with money, low numeracy skills and poor mental wellbeing. Worrying about managing family finances, understanding statements and debt can lead to stress and strain, which can badly affect mental health. 

In a recent report [2]Footnote 2 by the Money and Mental Health Policy Institute, 54% of respondents suffered severe financial detriment during extended sickness absence. This included falling behind on bills, missing housing payments and going without essentials like food and fuel. All of this only serves to pile pressure on people who are already finding life tough to cope with.

Learning new maths skills and how to use them could help any employee who struggles with numbers gain confidence and take control of the numbers in their life.
Helping adults get better with numbers is good for everyone
And that's easier to do than you might think to as you can point them in the direction of National Numeracy website for help.

Many businesses have regulations or initiatives in place to help vulnerable customers. It's only right that employers should also do what they can to help employees who are struggling.

If you can help your employees become better with numbers, you could find yourself with a happier, less stressed, more skilled workforce. After all, increased skills and higher confidence amongst your employees can only be good for all concerned.