When it comes to wellbeing, are we really all in the same boat?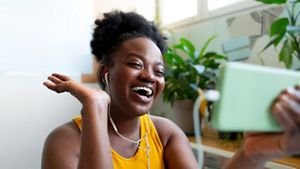 No two employees are alike… so to make personalised wellbeing work, we need to look harder at personality.
Business leaders want to treat their employees fairly when it comes to wellbeing, as in other matters. But equality is hard to define when the pressures we face aren't equal. The pandemic offered further proof – should we need it – that, faced with what appear to be similar circumstances, one person's experience can be much tougher than another's. So different people may well need different types of support to flourish in their roles.
Aviva's latest research Evolving in the Age of Ambiguity (PDF 9.15MB), suggests that one factor, in particular, may have been neglected when it comes to the way those unequal pressures arise: personality.

We don't all face the same pressures…

We already knew – or strongly suspected – that the pandemic, and the changes in circumstances it brought about, had affected different people in different ways, and the research bears this out.

For instance, we found that women are more likely to report a negative impact on their work/life balance during the pandemic (24% of women vs. 16% of men) [1]Footnote 1. And a UCL Covid-19 social study reported that depression and anxiety were consistently higher throughout the pandemic amongst women, people with a long-term physical health condition, people with lower educational qualifications, and people from BAME backgrounds [2]Footnote 2.

But the extent to which each of us is sailing their own boat – and the question of whether we're sinking or swimming – is down to more than the overriding factors which apply to differing demographics, age groups or genders. When we're considering how to best protect the wellbeing of our employees, there's a crucial factor which, until now, may not have received the attention it deserves: personality.

Aviva's report shows financial factors only account for half (51%) of someone's sense of financial wellbeing. The rest is down to other factors, including personality. Despite what might be assumed, employees with poor financial wellbeing do not necessarily think of themselves as bad with money. More than two thirds (68%) with poor financial wellbeing consider themselves organised in this respect, and 64% state they always try to minimise debt.

…and we don't all manage pressures in the same way

So, what does determine who copes well with challenging times and who is likely to struggle? The report suggests that personality type has a huge influence on individual behaviour, mindset and personal outcomes. Employees who are thriving in adversity tend to be naturally more emotionally resilient, conscientious and optimistic. Those with less emotional resilience regularly experience negative emotions, low financial and mental wellbeing, along with feelings of anxiety.

So how can employers develop an approach to wellbeing that embraces crucial differences in personality? Aviva's research has defined four distinct personality types – Resilient Completers, Impulsive Worriers, Apprehensive Achievers and Spontaneous Survivors – each of which behaves, and responds to intervention, in different ways. The report (PDF 9.15MB) explains how we can tailor support to each personality type to help individuals develop the resilience they need, both to work effectively and to help preserve their own mental wellbeing.

Many of us realise that there is a distinct need to consider varying individual experiences in assessing how much, or what kind of, support a particular employee may need. But maybe we need to look beyond even this. As well as taking into account the experience itself, we also need to think about the aspects of an employee's personality which influenced the way they responded to that experience…
Reading research like this makes us think – could we have done more, quicker? We promote our employee assistance programme, but it's important to take a holistic view about supporting physical, mental and financial wellbeing. Acknowledging the need for more tailored support for our people according to personality type as well as age, gender and disability is vital. A 'one-size-fits-all' approach just isn't enough in the workplaces of the future.

Helen Bridges, Global Workforce Operations Director EMENA/IT Business Partner Avery Dennison
People react to similar experiences in different ways. Rather than thinking that all of us are in the same boat, maybe we should concentrate on understanding what makes everyone's journey unique. Then we'd be better able to help them steer through waters both troubled and calm.