Why protecting your business from climate change is essential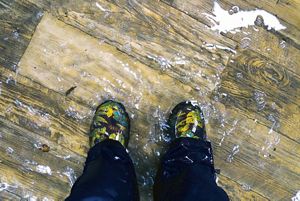 Extreme weather is putting British businesses at risk due to a lack of awareness and support according to our latest research, Building Future Communities.
According to our flood map data, almost one in three commercial properties are at risk from some type of flooding, [1]Footnote 1 with surface water and flash floods on the increase. We found that 57% of SMEs believe climate change will have an impact on their business in the next 10 years, with heat and flooding being the biggest concerns [2]Footnote 2. In fact, 25% believe it will affect their livelihood within the next year.
Of those that believe climate change will have an impact in the next 10 years, their concerns broke down like this:

42% were worried about excess heat
37% were concerned about flooding, and
35% believed storms will affect their business.
Yet despite their worries, business owners seem unprepared for or unaware of the risks their premises may face.
Our research shows 75% of SMEs don't have a business continuity plan that considers climate change risks. Just 38% have flood insurance and only 18% of all businesses have any flood resilience measures in place to protect their premises.

With enterprises more likely to factor in flooding when choosing new property, our research showed little consideration for other climate threats. We found just 17% of business owners said they would consider problems from heat when choosing new business premises and only 38% considered energy efficiency.

SMEs need more information to act
The research shows a lack of information and financial incentives are stopping business owners taking preventative action.
Of those without flood mitigation measures, 27% said they needed greater understanding of the risk their property faces, while 18% said they would like incentives to help install measures before an event happens.
Plan it with Purpose – helping your business play its part
Aviva wants to make it easier for businesses to have a positive impact on the planet, society and the environment – while also enhancing their own resilience. To help achieve this, we're partnering with Enterprise Nation, a UK-wide small business support network with a focus on smaller SMEs, which make up the majority of businesses.
As part of the partnership, Enterprise Nation and Aviva will launch a 'Plan It with Purpose' free educational hub. It offers free online events, advice and educational resources to SMEs on a range of sustainability issues, including an informative series on climate resilience.

In our Building Future Communities (PDF 6.5MB) report, we call for seven key steps for change to protect SMEs from climate change. By partnering with Enterprise Nation, we can help provide advice and support to SMES to help you make your business more climate resilient.

We're calling on industry and the government to make sure we build businesses to the right standards in the right places. Sustainability and resilient should be at the heart of the building and planning process.

It takes Aviva to help you set up your business to be resilient for the future, whatever it may bring.

Find out more at planitwithpurpose.com