5 top tips for successful return-to-work plans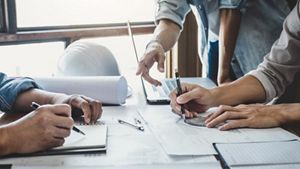 Helping employees return to work is a big part of your group protection plan, but the key aim is to make it successful.
That's where a solid plan comes in with clear steps.
Here are our five tips to designing a return-to-work plan with every chance of success:
1. Have a clear goal
Make it clear what your employee is trying to achieve and in what timeframe. After all, if you don't know where you're going, how do you know how to get there or when you've arrived?
Normally, the goal is to help your employee return to their own job within a set number of weeks, but this isn't always the case. Sometimes the person involved may have a permanent impairment to consider, which could mean a different work goal.
You may have to consider steps within the plan, each with its own goal to help your employee clearly understand and move through the plan.
In every case, giving your employee something to aim towards will help them stay on track.
SMART goals work well in return-to-work plans, so make sure each goal is specific, measurable, achievable, realistic and timely.
2. Small steps forward are better than two big steps forward, one step back 
The aim of a return-to-work plan is to allow a gentle return to the workplace and to gradually rebuild tolerances, so think carefully about your employee's working hours and days. Nobody would expect anyone to simply jump off the sofa and run a marathon without training for a year or so. It's the same when you're helping someone back to work after a long absence.
Make the initial step as easy as possible – think of it as an 'icebreaker'. Often, the employee will be most worried about the first time they return to work, so start at a level they're comfortable with to help minimise their worries.
Once they've overcome their initial apprehensions and you've sorted out any potential teething issues, you can start to gradually build up their hours and duties, making sure there are no big jumps.
By starting back too soon or by ramping up hours and duties too quickly, you increase the risk of your employee's symptoms returning and them going off work again. If this happens, it could be a big blow to their confidence and make them nervous about trying to come back again. 
3. It's not just about the hours
When you're planning a return to work for one of your employees, you'll need to think about making reasonable adjustments to their duties and the demands of their role. It's possible they may have temporary or permanent functional restrictions you'll need to make allowances for. After a long absence, it's not reasonable to expect someone to come in and complete all aspects of their usual job at their usual pace from day one. You need to find a comfortable starting point and look to increase tolerances in all aspects of the role, not just the hours.
Talk to your employee to see if there's anything they are particularly worried about. Once you have that key insight, try to find a way to gradually build up their tolerances to this aspect of their work throughout the plan.
You can consider a multitude of things:
o   Can your employee travel to work outside of rush hour to begin with if they're worried about busy traffic or public transport?
o   Can you temporarily reduce the expected timeframes for delivering work and gradually increase them throughout the plan?
o   Can your employee keep an 'out of office' notification on their emails while they're on reduced hours to stop them feeling bombarded with emails?
o   Are there any significant business updates or changes you need to slowly tell them about? Piling too much information on them at once could be too much.
o   Can you filter work through the line manager one piece at a time to reduce the risk of work coming at them from multiple angles and overwhelming them? This would also let the line manager gradually increase the workload as your employee feels more comfortable.
It's also important to think creatively about what other potential duties your employee could do as they build up to a full return to work. 
4. Tailor the plan to each person
Everyone's different, so one size doesn't fit all and what worked for one person won't necessarily work for another.
You must bear in mind that a medical condition might affect one person completely differently to the next person. Similarly, people interact differently with their work environment, so one person may have different triggers or needs than another. Plus, everyone has different levels of social support during their recovery – both at home and at work.
You should make sure you adjust a return-to-work plan to suit the specific needs of the employee you're working with.
5. Involve your employee in designing their return-to-work plan
This is the most important of all the tips we can give you. Don't fall into the trap of writing a return-to-work plan for someone on the presumption that you know what's best for them. Return-to-work plans where an employee has a degree of control over their own future are far more likely to be successful.
Make sure you include your employee in decisions about the design of their plan, listen to their concerns and work together to get things right.
o   What would be the easiest first step for them?
o   What tasks do they feel comfortable doing at this stage?
Ideally, try to focus your conversations around what your employee feels able to do rather than what they can't do. However, if there are aspects of their role they feel they'd currently struggle with, think about how you can ease their concerns. Try giving them some different options and giving them the choice about what they think will suit their needs. 
Keeping these five tips in mind will help you as you design a plan. If you're not sure where to start with a return-to-work plan, you can probably get help from your group income protection provider. Most employ vocational rehabilitation consultants, who will be happy to help you design tailored plans for your employees.

Ultimately, the aim of any return-to-work plan is to help an employee make a safe, timely and durable return to work with the least stress possible.