Good medicine: what we can all learn from 'social prescribing'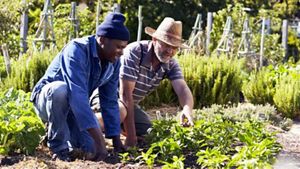 "Take a day's volunteering twice a year and be sure to finish the course"
Social prescribing is a term that's gradually becoming better known. It's a way of describing the process of a GP or other NHS professional referring a patient to non-clinical services to help with their health and wellbeing.
So it might involve anything from tidying up a shared outdoor space to helping out a local charity or supporting an arts group. Given its strong community base, social prescribing can be a particularly good way to help alleviate feelings of isolation which can arise during a spell of absence from work due to health issues.

This isn't to downplay the value of the return to work itself in assisting recovery from longer term illnesses — which now, of course, may include Long Covid. We should never forget that work can be good for mental health... but it's important to get the dosage right. Affected employees may well benefit from a phased return to work, or a change of duties on a short or even longer-term basis.

But, as part of this journey, employers can also build in access to activities away from the workplace itself — whether that may be at work or home-based — to further benefit their employees and boost their mental and physical wellbeing. This is where we can all learn from the idea of social prescribing.

Natural remedies
The Mental Health Foundation's research [1]Footnote 1 showed that going for walks outside has been one of the top coping strategies during the pandemic, and 45% of people reported that simply being in green spaces had been vital for their mental health. Interacting with nature — pausing to take in previously overlooked plants or birds, maybe spotting signs of seasonal changes — can reduce feelings of social isolation and add value to everyday experiences.   

But as employers, we can do more to embrace this than simply suggesting that our employees take the time to go for a walk.

Encouraging employees to get closer to nature might mean lending a hand with a local park improvement project. Picking up litter from a local beauty spot. Or finding a few helpers to take on some gardening at a hospice, or for elderly people.   

As well as supporting individuals' resilience, the benefits to business are enormous — and not just in terms of helping employees return to peak performance. Forming closer links with volunteer groups and charities can only help boost the reputation of a business — as a good place to work, and also as a caring organisation which contributes to the communities in which they operate.

Helping others helps the helper

But to return to the individual themselves, it's not just being close to nature which is good for mental wellbeing. Helping other people helps the helper, too. This is central to the idea of social prescribing, and something which employers can easily take on board.

Volunteering can give confidence and a sense of self-worth which can help to build personal resilience. The feeling of doing good for someone else helps release endorphins, the body's natural happy hormone, giving people a genuine boost to their mood and overall wellbeing. The social interaction it involves can be invaluable to people who have been showing symptoms of social withdrawal — possibly during, or following, lockdown — which can often be a sign of worsening mental health. 
Make the most of the tech

You might not think technology would play much of a role in a wellbeing approach that's all about interacting with others and getting out and about, but it can be key in helping people realise how to put the principles of social prescribing into action.

Your workplace benefits provider may offer access to a range of wellbeing apps which help employees to take part in team events, or encourage them to become more active. Often they take the form of light-hearted challenges to help keep interest levels high. You don't want that lot from accounts to register more steps than you this month, do you?

So, as employers, there's a lot we can take on board from the idea of social prescribing to help our own people. And the activities 'prescribed' are likely to be as popular with employees as they are beneficial. It's anything but a bitter pill for them to swallow.