Tip up your workplace wellbeing scales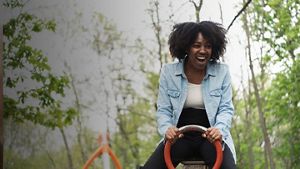 Whether an SME or large business, you may feel wobbly balancing employee wellbeing. Find your footing with advice on supporting their health, wealth, and self.
As children, stacking pebbles sky high or bouncing endlessly on a seesaw may have felt exhilarating. Especially if a dramatic dismount made you feel as though you'd mastered balance and conquered gravity.
As working adults, however, it may sometimes feel as though we are balancing boulders or dismounting from a spaceship.

Between work, home and family responsibilities conquering gravity may seem a bit out of reach.

And although we should take personal account of our health, wealth and self to find our own balance, as explored in our previous article on techniques to reduce anxiety, employers can sit across from us on the seesaw too.

What practical steps can you take without tipping your balance books, then, to help your employees' wellbeing?
Realise adding value isn't always about large sums
It may be tempting to think that large companies have the resources to fund an extensive wellbeing program; and that may be true. Yet, there are steps that any size business could take that may have a considerable impact on employee wellbeing with relatively little costs. These actions may take time and effort, as cultural shifts often do, but the long-term benefits for employees are worth exploring. "Happy and healthy employees," says Aviva's Wellbeing Lead, Debbie Bullock "perform better, which improves productivity."

The point is to act in proportion to your business size and appropriate to your employees. If this means a program with all the bells and whistles, fantastic. If this means a thoughtful re-evaluation of wellbeing with a focus on management training and resources, also fantastic.
Work should have a net positive impact on your wellbeing, not net negative," says Debbie "and to support this, roles should have purpose, clear accountabilities and generally sustainable workloads. Employees should feel empowered. This, alongside a culture of trust (or psychological safety), will help employee wellbeing.
But don't let perfect be the enemy of the good, here – find your balance. 

Recognise the wellbeing circle
Areas of our health do not live in a vacuum; how we think, feel, move, and behave are interconnected. This means that our mental, physical, and financial wellbeing aren't mutually exclusive from one another.

In our Age of Ambiguity research, "there's a circular relationship between mental, physical and financial health with each influencing the other. Physical and mental health scores help determine financial health scores, mental and financial health inform physical health and financial and physical health contribute to mental health."[1]Footnote 1
Developing a strategy that incorporates health (physical), wealth (money) and self (mental/emotional) wellbeing creates a foundation to build wellbeing into the business culture.
Physical
As working environments swing between the traditional and flexible, employers may consider providing options to help their employees' physical health. According to the CIPD Good Work Index (2021), "between 2018 and 2020, the percentage of workers saying work positively impacted their physical health declined. In 2021, this figure increased slightly, but in 2022 returned to 2020 levels. A quarter of workers say work negatively impacts their physical health."[2]Footnote 2
For employers, this may include offering relevant resources and services for the spectrum of working situations. For example, this may look like creating bespoke packages to suite employees who work exclusively from home (or remotely), a mobile space, the business location or a combination by:

making sure working equipment is appropriate to each employee's needs. This may mean access to ergonomic chairs and computer accessories, appropriately sized screens or standing desks. Regular review of safety equipment, including machinery and personal protective equipment, is fundamental. Checking that workplace assessments are standard (as in the DSE legal guidance) and, perhaps, a discount for certain items may help employees feel more confident in the business.
giving access to resources on staying active in more sedentary lifestyles.
supporting those with physical disabilities by speaking with them to understand their accessibility needs, providing necessary equipment, and reviewing regularly.
establishing fitness programmes for colleagues from daily walks to 15-minute exercise (i.e. pilates).
encouraging employees to take phone calls in the fresh air or while walking.
exploring gym membership options for employees or providing information on apps and fitness programs that provide flexible training options.
Training your team to recognise, acknowledge, and champion employees who may be struggling physically is also fundamental. The Health and Safety Executive and the Chartered Institute of Personnel Development may help with resources on training your staff.

Wealth (finances)
Businesses may believe that the financial wellbeing of their employees is a personal matter.

Not my playground, not my seesaw.

Except, as an employer, you're on the seesaw too. And, according to the CIPD, it seems that "financial wellbeing remains the most neglected area" of wellbeing activity within businesses."[3]Footnote 3

Helping employees with their financial literacy and wellbeing is an area employers can add value.

Based on our Age of Ambiguity research and information from the CIPD, you may consider:[3]Footnote 3
making your financial wellbeing strategy reflect your diverse workforce by designing it flexibly to accommodate employees' changing needs (i.e. through life stages or differing personality traits).
training your people managers to recognise the dynamics of financial wellbeing.
reviewing your financial wellbeing strategies alongside pay policies so that they support ambitions for fairness and what's appropriate for the business.
organising a hub of educational resources to support your employees' financial literacy development.
developing a financial wellbeing policy to help employees feel in control of their financial future, which may include paying a living wage or offering benefits that reduce living costs.
Sitting on that seesaw may be a young employee with a family who may feel that having control of their finances is more important for financial wellbeing than the amount of money they have.
Self (mental/emotional)
"Our findings," according to the CIPD, "show that stress continues to be one of the main causes of short- and long-term absence." [3]Footnote 3

As such, employers may consider pledging to The Mental Health at Work Commitment, which provides a framework to help businesses support better mental health outcomes for employees with practical tools to help implement each of the following six standards:

creating and following a consistent program of activity.
making sure work design and business culture drive positive mental health outcomes.
promoting an open culture around mental health.
developing confidence and capability across the business.
giving mental health tools and support.
increasing transparency and accountability through reporting.
As our  Age of Ambiguity research found, employee health should be approached holistically, and championing employee wellness can be accomplished in any size business.

It's just a matter of balancing on the seesaw together.

Follow our seven ways to manage stress and anxiety for further advice on workplace wellbeing.