Hot to handle? Why Net Zero and carbon offsetting matter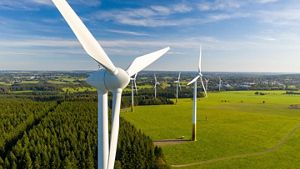 What's the important distinction between Net Zero and carbon offsetting? Here's an overview of Aviva's approach to these challenging climate-related issues.
In typical English summers of warm beer and cricket, where rain frequently stops play, 2022 saw UK temperatures surpass 40C for the first time ever, creating unexpected wildfires, disrupting transport from road to rail to airport runways, challenging the infrastructure of the modern world in unpredictable and dangerous ways.
It brought new risks to businesses that were never previously considered issues, such as the cooling systems in UK datacentres, those warehouses of computer servers carrying digital commerce and entertainment. Were they designed to cope with temperatures above 35C? We'll find out. Of course, 40C is also a tough call for the human body, never mind the workplace. And when it's hot, workers can be less effective and engaged. That's when accidents and mistakes can take place. In an interconnected world where everything from air traffic control to Luton Airport's tarmac can be affected by the searing heat, global warming carries a unique health warning. From any angle it's bad news, and time to get acquainted with the terminology of potential solutions: Net Zero and carbon offsetting.
Net Zero in context
First, Net Zero refers to cutting greenhouse gas emissions to as close to zero as possible, with any remaining emissions re-absorbed from the atmosphere, by oceans and forests for instance. The term Net Zero is important because – for CO2 at least – this is that state at which scientists believe global warming will probably stop. Basically, our planet will keep heating for as long as global emissions remain more than zero. The 2015 Paris Agreement  underlined the need for Net Zero, requiring participants, namely businesses and governments, to achieve a balance between emissions and their removal by 2050. The Agreement's long-term goal is to keep the rise in global warming to below 2C, preferably limiting the increase to 1.5C.It's where individuals and organisations non-state actors – the financial industry in particular – can play a pivotal role and we believe that as the UK's leading insurer, we have a huge responsibility to act.
Our plan to reach Net Zero covers not only the emissions we produce ourselves, but also those contributed by our suppliers and, as far as possible, by the investments we make on behalf of our millions of customers. This also will cover all asset classes and investment funds that we manage on behalf of Aviva. It's a tough goal and won't be easy, but we believe the impact and consequences of not acting are far more damaging than the transition to a more sustainable economy. And we aim to hold the companies in which we invest to account if we feel they are not doing enough to tackle climate change.
Carbon offsetting explained
Having provided an overview of Net Zero and how we plan to address this challenge, it's time to compare it with carbon offsetting. Often the two terms are used interchangeably, but that's a mistake. Carbon offsetting represents action on climate change by investing in projects that reduce carbon, and other greenhouse gases, in the atmosphere. It's often described as 'carbon neutral', as it doesn't add to the crisis but doesn't necessarily take any carbon away. In nature, forests are first class 'off setters' absorbing carbon dioxide from the air and storing it.

Companies can achieve carbon neutrality through projects that benefit the climate to compensate for activities that generate carbon emissions. Wind farms, solar cooking equipment and tree planting projects are all good examples of helping to address this balance. However, environmentalists have criticised offsetting as 'greenwashing', stating that a newly planted tree can take as many as 20 years to capture the amount of CO2 that a carbon-offset scheme promises. Also attracting criticism are high carbon pollution-creating industries who want to use offsetting to continue 'business as usual'. 
Aviva's climate track record
Aviva already has a track record of promoting sustainability and leading on climate action. We've reported on climate change in our Annual Report and Accounts and Sustainability Reports since 2004. Building on our climate work over the last three decades, we are pursuing one of the most ambitious carbon reduction plans of any major insurer. In March 2021, we announced our ambition to become a Net Zero carbon company by 2040. We are seeking to do our part in tackling the climate crisis because we believe it's the right thing to do for our customers, society, and for our business.

We're setting science-based targets aligned to a 1.5°C pathway for our operations, supply chain and investments. And our climate goals will be delivered in a way that contributes to tackling the related challenges in biodiversity and nature, ensuring that our focus is not only on carbon offsetting, but also on broader ecosystem resilience. To achieve our targets, we have a detailed climate change plan which uses a variety of metrics and tools to monitor our progress. Our risk management framework sets out how we identify, measure, monitor, manage and report on the climate-related risks to our business. We then summarise how we incorporate these risks and opportunities into our governance, strategy, risk management, metrics, and targets in our climate-related financial disclosure.

The climate crisis represents the greatest long-term threat to life and to businesses on our planet. We believe that we must be active and ambitious in the face of climate change to help shape a better future. Find out more about what we're doing here: Climate Transition Plan (PDF 3.6MB)