Why we shouldn't get too comfortable in our slippers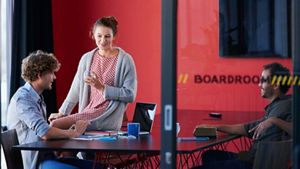 For hybrid working to really work, we shouldn't forget what's good about the workplace-based portion of that model... and what it can do for employee wellbeing.
We're hearing plenty about hybrid working right now. During lockdown, many of us – employers as well as employees – found fresh appreciation of the advantages of remote working. Employees appreciate the flexibility… and, in some cases, the savings made by avoiding the rigours of a regular commute. There are potential savings for employers too – and some were pleasantly surprised to find the impact of increased remote working on productivity could actually be a positive one.
So, when you think of the hybrid working model so many of us are considering right now, what image springs to mind? Could well be that it's an employee sitting in a home study, or maybe using a laptop on the kitchen table.
But, as the word hybrid implies, this is only half the story. For hybrid to mean hybrid, we need to make sure we don't forget the advantages of the workplace-based portion of hybrid working. And these advantages extend to the wellbeing of employees themselves, willing as many are to embrace the home-working aspect it includes.
Wellbeing in the workplace
The particular circumstances of the pandemic have, in many ways, emphasised the advantages of an office or workplace environment in helping to preserve the wellbeing of employees. A return to the workplace – not necessarily full time – could help ease the feelings of isolation which can affect employees who have been working exclusively from home. And businesses with a strong wellbeing strategy may offer social opportunities that go beyond chatting with the person at the next desk, such as shared interest groups, volunteering opportunities – or initiatives which can boost both physical and mental wellbeing such as fitness classes or lunchtime walking groups.
A further advantage of increased face-to-face working is the improved opportunity it affords managers to identify any signs of worsening mental wellbeing in colleagues, and to act before this can lead to something more serious. Although training is available which empowers managers to perform this function remotely, there can be little doubt that it's easier to pick up on these indications when workers are in closer physical proximity.
Employers must ensure offices become a destination for collaborating, mentoring and socialising to rebuild relationships.

Debbie Bullock, Aviva Wellbeing Lead
There's now a real opportunity for employers to rebuild relationships with employees whose motivation may have been damaged by a lack of connection with the workplace. There's evidence that this rebuilding may be sorely needed: research for Aviva's recent report, Thriving in the Age of Ambiguity, revealed that 47% of participating employees said they have become less career focused as a result of the pandemic – up from 36% in August 2020 [1]Footnote 1. As a result, employees will be more concerned about finding a workplace with a working style that fits them – and for some, this will mean the opportunity to spend time in the workplace, as well as working from home.
It's crucial to remember that what may work for some will not work for all: although 64% said complete flexibility would make them more productive, 43% of employees who say that their work life balance has been positively affected by COVID-19 are concerned about the blurring of the line between work and home. For some of these, a higher proportion of office-based work will help them to re-establish a cleaner break between work and leisure time.
There's no 'right place' to work
Whatever the eventual split between remote and office-based working may be, there remains a potential pitfall of which we need to remain acutely aware. When leaders and managers are considering suitability of a particular employee for a task – or for a role which might progress their careers – it's important to look beyond the person who may be closest to hand, or the one whose working pattern may be nearest to our own.
Many of us are already conscious of the need to avoid looking first to the person who 'looks like me, sounds like me, thinks like me'… now we need to add 'works like me' to that mix.
For hybrid working to actually work, it needs to balance the needs of the customer, the business and the employees the business depends on. In doing so, we need to take personal circumstances into account, which means some employees are likely to spend a greater amount of time in the workplace than others. We shouldn't forget that this can be a good thing from the point of view of their wellbeing… just as remote working can be, too. Individual circumstances are key. 
And finally, let's be mindful that employees who may now start to spend more time in the workplace aren't simply 'going back to the old way of working'. The challenge is for us to use the workplace-based portion of hybrid working in new ways to bring out advantages it always had, and to embrace what, for some, will be new ones. The effects of the pandemic have made it more important than ever to utilise the strengths of the workplace to help preserve employee wellbeing.
So, we're not saying that slippers should lose their new role as part-time workwear. But there are times when some of us might feel better for putting on the shiny shoes.