Sunday Dread: just how big a problem is work anxiety?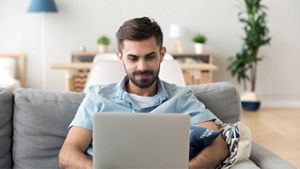 From sleeping poorly to feeling irritable, anxiety is having an impact on the UK's workforce. But why is this and what can be done to tackle it?
Most people have an idea of what the perfect Sunday should be: a time for taking it easy, de-stressing and spending time with family and friends. But too many people feel anxious about the impending challenges of the week ahead. Worry over work can have a significant impact on downtime and Sunday dread can ruin what should be the most relaxing of days.
At Aviva, we work with businesses of all sizes on an everyday basis. This insight we have gained helps us understand the issues they face – and we're determined to use our experience to help businesses become more resilient. This encompasses everything from the individual health and wellbeing of employees to supporting overall operational, commercial and financial resilience.
Given this motivation, we wanted to dig a little deeper to understand how Sunday Dread is impacting the 9-5 workforce up and down the country. To do so, we surveyed 2,000 workers from a variety of industries across the UK. Our aim was to investigate the scale of the problem and the potential improvements which appropriate wellbeing initiatives and support could bring to businesses and employees alike.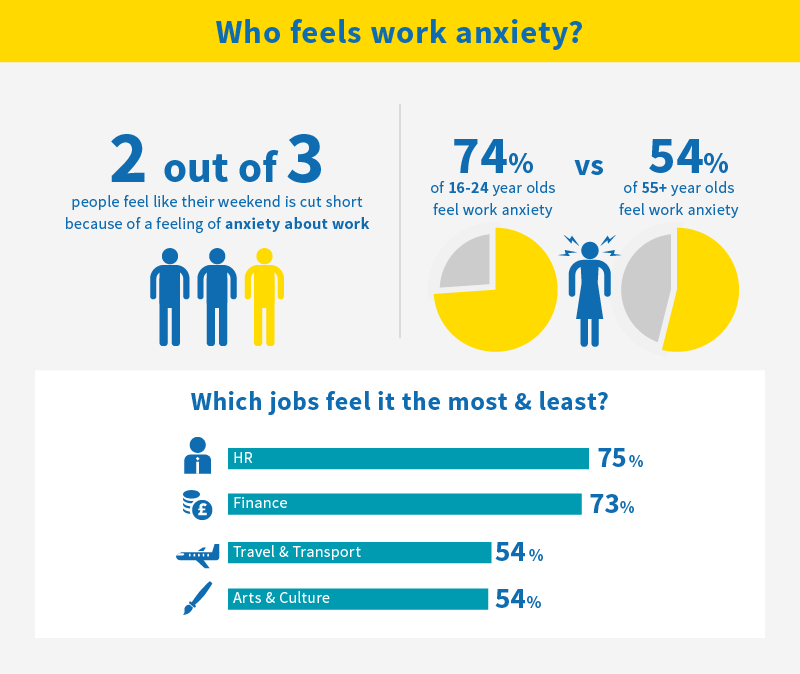 Who feels work anxiety?
The answer to this seems to be a lot of people. 2 in 3 respondents (67%) felt that their weekend is cut short due to feelings of anxiety about their work.
Surprisingly, this is highest in those age groups that are just starting out in the world of work. We saw that those aged between 16 and 24 suffer the most anxiety about work (74%), this drops to 54% in those over the age of 55.
When it comes to different industries work anxiety is most prevalent in the HR (75%) and finance professions (73%). Travel & Transport, and Arts & Culture professionals are the least likely to suffer from work anxiety (54%).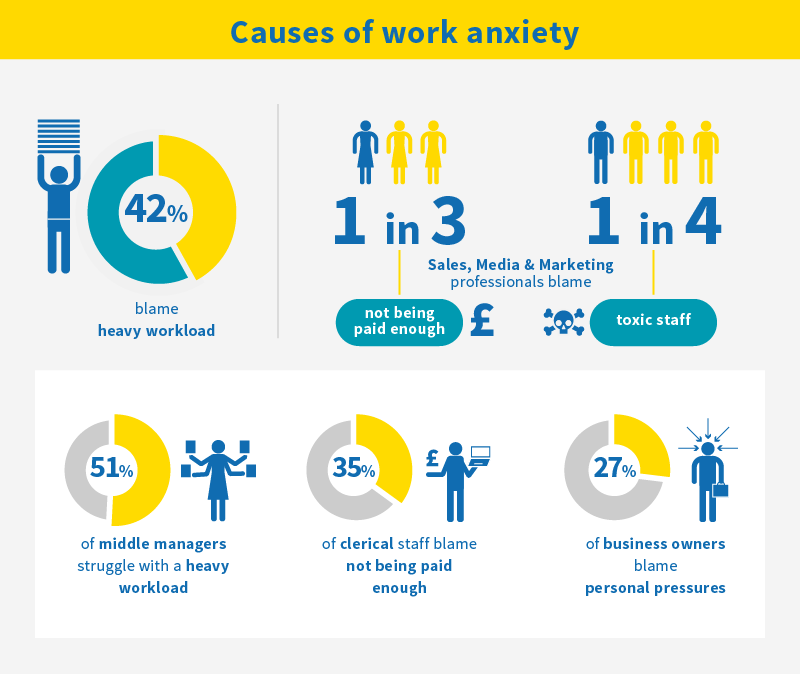 What's causing the worry?
Our data makes it clear that Sunday dread caused by work anxiety is a very real thing for employees.
But what's causing this? The reasons can vary according to each individual's circumstances, but a pattern does seem to emerge when we look at the answers from our respondents.
The biggest factor is the impending heavy workload for the week ahead, with just under half (42%) citing this as the reason behind their anxiety. Unsurprisingly this was most keenly felt by overworked middle managers (51%), while employees of bigger businesses (with 500+ staff) were also amongst those who felt the highest levels of anxiety over workload.
The size of the job in hand is often a factor, but there are other forces at play here. Specifically, not being paid enough and the effect of toxic people in the workplace. This is especially prevalent for Sales, Media & Marketing professionals where 1 in 3 blame low salary and 1 in 4 blame toxic staff. Pay also seems an issue for clerical members of staff (35%), but for business owners, it's a different story with personal pressures being the main cause of anxiety (27%).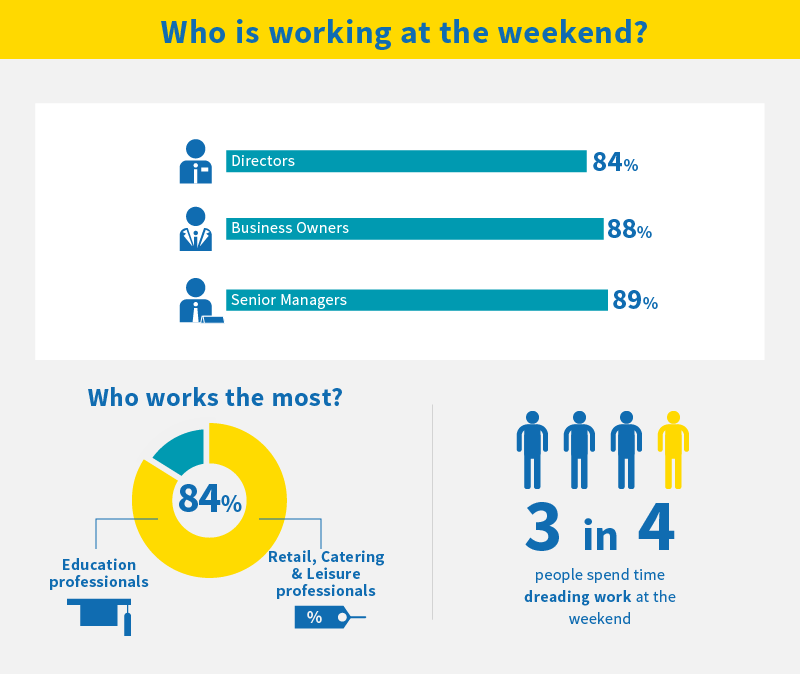 Who's working at the weekend?
We've all been there. Just checking up on emails, catching up on a few things, or getting ahead of ourselves for the coming week.
So, how much are we actually doing? According to the respondents in our survey, this can be as much as 2 hours 29 minutes outside of normal hours. When that's totted up it comes in at 119 hours a year, which is 16 extra days. Just let that sink in.
Senior managers dedicate the time to working at the weekend (89%), followed by business owners at 88% and directors at 84%. At an industry level, education professionals and those working in retail, catering & leisure work the most over the weekend (84%). But travel & transport professionals fare the best over the weekend with only 66%.
Then, when it comes to time spent dreading work over the weekend, three in four admitted to doing so, with nearly a quarter spending over three hours worrying about work. Employees of smaller companies seem to struggle the most. 84% stated that they spend time at the weekend dreading work – while the work/life balance appears more even for sole traders, with only 64% feeling the dread.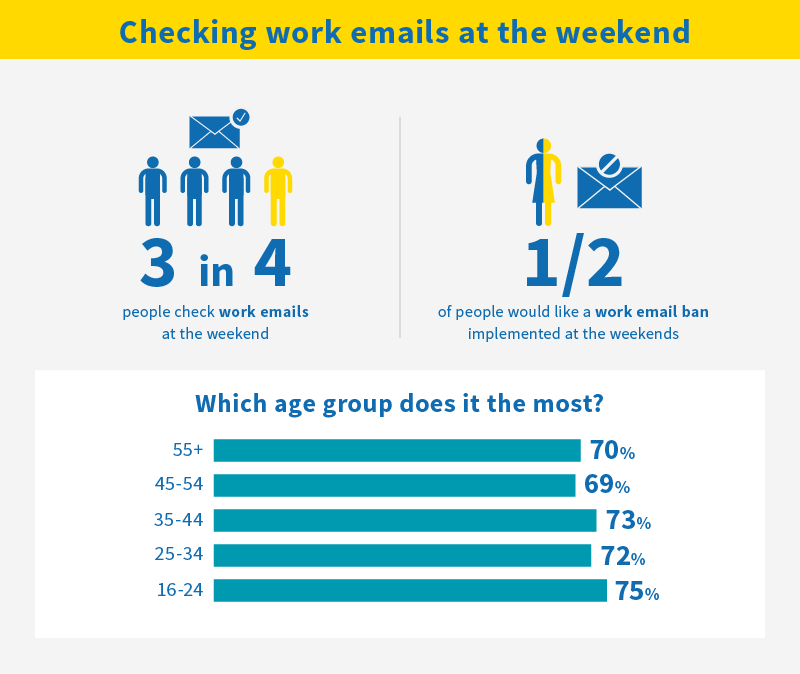 Weekend emails: to check or not to check?
It appears most of us do, with three quarters going through work emails at the weekend, spending an average of 36 minutes on the task.
Weekend email checking seems to be most prevalent amongst the age groups that grew up with technology, with those aged 16-24 doing so the most (75%), followed by 35-44 year olds at 73%, 25-34 at 72%, 55+ at 70% and finally 45-54 year olds at 69%.
So, what's the solution? A complete company-wide weekend email ban? Many would think so, with just under half wanting this implemented at the weekend. Business owners don't really agree, however, with more than half rejecting the idea.
Checking emails at the weekend can be a good option when it comes to flexible working arrangements for employees with outside commitments and priorities. Knowing they have the option spending some time working at the weekend can encourage employees to take time out for personal reasons during the week – when this might otherwise result in feelings of guilt or insecurity.
Even for 9-5 employees, a weekend email ban would have a downside… sometimes, a quick round-up on a Friday night can prevent a weekend spent worrying, thereby actually reducing the incidence of Sunday Dread.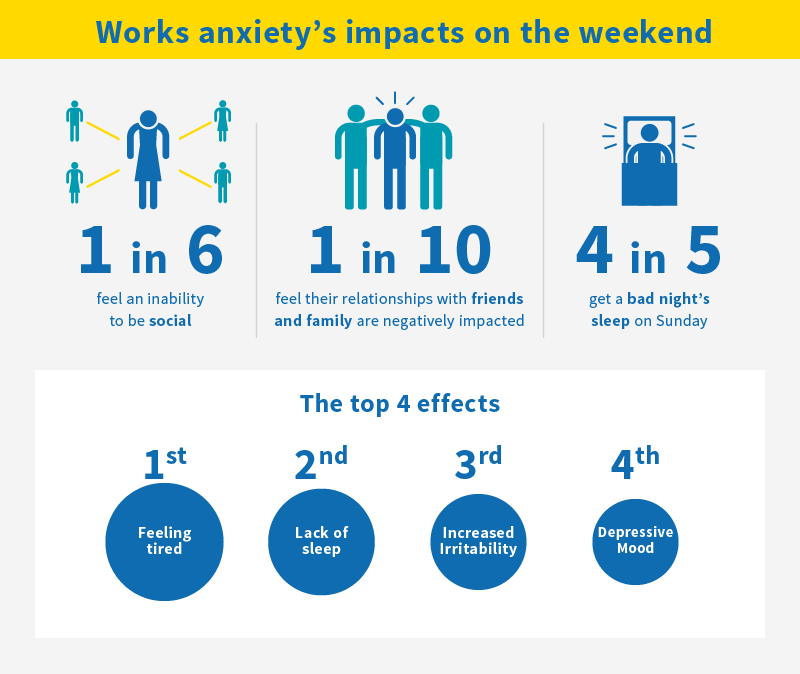 Tiredness and irritability… how work anxiety impacts the weekend
So, how is this impending dread of the working week ahead making us feel on our valuable time away from work?
Our survey suggests that people simply aren't getting the most out of their time off – with the top four effects being feelings of tiredness, lack of sleep, increased irritability and depressive moods.
We're also not being as social as we should. Nearly one in six of those surveyed stated that work anxiety causes an inability to meet up with friends and be social at the weekend, one in ten feel that their relationship with friends and family is negatively impacted and four in five get a bad night's sleep on Sunday.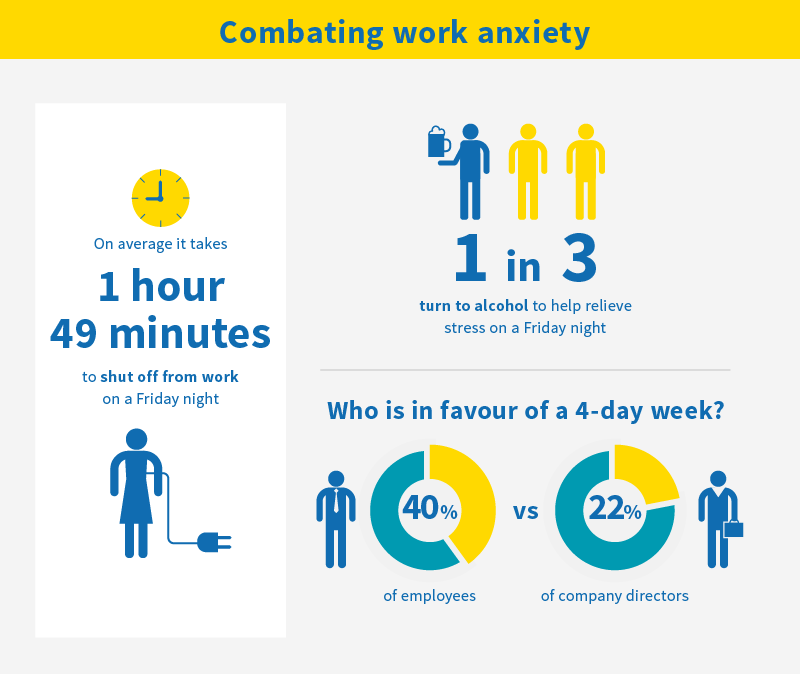 How can we combat work anxiety?
Well, the first thing to note is that most people struggle to shut off from work at the end of a long week. On average it takes 1 hour 49 minutes to do so, with TV, movies or other forms of entertainment the number one method of relieving work stress (55%). One in three also turn to alcohol to help relieve stress.
Employers are frequently open to the idea of doing more about work anxiety. But what can they do to make things better?
40% of the respondents to our survey want a four-day week. Other options include later starts on a Monday (26%) and the option to work from home on the first day of the week (22%).
Would a four-day week work? Company directors are less keen on the idea, with only 22% being in favour. It could also potentially increase the pressure felt by those experiencing work-related anxiety as they would then have the same amount of work to complete in four days rather than five. It could well be counterproductive.
Company directors feel a better solution would be the later start on a Monday (31%) and free gym memberships (28%), with regular exercise being a well-reported stress reliever.
Tips from the experts
Stress and anxiety are the biggest causes of sick days in the UK, so this is clearly a big issue for lots of people and businesses.  Josie Saville, Workplace Wellbeing Specialist from training providers 4and20million.com share five simple ways to reduce work-based anxiety…
•  Plan ahead
Before finishing for the day, write out your tasks for tomorrow so you know what's ahead.  Rather than a to-do list, plan your day using your calendar, so not only is everything accounted for, you can also see when it can be done across the day, giving you a plan of action rather than a daunting list.
•  Biggest thing first
If you've got a tough or daunting task to complete, make it your first job of the day, while you're at your best and before other things get in the way.  Achieving your biggest task first lightens the load and gives you an immediate and energy-boosting sense of progress and achievement.
•  Use your 'Out of Office'
If you could really benefit from two hours of uninterrupted focus on a task, put your out of office reply on. This tells people you're away from your desk and gives them a phone number to reach you if it's urgent.  Doing this allows you to escape the pull of emails while remaining contactable, and lets you focus on getting an important task done.
•  Have a shutdown ritual
Whether you finish at 5pm or midnight, once you're done for the day and you've planned the next day, shutdown and tell yourself 'work is finished for the day'.  Tell your brain it's ok to switch off work until the morning, and let your subconscious take over the problem solving…
•  Utilise your brain
When we stop consciously thinking about work, we don't really stop.  Instead, our sub-conscious takes over the problem solving, idea creation and connection building.  That's why we often wake up with a new perspective or have great ideas in the shower.  Downtime is vital not only to recharge, but to let our brain do its best work.  Downtime is therefore a vital investment, not an idle luxury.
Building resilience… insights from Aviva's experience
We can see from the results of our research that Sunday dread is a very real thing, faced by huge numbers of the 9-5 workforce. But whether people experience it, and how work anxiety affects them, will be personal to their own job and individual situation.
This would suggest that employers need to adopt a multi-faceted approach to protect the wellbeing of their workforce. Debbie Bullock, Aviva's Wellbeing Manager, explains how this can work:
"There will always be an element of starting to think about work on a Sunday evening, but if you have a working environment that supports your wellbeing it shouldn't be one of dread, but one of purpose. Employees feeling anxious or stressed should be able to talk openly with a line manager about their physical, mental and financial wellbeing. They can then find solutions together.
The advent of flexible working has seen lots of positive benefits for wellbeing, but has its negatives as well. Today's 'always on' culture can lead to difficulties managing the work/life balance that flexible working otherwise supports. I wouldn't advocate company-wide email bans after 6pm, or at weekends, because flexibility is great. Instead, colleagues need to feel empowered to decide when they next check their emails – during their working hours, rather than those of the sender.
The culture of the organisation is all-important. If there is a culture of long hours, and of success being measured on the hours you work rather than the work you do, then colleagues will feel the need to mirror this behaviour. To effect change, leaders need to become role models – whether that's finishing early to pick up their children, getting to a gym class, or going for a walk during lunch breaks, there's a lot that can be done to lead by example."
At Aviva, we've developed and launched a comprehensive wellbeing strategy to create a culture which supports resilience. This includes hosting healthy eating initiatives and health check-ups, forming lunchtime shared-interest groups and organising social events.  Our managers promote an environment where openness and inclusivity are encouraged, and are trained to recognise warning signs of mental health issues.
This kind of approach can help build the resilience employees need to deal appropriately with stress and, yes, alleviate Sunday dread. With the right initiatives and support, we can all help transform that all-too-familiar feeling into a thing of the past.