Working life and wellbeing in the age of ambiguity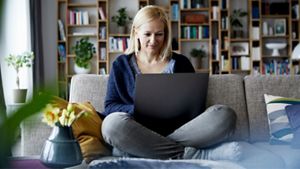 We're living in an age of ambiguity that is impacting both society and workplaces across the UK.
Elements of our lives which were previously certain are overlapping and changing beyond recognition. The concept of 'work' itself is becoming increasingly fluid as the world evolves faster than ever before.
But while the blurring of work-life boundaries has brought some welcome flexibility, this increasingly ambiguous environment is also a source of unease and uncertainty for many people. And this unpredictability is placing a strain on the balance between work and home life.
In February 2020, we carried out a major research project to look at the impact that this ambiguity is having on key areas of working life. This research was then repeated in August – prompted by COVID-19 – to ensure the analysis reflected the impact on work and society . We found that the unprecedented events of 2020 have served to accelerate key trends, impacting both the mental and physical health of our workforce, as well as their financial futures.
Here we focus on what this means for working life and wellbeing.
The line between work and home life is becoming increasingly blurred
At the end of March 2020, millions of UK workers – mostly office-based – suddenly found themselves not only working from home but working through a global pandemic and looming labour market crisis for the first time in their lives. This situation remains a reality for many.
In the age of ambiguity, working lives have become increasingly fluid, leaving many employees with a depleting work-life balance. Specifically, 52% of employees agree the boundaries between work and home life are becoming increasingly blurred – a 40% increase from February. One in five (19%) are also troubled by work interfering with their home and personal life.
In today's working world, 65% of people agree that modern technology is to some degree blurring these lines. It is exacerbating the feeling of being 'always on'.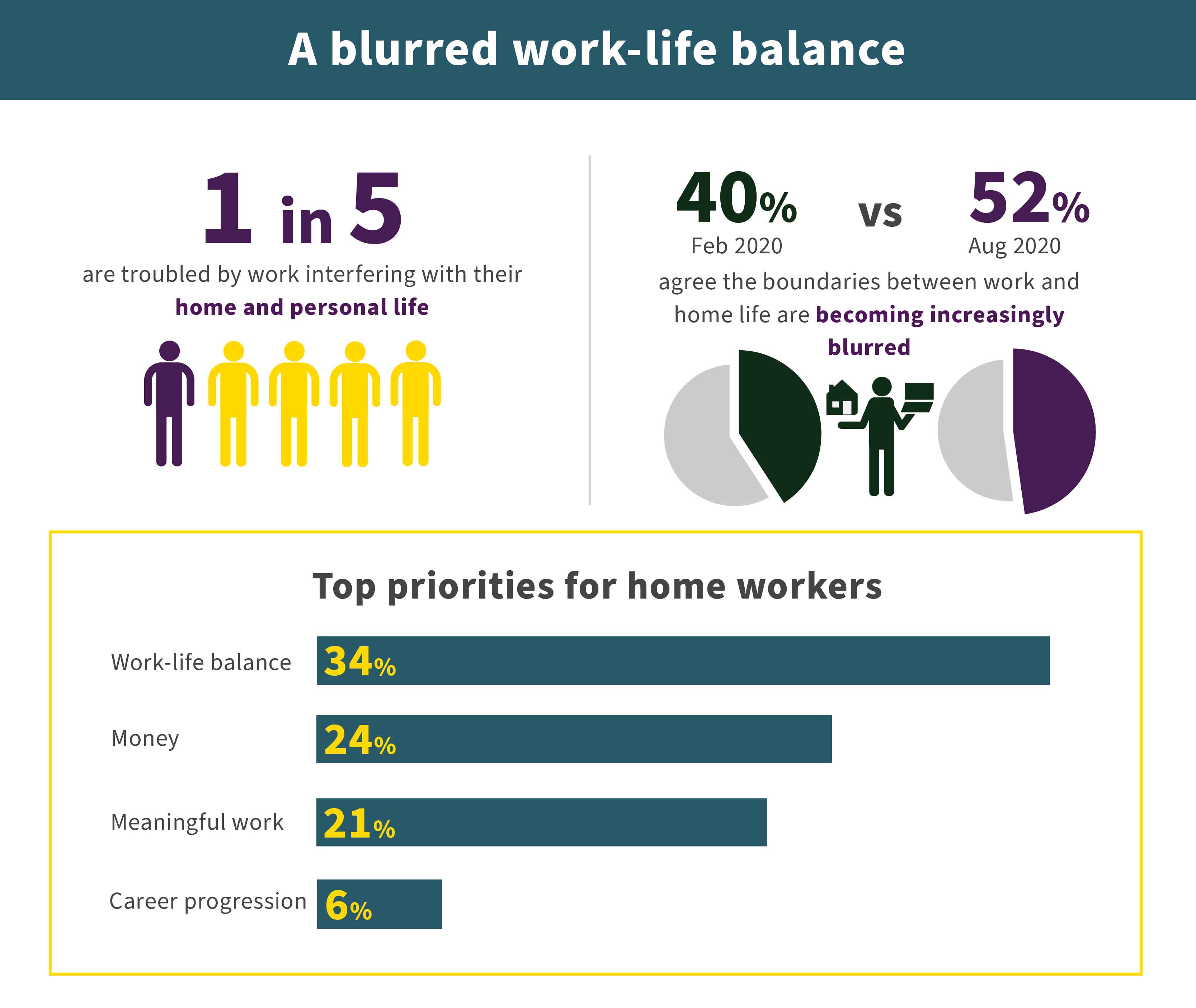 Employees are reverting to 'survival mode'
Across the board, employees are adapting to the age of ambiguity by dropping into 'survival mode' and are starting to take action to fend for themselves, translating into working longer hours and taking fewer sick days. 'Presenteeism' has also become more noticeable, albeit in this new remote form.
Looking at the data from the report, those taking no sick days at all has increased by 17% from February to August, while 63% of employees are working unpaid overtime at least once a week. For many people this is a daily occurrence.
How people feel about work is also changing, with only around a quarter of employees (27%) really enjoying their work in August, compared to 34% in February. And this declining satisfaction, continues to impact employee mental health. In August, 43% of employees ranked their mental health between 'very bad' and 'fair', compared with 38% in February.
A third of people (33%) even admit to neglecting their mental health due to being so busy at work. The question remains for employers as to how they can adapt to these changing circumstances in the age of ambiguity.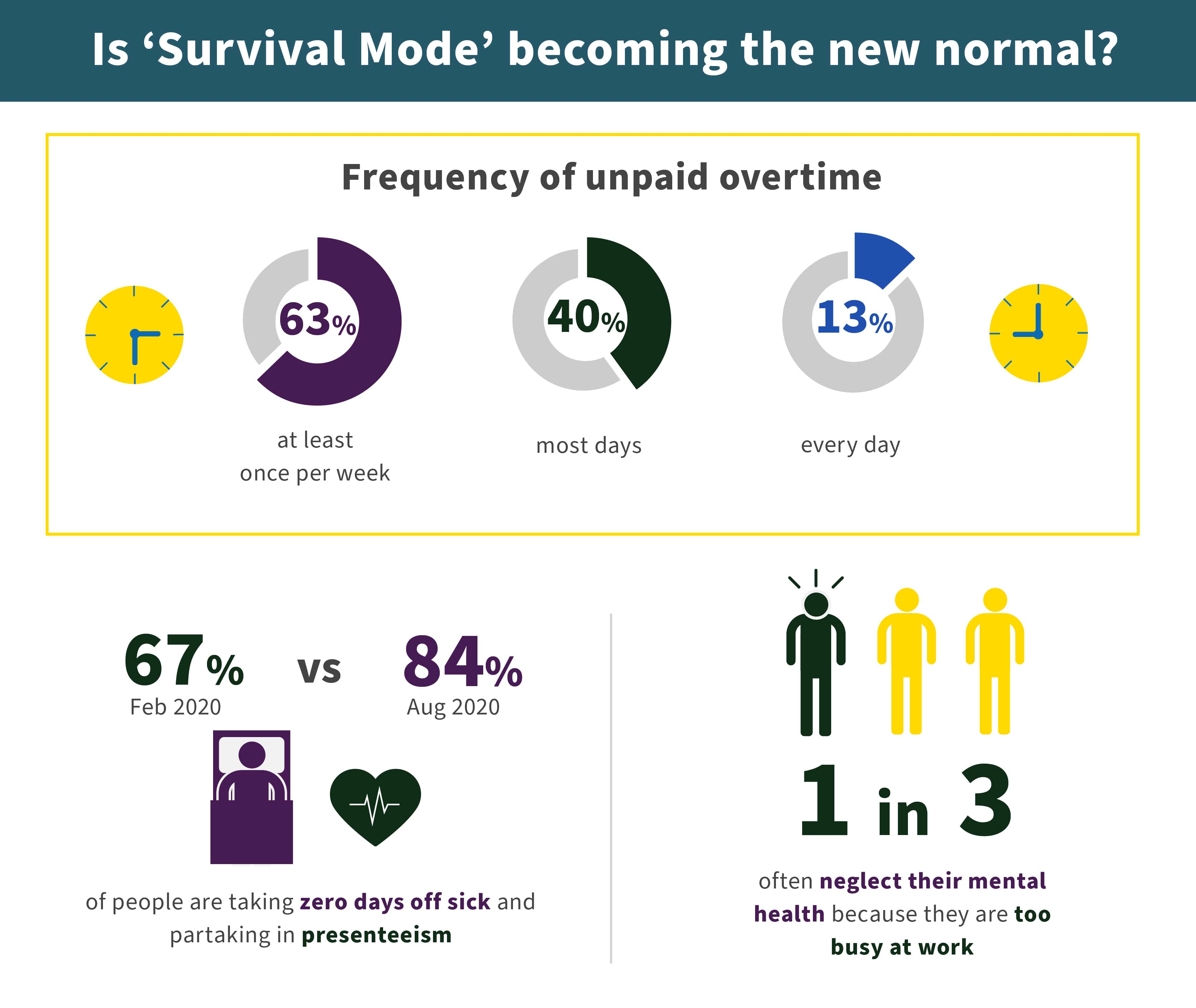 'Employee drift' is a real concern for employers
With so many employees working remotely, there's a danger of feeling emotionally remote from their colleagues. In August, nearly half (44%) of employees stated that they didn't like working from home as they felt disconnected from their colleagues. 
And with just 15% of employees agreeing that their employer is trying really hard to understand what motivates them and less than half (42%) believing their goals and objectives are clear, it is challenging workers' sense of purpose. Coupled with less focus on job satisfaction, we may begin to see the notion of 'employee drift', which can impact both motivation and commitment levels.
In many cases, this has led to an increased self-determination amongst employees, with fewer people feeling loyal to their employer (33% in August vs. 38% in February). A significant majority are also positive about the idea of moving jobs more frequently (74%) throughout their career.
This makes it much harder for employers to attract and retain the best and brightest talent in their workforce. Those employers who can create an environment in which work and home can exist in harmony will likely be those who can capture and engage talent.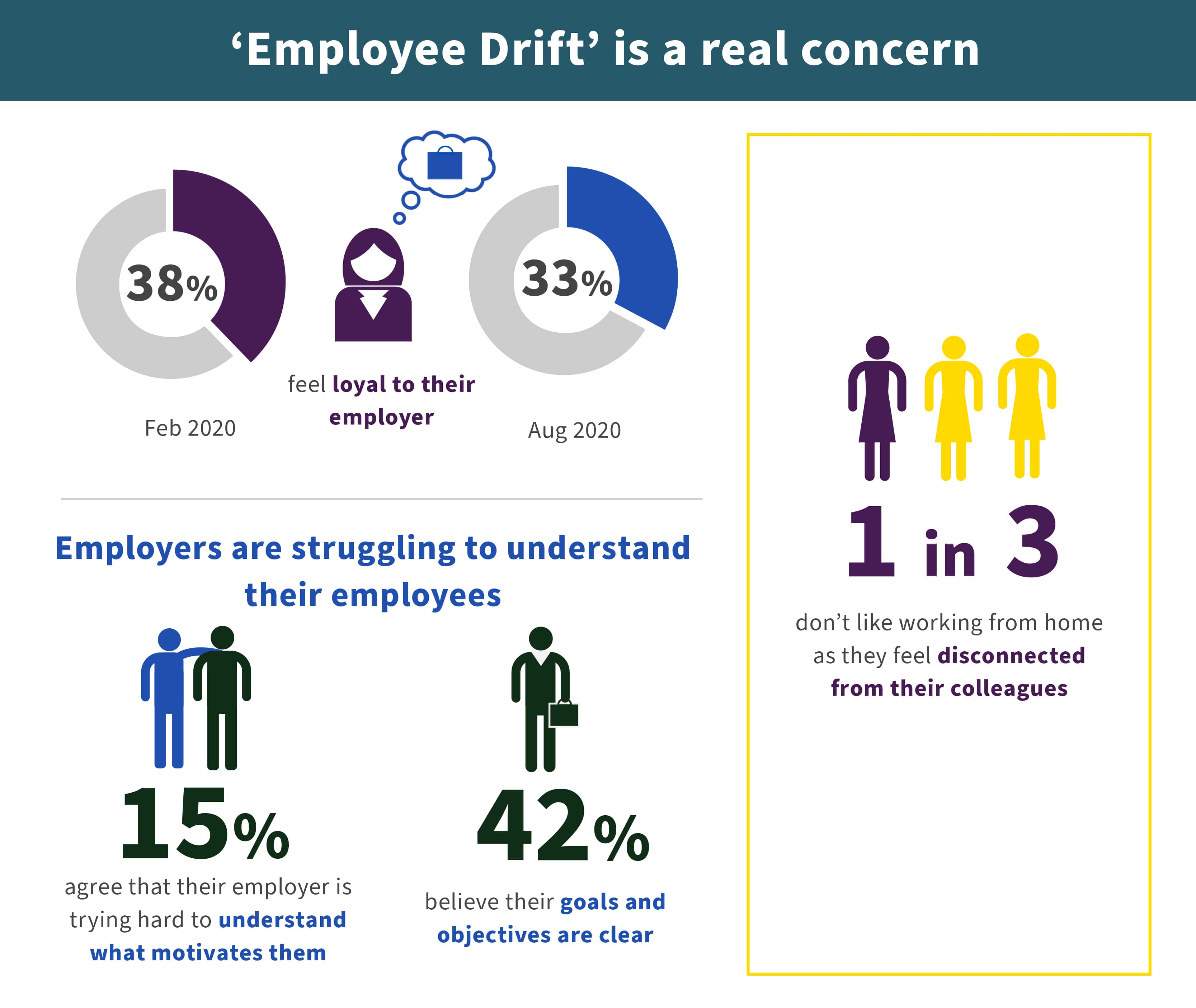 Understanding the response from employers
Broadly speaking, employees believe that their employers have made an effort in this area – they are now more likely to agree that their employer is working quite hard to provide training or tools to help them with their mental wellbeing (55% vs. 38% in February), and that they are creating the right atmosphere for people to flourish (45% vs. 38% in February).
While more than half (54%) agree their employer has worked hard to create a sense of 'company togetherness' for staff working remotely, just a quarter (26%) agree that their employer is genuinely concerned about their wellbeing. Whilst some work is being done in this area, employees feel it is yet to translate into positive benefits, with the effect on morale and engagement limited.
For those employers that understand the new dynamic, there is a real opportunity to shift their relationship with workers for mutual benefit.
How can employers approach the age of ambiguity?
There is no one-size-fits-all solution to addressing these issues. The 'Embracing the Age of Ambiguity' report includes analysis into the role that personality types can play into individual responses to ambiguity. This is essential for employers to understand those workers that may be struggling the most working from home and those that need the most support.
Now and in the future, the ability to tailor solutions for employees can make a huge difference, enabling the individual needs of different workers to be met.
When this support is provided on an individual level, employers can help their workers improve their mental and physical wellbeing as well as their financial futures.
Download Aviva's 'Embracing the Age of Ambiguity' report for valuable insights into how employees are really feeling about working life today.