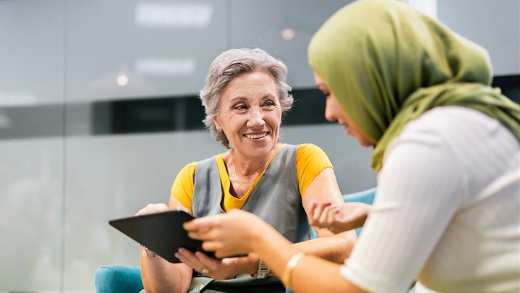 Finding the right workplace pension scheme for your business
Whether you already have a workplace pension scheme, or are looking to set one up, it's important that the scheme you've chosen suits the individual needs of your business.
If you have a scheme already, it's possible that your needs have changed since you first took it out. In particular, this may be the case if you were up against a tight deadline when making your initial decision and wanted to make arrangements quickly to avoid the threat of a fine.
You don't have to stick with your original workplace pension scheme
It's relatively simple to switch to a new pension provider, and you're under no obligation to remain with a provider if you believe you could find better service, smoother administration or better investment performance elsewhere.

If you do decide to look for a new provider, it's worth considering getting some help from a financial or business adviser who has experience in workplace pensions. But to help with your own research, there are several factors you should look for when deciding on a scheme.

You could use the seven points below as a checklist to help you draw up a shortlist of providers. Alternatively, you could ask your business adviser to do this for you.
Seven things to look out for in a great workplace pension
Easy set-up
Look for a workplace pension scheme that is easy to set up and will help you transfer your employees quickly and efficiently.
Works alongside your payroll software
Does the scheme you're considering work seamlessly with your payroll software? If so, you'll save time and money and free up your staff to do more valuable tasks.
Up-to-date technology
Make sure the scheme you choose uses efficient, modern technology to streamline the process. It will rid you of the need to carry out endless manual processes, which can only be a good thing.
Employee engagement 
Look for a workplace pension scheme that will work with you to educate your employees on the importance of their pension. The more they know, the more likely they are to engage with it and prepare for a better future.
Investment performance
 A good track record of investment performance isn't a guarantee of future performance, but it could give you an idea of how the investment managers handle the funds behind the pension scheme.
Costs
Look for a workplace pension scheme that gives you value for money for what you get. The cheapest option might be attractive, but it could offer you limited options. If you want more support and an employee engagement programme, you might have to pay a little extra, but it could be worth it.
Durability
A pension is a long-term investment, so look for a provider with established longevity, confirmed financial strength and a history of investing in the workplace pension market.
Find out more about auto enrolment
Auto enrolment doesn't have to be challenging. We've got all the information you need to get up and running with your workplace pension scheme.
Aviva Workplace Pension
Our workplace pension is designed to give you a scheme that's easy to set up and administer, ideal for your auto enrolment needs.

Find out about the Aviva Workplace Pension
Advisers
Find out how we can help you support your clients with auto enrolment.