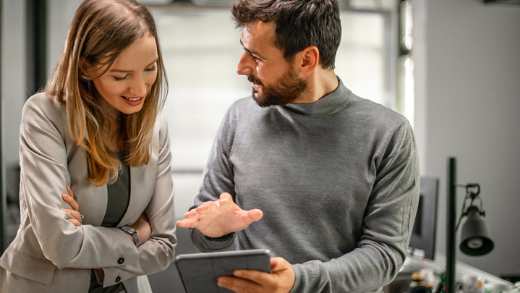 Who can help with auto enrolment?
If you'd like some help or extra support with auto enrolment – whether it's to help you choose a pension scheme or advise you on performing your duties –there are a few different types of business advisers who could help you.
Please bear in mind that if you do get support from someone else, complying with auto enrolment regulations will still be your responsibility. And remember, you'll usually be charged for the services you receive from a business adviser.
Who can help me – and how?
Financial advisers
Financial advisers can recommend a suitable auto enrolment pension scheme for your business. They can also:
Give you practical information on the investment funds and types of investments offered by different schemes. This is important so you and your employees know exactly where your money is going.
Help you compare the service levels and charges of different providers.
Provide advice based on the individual circumstances of your business.
Help you consider how the software used by a particular scheme might integrate with your own systems, such as payroll.
Help you understand issues such as tax relief, to ensure that your scheme is running tax efficiently.
Introduce you to different types of professional service providers who can help with other aspects of your automatic enrolment duties.
Find a financial adviser at Unbiased
Accountant or bookkeepers
Some accountants and bookkeepers can provide information about dealing with auto enrolment. They might be able to help with:
Find a chartered bookkeeper
Payroll bureau
A payroll bureau is an external organisation which can run your payroll for you. Their services vary, but all of them can normally carry out the various payroll tasks involved in auto enrolment on your behalf. They can:
Assess your workforce
Deal with any employees who opt out
Provide a file to send to your pension provider so that they can enrol employees onto your scheme
Collect the right pension contributions.
A payroll bureau might not be able to assist with your auto enrolment communications, so if they can't help with communications, you'll either need to complete these yourself or make separate arrangements.
Can a business adviser run an Aviva workplace pension scheme for you?
In short, yes. Whether you're setting up an Aviva Company Pension yourself or working with an adviser to do it, all you have to do is nominate them as your scheme administrator when you apply online – and that's it.
Your adviser will then be responsible for the day-to-day running of your workplace pension, and we'll write to them as the main point of contact.
What to do
If you'd like your business adviser to run your workplace pension on your behalf, make sure to speak to them first for confirmation that they can do it – but bear in mind that there may be associated ongoing charges. You can also direct them to our dedicated section on support for business advisers, where they'll find all the information and tools they need to help them help you.
Remember, as an employer, it's still up to you to make sure that you've done everything that you need to do. You'll remain accountable to The Pensions Regulator under auto enrolment legislation even if your business adviser runs your scheme for you.
Find out more about auto enrolment
Auto enrolment doesn't have to be challenging. We've got all the information you need to get up and running with your workplace pension scheme.
Aviva Workplace Pension
Our workplace pension is designed to give you a scheme that's easy to set up and administer, ideal for your auto enrolment needs.

Find out about the Aviva Workplace Pension
Advisers
Find out how we can help you support your clients with auto enrolment.