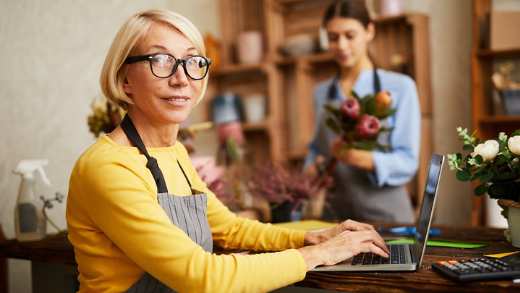 What will auto-enrolment cost me?
This is a question we frequently hear from employers – and it's an important one.
There's no getting away from the fact that auto enrolment brings costs. The important thing is to make sure you're getting value for money.
In addition to the contributions, you need to factor in costs associated with setting up and running your scheme. These include your pension provider's charges, payroll cost and the outlay that comes with assessing and communicating with employees. You also need to consider whether you should pay for financial advice.
What do I need to contribute?
As an employer, you'll have to pay pension contributions, and your employees will have to make contributions to their own workplace pensions too.
By law, you must pay at least 3% of your employees' qualifying earnings, and the total contribution must be at least 8%.  The remaining 5% can be paid by you or your employees, but they must make up any gap providing you're paying at least 3%.
More for your money
Both employer and employee can, of course, choose to contribute more. Some employers decide to do this to help improve recruitment and retention – lowering staff turnover has financial advantages as well as boosting morale.
What do pensions providers charge?
It's important to shop around here – but look at the level of service you'll receive as well as the cost.
When considering these charges, you might want to think about the time you can afford to spend on your auto enrolment duties, and whether you could reduce this by choosing a comprehensive package.
How much does the Aviva workplace pension cost?
If you choose Aviva, you'll pay a monthly fee to cover the cost of running your scheme and providing the support, tools and services that help make sure it all goes smoothly. The charge for this is typically between £30 and £50 per month. Just ask us for a quote to see exactly how much this will be.

There's also an annual management charge (AMC), capped at 0.75% per year – but this is taken directly from an employee's pension fund. The AMC can be higher if an employee chooses investment funds outside of the default investment solution, but we'll clearly state where higher charges are applicable.
More for your money
Aviva don't charge any set-up fees.
Do I need to pay for a payroll provider?
If you're a new employer, your auto enrolment duties and PAYE duties will start at the same time. So it might make sense to choose the same payroll solution for both.
Whether you use a payroll bureau or integrated software from your pension provider, the cost is likely to increase alongside the capabilities… the more you pay, the more you'll get.
More for your money
You may be able to find a single software solution which can assess your workers and calculate contributions for you, as well as handling regular payroll functions, so choose your provider carefully and you may save on set-up costs.
What about the cost of communications?
Part of making sure your workplace pension is compliant involves sending a range of regulatory communications to your employees.
When your duties start, you'll need to make sure you inform your employees at the right time. This is a crucial step in managing your workplace pension. 
More for your money
If you don't have the time to produce engaging customer communications – or if this isn't your strong point – get more from your pension provider by asking them to do it. As well as producing expertly crafted templates, some will offer software that can issue the communications for you.

Check if your provider does this and, if not, then consider the time and money that would go into producing auto enrolment communications yourself. Bear in mind if you have to upgrade your own software, this will also involve some cost.
How much would financial advice cost?
An independent financial adviser could offer their support and expertise about auto enrolment. The cost of the advice you receive will vary depending on the level of support you require.
If you don't already have a financial adviser, you can find one through Unbiased.
Will I have to pay more if I'm late setting up my scheme?
Missing your duties start date could increase the overall cost as you might have to pay more to set up the service – and you might have to pay penalties or fines from The Pensions Regulator.
Find out more about auto enrolment
Auto enrolment doesn't have to be challenging. We've got all the information you need to get up and running with your workplace pension scheme.
Aviva Workplace Pension
Our workplace pension is designed to give you a scheme that's easy to set up and administer, ideal for your auto enrolment needs.

Find out about the Aviva Workplace Pension
Advisers
Find out how we can help you support your clients with auto enrolment.