Simple, seamless service for employees
Aviva and the Trustees understand that members value a simple, consistent and seamless service – and they are completely dedicated to providing just that.
This begins from the first introduction.  We begin by explaining to members how the Aviva Master Trust scheme works, helping them to understand their pension and the options that they have. One crucial part of our approach is for members to stay in control – we carefully explain how we manage their pension, providing members with as much support as they need along the way.

Aviva's Master Trust aims to improve the experience for our members by:

Providing simple and transparent member communications
Reducing end-to-end times for actions and enquiries
Making important issues clear from the start, so they save enquiry time
First-point resolution — no need to go 'from pillar to post'
Treating vulnerable customers appropriately and with respect
Providing support through various channels at all stages of the member journey
Offering tailored support based on a member's choices for funding their retirement, including Flexi Access Drawdown and drawdown options.
We are also working on ways to help members get closer to their pensions through the use of direct marketing, as well as continuing to make it easier for them to interact with their pension through the online My Aviva service.
Clear, effective and relevant member communications
The Trustees and Aviva share a mutual commitment: to interact with members in a way which is both clear and informative, in line with Aviva's vision of easy, accurate and timely communication. Their strategy is to make it easy for members to engage with their pensions and form a deeper understanding of the importance of retirement planning.
This is achieved through a comprehensive communications strategy, delivered across multiple channels, including:
Financial education
A dedicated financial education team hosts webinars and events targeted to members at specific life stages.  These include 'Mid Life MOT' and 'Retirement My Way' sessions, seminars which provide targeted support on managing wealth, work and wellbeing.  The response received has been positive, with 93% of attendees finding the sessions informative and a good use of their time.
Timely campaigns
Engagement and financial campaigns can be triggered by specific events — such as the end of the tax year — as well as age milestones. An example of this is a segmented campaign to Scheme members due to receive a pay rise, encouraging them to take a pension 'fitness' check.
'Nudge' communications
Reminding members of outstanding administrative tasks — such as nominating a beneficiary or opting to go paperless — can 'nudge' them into actions leading to enriched outcomes and increased engagement with their pension.
Data segmentation
Our customer segmentation model places every Aviva customer into one of seven lifestyle segments. We apply this at an employer level and develop specific engagement programmes tailored to an employer's membership profile. Campaigns can be segmented according to income and other personal attributes as well as by age group.
Digital engagement
The MyAviva online service, and its smartphone app, allow members to check and make changes to their pensions quickly and easily online. They can also use online tools such as Aviva's Retirement Forecaster and Shape My Future to get an idea of whether they're on target for the lifestyle they wish to enjoy in retirement.
Further enhancement in future
The Trustees are determined to build on the strengths of these member communications. Ad-hoc research, focus groups and regular feedback from members — both proactive and via surveys — will continue to inform a communications strategy which prioritises the Scheme members' interests at the heart of every innovation. The Trustees have set up a Member Experience and Communications Committee to oversee and monitor this activity.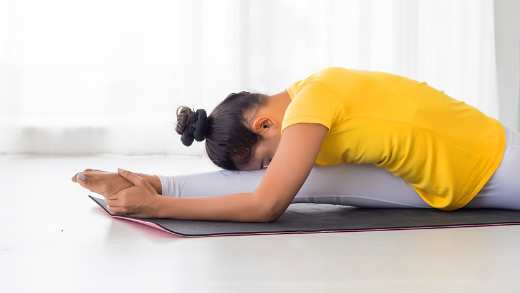 Flexible options that put members first
Naturally employers need to be sure that a Trust-based pension, like any other, offers its members the investment options and retirement choices that they're looking for.
Members can choose from a range of different 'pension freedoms' options to fund their retirement— including taking a tax-free lump sum from their pension from age 55* — and/or begin taking income as and when they may need it (flexi-access drawdown), leaving the rest invested. Crucially with the Aviva Master Trust, they can do this without switching from their Aviva Master Trust plan to another one, and without any increase in charges. 
*From 6 April 2028 this will be age 57 unless the member has a protected pension age. To find out more visit www.aviva.co.uk/nmpa.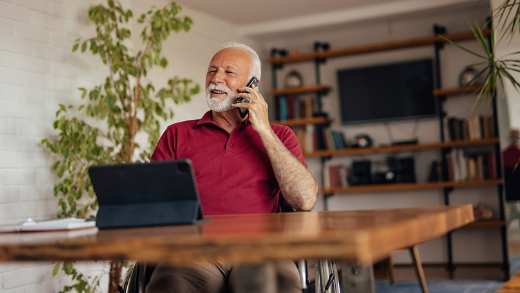 Supporting vulnerable customers
Aviva's customer service providers are trained to serve the needs of members with vulnerabilities including mental and physical health issues, disabilities and language barriers. Importantly, they're also equipped to help people troubled by money worries or debt.
Aviva constantly take on board feedback and insight to further improve member journeys, so they can continue serving vulnerable customers appropriately and respectfully. 
Making pensions more accessible through online platforms
An intuitive online platform puts pension details at members' fingertips, wherever they may be, 24 hours a day.
Accessible through the internet or via a smartphone app, the platform empowers members to view and update details, check pension values and even conduct transactions. But this isn't all — it also provides easy access to financial education material and guidance, as well as useful online tools to check that they're on schedule to achieve the kind of retirement they wish for.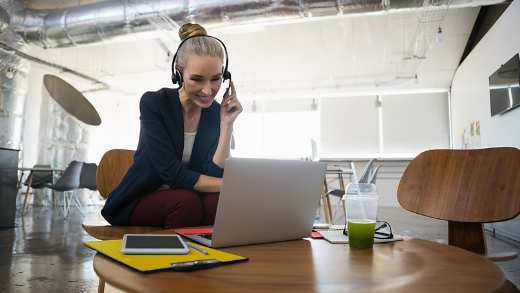 How Aviva provides support: online, offline, workplace, face-to-face
Supporting members through a variety of channels is more important than ever now that remote working has become so much more prevalent. Aviva communicates important information and support through:
Engaging digital content, including videos and webinars
Timely and relevant material to remind members of available choices and keep them engaged with their pensions
Impactful workplace-based materials
Targeted events, both online and onsite, closely matched to the needs and priorities of members at different life stages
Business perspectives
Expert business insight and analysis