With millions of homes at risk from flooding, how can you protect your things?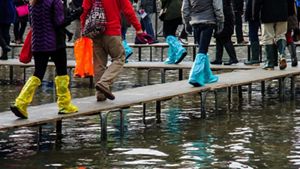 Climate change is causing unprecedented levels of flooding in the UK, putting one in six people at risk. As the number of claims soars, we're also acting to minimise the impact on those affected.
By Sarah Lewis
When hundreds of homes and businesses were flooded in northern England in autumn 2019, it wasn't declared a national emergency. But for the people affected, it was catastrophic.
Re-Read, a social enterprise which sells old books to buy new books for children, was one casualty. Its warehouse flooded and the books destined to be given to children at Christmas were irreparably damaged. 
The water had been several feet high, there was nothing anyone could do. To be honest, it's devastating.
Jim McLaughlin, CEO of Re-Read, said, "I woke up to my phone ringing on Friday morning. My workers told me water was coming in the warehouse. 999 Rescue had to get them safely out.
"When I saw it [the warehouse], it was as bad as I envisaged. The water had been several feet high, there was nothing anyone could do. To be honest, it's devastating."
The damage from floods goes beyond what can be replaced and repaired – many employees rely on Re-Read for work, not to mention the emotional toll from being caught in a flood.
Flood warnings on the rise
The UK has experienced more floods in recent years and more than five million UK homes are thought to be at risk of flooding [1]Footnote 1.
"People think of climate change as something that will affect us in the future," says Zelda Bentham, Aviva's Head of Sustainability, "but it's affecting us now."
A major study on climate change published in Nature notes that an increase in autumn and winter rainfall caused by climate change has led to increasing floods in the UK and north-western Europe [2]Footnote 2.
The floods in South Yorkshire were caused when more than a month's worth of rain fell in a single day [3]Footnote 3.
"Slow-onset climate change means we've experienced an influx of smaller, more intense floods and an increase in flood-related claims in the last five years," says Bentham. 
Protection against flooding
The average cost of flooding to a home is around £30,000, according to the Environment Agency [4]Footnote 4. So, one of the most important things people can do is to insure their property.
"Buildings insurance will pay for structural damage, but people need contents insurance too. Don't underestimate the cost of replacing belongings", says Matthew Deakin, UK Environment Manager at Aviva.
"People in flood-prone areas may have found insurance very expensive in the past, but these days it's more affordable."
"Most insurers have signed up to Flood Re – a government scheme which works with insurers to provide affordable cover to people in flood-prone areas," he adds. 
Prepare, act, survive
While damage to homes can be devastating, floods pose a serious threat to life so it's crucial to know how to act if there's a flood.
As well as repairing the damage, insurers can sometimes help before and during an emergency. 
All Aviva's frontline claims teams have been trained by the Red Cross to know how to support people before, during and after a flood.
Deakin says, "Preventing damage is a big part of what we do. When there's an expected flood, we'll often have claims teams on the ground, knocking on doors to warn customers to move valuables if they have time. This can help limit damage."
"We work with the Red Cross to help sign up Community Reserve Volunteers to help at times of local crisis too. Volunteers will do small things that make a difference in an emergency, things like filling sandbags, packing food parcels or blowing up airbeds." 
The emotional impact
Something that takes a severe toll on mental health is the prospect of being in temporary accommodation for a long time – an average of five months after severe flooding [5]Footnote 5 – so helping people move back home faster can make a difference. 

When the River Laxey flooded in the Isle of Man in October, Aviva's Major and Complex Claims Consultant, Phil Sheridan, knew customers' lives were being turned upside down and rapid action was needed.
"When I saw the images of the streets filled with water, I quickly found out which customers we have on the Isle of Man," says Sheridan.
"Many homes and businesses were flooded – residents of the island hadn't seen anything like it.
"Once we made contact, we found alternative accommodation for everyone who needed it. Weekend flights were quickly arranged, and I was onto the island talking to each customer and establishing the damage to each property." 
Home and dry
Seeing your home and possessions damaged can be highly distressing, so a special effort is made to look out for vulnerable customers.
Sheridan worked closely with one family with two young children, aged three and five.
The ground floor of the family's home was completely ruined. It was impossible to live in. They had temporary accommodation but desperately needed to return home.
Sheridan had lots of things to consider for this family: "I knew this family would have a very difficult time if they couldn't get back into their home quickly. The parents were extremely distressed. But after my initial assessment of the damage and establishing their needs, we had a plan in place within hours that would mean they could go back to their home."
The ground floor was far too damaged to live in, so Sheridan proposed creating a temporary apartment on the first floor including a temporary kitchen. 
"Everyone got on board with the plan and I put the contractors in place to deliver it. The work involved putting up temporary walls to keep the children away from unsafe areas. And because it was a basic, temporary kitchen, we made arrangements so the family could eat out at times."
Sheridan continues to be in touch with the family and the other customers he supported after the Laxey flooding.
Building resilience
As well as getting people back home faster, claims staff watch for customers at risk of mental health problems triggered by the experience.
In 2020, a new plan means those identified as being at risk of emotional stress will be offered therapy sessions with a qualified mental health practitioner.
Practical advice is also on hand. In-house surveyors and adjusters will sometimes stay with communities for months to help with claims and oversee repair work.
"We try to make sure that the repairs also make the property more resilient," says Deakin.
 "Once a home has been flooded, we advocate practical changes too, so buildings are more able to withstand water damage in future.
"We can do this by looking at flooring and fittings. Tiled floors, for example, won't be destroyed by flood water. But carpet and wood flooring fare less well. It's also a good idea to move electrical sockets higher up the walls and replace wood kitchens with water-resistant materials like stainless steel.
"We ask people to think about furniture too, a sofa on legs might survive a small flood. People sometimes resist making these changes, and we would never force a customer to, but it's a good idea to consider them if you live in a high-risk area."
He adds, "We make sure replacement white goods have an A+ or AA+ energy efficiency rating, as these small changes all help in the fight against climate change."
Back to business
Despite people's best efforts, climate change means that more of us are likely to experience flooding in the future. But insurance, government schemes and the right support can help people get back to normal faster. 
Contents insurance and help from a GoFundMepage means that, like many others affected by recent floods, Re-read can get back to business.
"We're determined to continue," says McLaughlin. 
"Last year we gave away more than 35,000 new children's books through schools and children's centres. Those involved feel that it's a project that's worthwhile."
Aviva continues to support Re-Read's claim. You can donate to Re-Read via GoFundMe.
Read our article on how to prepare for a flood.