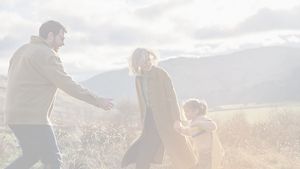 What is life insurance?
Life insurance helps give your family financial protection should you pass away within the policy term. It lets you leave a lump sum behind – helping your loved ones maintain their living standards or pay mortgage costs.

It's up to you how much cover you want. Our flexible protection is available from just £5 a month, and we'll ask as few as 5 questions once you have a quote to understand if we can offer you cover.

Life insurance is usually only there for you when you're gone – but ours could help look after you right away. With annual health checks, mental health counselling and nutritional support through the Aviva DigiCare+ smartphone app, powered by Square Health, our protection gives you more than just financial support. It gives you the tools and services you need to enjoy life today. Please be aware the benefits of DigiCare+ do not form part of your cover and they could be changed, or removed in the future.
Claims you can count on
We paid out 99.3% of life insurance claims in 20201
Aviva DigiCare+ app
Offers an annual health check and can connect you with healthcare professionals
Quick and simple cover
Most customers get a quote and decision in just over 5 minutes
How does life insurance work?
Our cover pays out a cash lump sum if you pass away or are diagnosed with a terminal illness where you're not expected to live longer than 12 months. Everyone's circumstances are different, but here are a few things to think about before you take out cover.
And if you're unfamiliar with the language of life insurance, our life insurance glossary will help.
Do you need life insurance?
Take the time to consider how much money your loved ones might need to maintain their living standards if you were to pass away. This might include costs such as bills, mortgage repayments, school fees and any other debts you might need to repay.
How long do I need cover for?
When it comes to how long you need cover for, think about how long your kids will need financial support, or when your other half might retire.
Joint or separate life insurance policy?
If you and your partner would like combined cover, you can take out a joint policy. This pays out once and won't provide cover for the second person after the first passes away.
You can also both take out two separate policies. So once we pay out for one person their policy will end – but the second person's policy will continue. 

Discover more about choosing between joint and separate policies with our helpful article.

Our different types of cover
We offer 2 different types of life cover: level cover and decreasing cover. Both are term insurance policies – meaning they protect your loved ones for a fixed amount of time.
The type of cover you want may depend on who you want to protect and how much you'd like to pay each month.
Level cover
Choose a lump sum to leave behind for your loved ones, and select how long you want your cover to run for. You'll then pay the same amount each month until your policy ends.
This lump sum can help to maintain the living standards of loved ones. It could be used to pay off an interest-only mortgage, or go towards general living costs and monthly outgoings, such as rent.
Level cover could be a good option if you're looking to:
Cover your salary
Maintain your loved ones' living standards
Help with health and living costs if you become terminally ill
Pay your children's school or university fees
Continue to keep up mortgage repayments
Pay off an interest-only mortgage
Protecting your cover from the effects of inflation
You can choose to make your cover amount increase in line with inflation. This means that your monthly payments may rise, and ensures that the lump sum won't be worth less in the future because of the rise in the cost of living.

If you choose this option, the maximum annual increase would be 15% to your premium and 10% to your cover 2.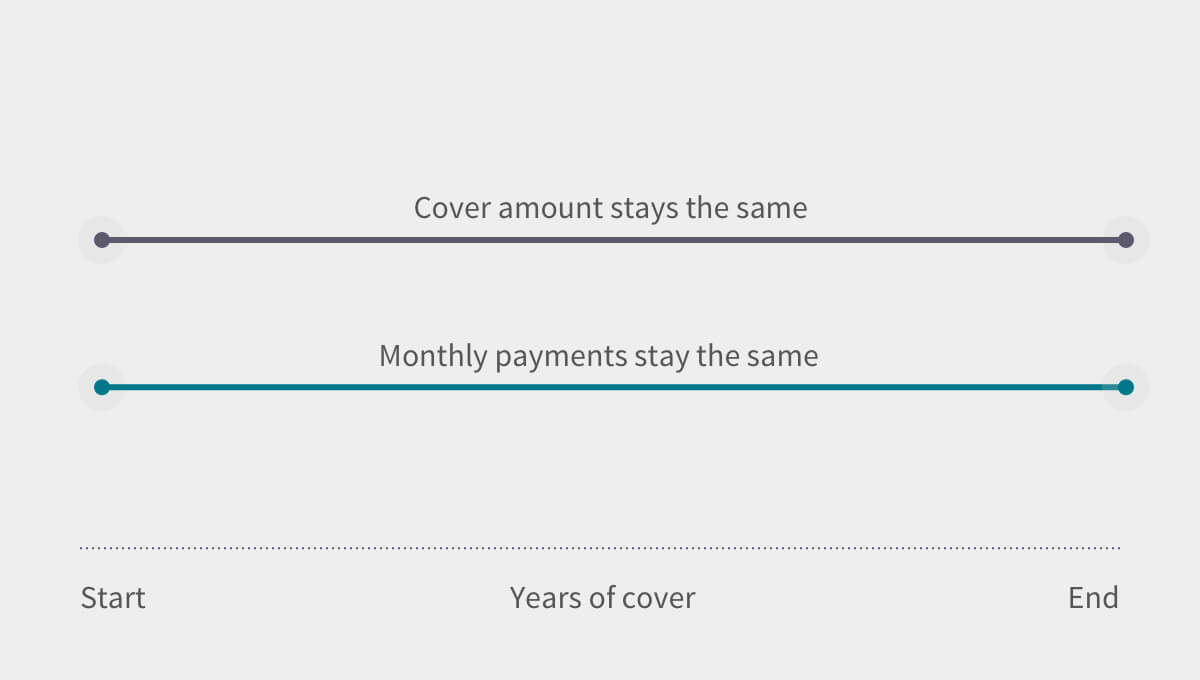 ---
Decreasing cover
You might choose this type of cover to help your loved ones pay off a repayment mortgage or long-term loan if you pass away at any time during the policy term.
The cover lasts for a specific length of time, and your monthly premiums are fixed, unless you make any changes to your policy
The value of what you're paying off gradually decreases over time, and so does the cover. That's why it usually costs less than level cover
Tell me more about term life insurance.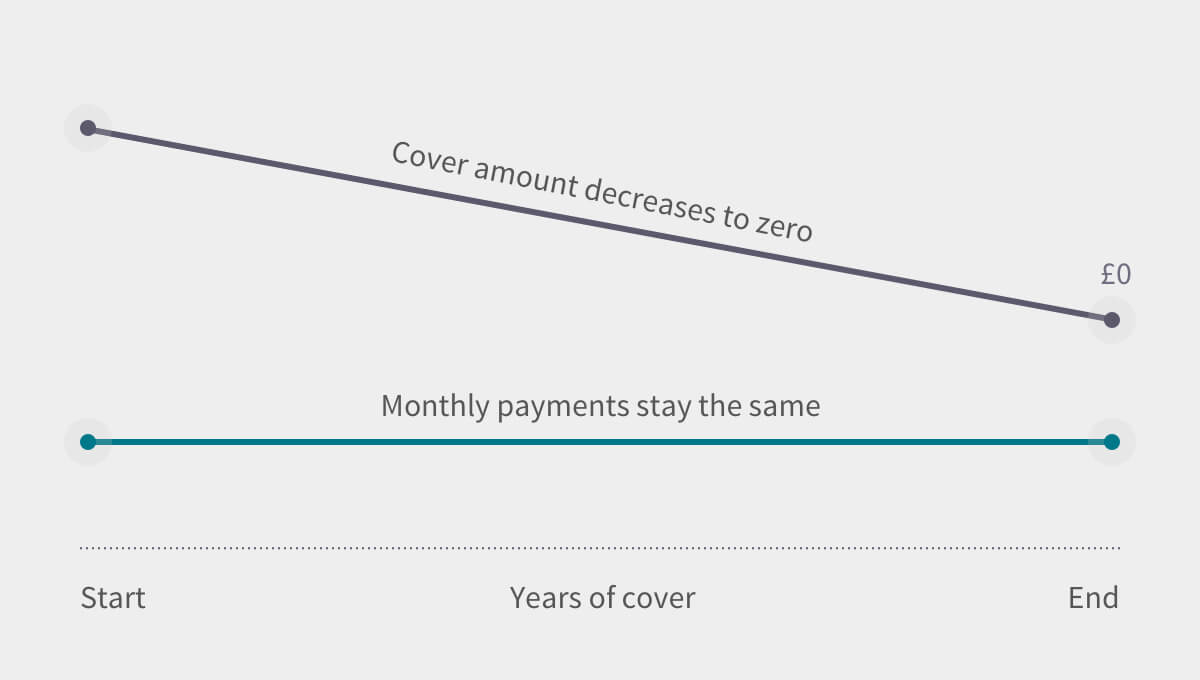 What our life insurance covers
If you pass away during the term of your policy, we'll pay out a cash lump sum – it's as simple as that.
What's covered
Lump sum payment
You can choose up to £5 million worth of cover and we'll pay the full amount after a successful claim

Protection if you die
We'll pay a lump sum if you pass away during the policy term – simple as that

House purchase cover
If you're taking out life insurance to coincide with the purchase of a new house, we'll give you up to 90 days free life insurance. The free cover begins when we've accepted your application and you've exchanged contracts/completed missives, as long as you've given us a future start date that coincides with the completion of your house purchase. Terms apply. See policy summary for full details
Terminal illness
Receive your lump sum payment early if you're diagnosed with a terminal illness that meets our definition and you're not expected to live longer than 12 months. Once payment is made your policy will end and no further claims will be paid

Flexible length of cover
You can choose the length of cover you need – from short-term to 50 years, or until you're 90 years old

A separation benefit
If you separate from your partner, we can split your joint policy into single policies
What's not covered
Unfortunately, we can't cover all circumstances, including:
Not paying your premiums
If your payments stop, so does your cover
No cash-in value
The policy has no cash-in value at any time
Death outside the policy term
You choose how long your policy lasts. Once it's finished, then your cover will stop and we won't pay out if you die
Suicide and self-inflicted injuries in the first year
You won't be covered if you die in the first 12 months of the policy as a result of suicide or intentional, self-inflicted injury 
Why choose us?
We're proud that our cover's 5 Star rated by Defaqto – a trusted industry expert.

We're the largest UK insurer
With 15 million UK customers
We've got heritage
We've been protecting people like you for over 300 years
You can count on us
In 2020 we paid out 99.3% of life insurance claims, helping 41,000 families, with payouts totalling £591 million 1
We're taking action on climate change
We're a United Nations Momentum for Change award-winner for reducing our environmental impact, and for inspiring action on climate change
We can help you stay healthier today
Our life insurance comes with access to health and wellbeing services through the Aviva DigiCare+ smartphone app
Policy documents for life insurance
See a full list of what's covered in our policy wording.
Are you eligible for life insurance?
In most cases, you can get life insurance even if you have medical conditions – you just need to tell us about them when you apply. When you've completed your application, we'll let you know whether we can offer you cover, and how much it will cost.
To apply for cover, you must:
Be a permanent UK resident (excluding the Channel Islands and the Isle of Man), with permission to legally remain in the UK on a permanent basis, or have a British Forces Post Office (BFPO) address
Be aged between 18 and 77 years
Answer all questions truthfully, and tell us about any pre-existing medical conditions
In most cases, you won't need a medical exam. But if we do ask you to have one, don't worry – we'll cover the costs.
How much cover will you need?
Your life insurance cover amount reflects how much money would be paid out if you pass away. So it's worth considering how much your loved ones might need to pay off a mortgage or keep up repayments, settle any debts and pay for general living costs. This will depend on your personal circumstances.
Our cover calculator
Try out our calculator to work out how much protection you might need for the things you love most.
Life insurance and critical illness cover
When you apply for life insurance, you can add critical illness cover. They're separate policies and cover you for different things, but you can buy them together.
Because they're not combined, a successful critical illness claim won't affect your life insurance policy, which will still pay out if you pass away during the policy term.
Get a quick quote
Got 5 minutes? That's how fast most customers get a quote and a decision.
Remember, you can add critical illness cover when you apply for life insurance.
Get a quote
Retrieve a quote
---
How Aviva DigiCare+ works
Once your life insurance policy with us is active, you can download the app and register your details.
You can then use it to connect you with clinicians, nutritionists, therapists and more – which means taking positive steps towards a healthier lifestyle can be as easy as picking up your phone.
Mobile data charges may apply.
Looking for more cover?
We have a range of options to help you protect your family's future. There is no cash-in value at any time.
Critical illness cover
Our Critical Illness Plan pays out a lump sum if you're diagnosed with or have surgery for 1 of the 53 critical illnesses covered by our plan.
Age: 18-64

Cover: Up to £1,000,000

Payment: If you become critically ill and live for 10 days after diagnosis
 
Over 50 life insurance
Affordable over 50 cover that lasts a lifetime (whole of life policy).
Age: 50-80 

Cover: From £5 to £100 a month
Payment: When you pass away


Free Parent Life Cover
A year's worth of life cover for parents of children under 4. Absolutely free.

Age: 18-66 with a child under 4 

Cover: £15,000

Payment: If you pass away
 
Take care of your loved ones with an Aviva Trust
Our Trusts give you more control over who your money goes to once you're gone and will usually be exempt from Inheritance Tax 3.

Already with us?
Here's where you'll find everything you need to know about your policy, and how to go about making any changes.
It's important to tell your family you have life insurance with us, and to share your policy number with them. This will help make things easier if they need to make a claim on your policy at what might be a difficult time.
View your policy in MyAviva
Use your secure online account to:
See your policy documents
Get offers and discounts
Manage your policy
This is your dedicated page if you have life cover with us. It's where you'll find lots of useful information, including:
How to update your personal details
How to make changes to your policy 
Answers to common questions
Ways to get in touch
Partnering with Macmillan Cancer Support
Offering specialised cancer support
We've partnered with Macmillan Cancer Support to raise awareness of the emotional, medical, and financial support they can provide if you're living with cancer. Our customer team has the information, tools, and necessary training needed to guide you quickly to the Macmillan support service that's right for you.
Need to make a claim?
If your family or loved ones need to make a life insurance claim, we'll make sure the process is as smooth as possible.
Contact us
Still need help? Give us a call.
Monday to Friday: 8:00am - 6:00pm
Saturday: 9:00am - 2:00pm
Sunday: Closed
For our joint protection, telephone calls may be recorded and/or monitored and will be saved for a minimum of 5 years. Calls to 0800 numbers from UK landlines and mobiles are free.