What is critical illness cover?
It's an insurance policy that helps protect you if you become critically ill during the policy term. It pays out a tax-free lump sum that you can use however you like – whether that's to help cover health-related costs, monthly expenses, or lost income while you get better.
Your policy could also help you take more control of your health and wellbeing right away. Through Aviva DigiCare+, our smartphone app powered by Square Health, you can access annual health checks, discounts on gym membership and home fitness, advice on nutrition, counselling for mental health and more. So you have the tools and services you need to enjoy life today. Please be aware the benefits of DigiCare+ do not form part of your cover and they could be changed, or removed in the future.
Children's cover
We'll pay if your child is diagnosed with or has surgery for a critical illness

Aviva DigiCare+ app
Offers mental health support, advice on nutrition and access to other health and wellbeing benefits
Standalone policy
You can buy life and critical illness cover at the same time. As they're separate policies, both could pay out
How does critical illness cover work?
You pay monthly premiums for the policy term, from 5 to 50 years, and if you're diagnosed with one of the 53 conditions we cover during that time, we'll pay out. Our policy also includes a children's benefit that covers any children you have at no extra cost.
Do you need critical illness cover?
You can't know what's around the corner for your health, but you can make sure you're prepared financially.
Think about expenses you'd need to cover if you were critically ill and couldn't work. It might be monthly outgoings like rent payments and general bills, or instalments on a loan or a repayment mortgage. If you don't have savings to fall back on, getting cover can help take financial worry away while you're recovering or having treatment.
How much critical illness cover do you need?
It depends on things like what you want to cover, how much you're looking to pay each month, and for how long. Because our critical illness plan isn't combined with life insurance, we're flexible. Over half of our customers pay just £17.50 a month or less for our critical illness cover 1.
Our different types of cover
We offer different types of critical illness cover: level cover and decreasing cover. The type of cover you want may depend on what you want to protect, and how much you'd like to pay each month.
Level cover
With level cover, you choose the cover amount and how long you want the cover to run for. The amount of cover and the amount you pay each month stays the same until your policy ends.
Level cover could be a good option if you're looking to help maintain a loved ones' living standards, and the lump sum can help to cover things like:
Your salary
Any additional health and living costs
Rent payments
Continue to make mortgage payments
Children's school fees or other childcare costs
Protecting your cover from the effects of inflation
You can choose to make your cover amount increase in line with inflation. This ensures that the lump sum won't be worth less in the future because of the rise in the cost of living. With this option, the amount of cover and the amount you pay can both go up each year.
The maximum annual increase is 15% to your premium and 10% to your cover amount 2.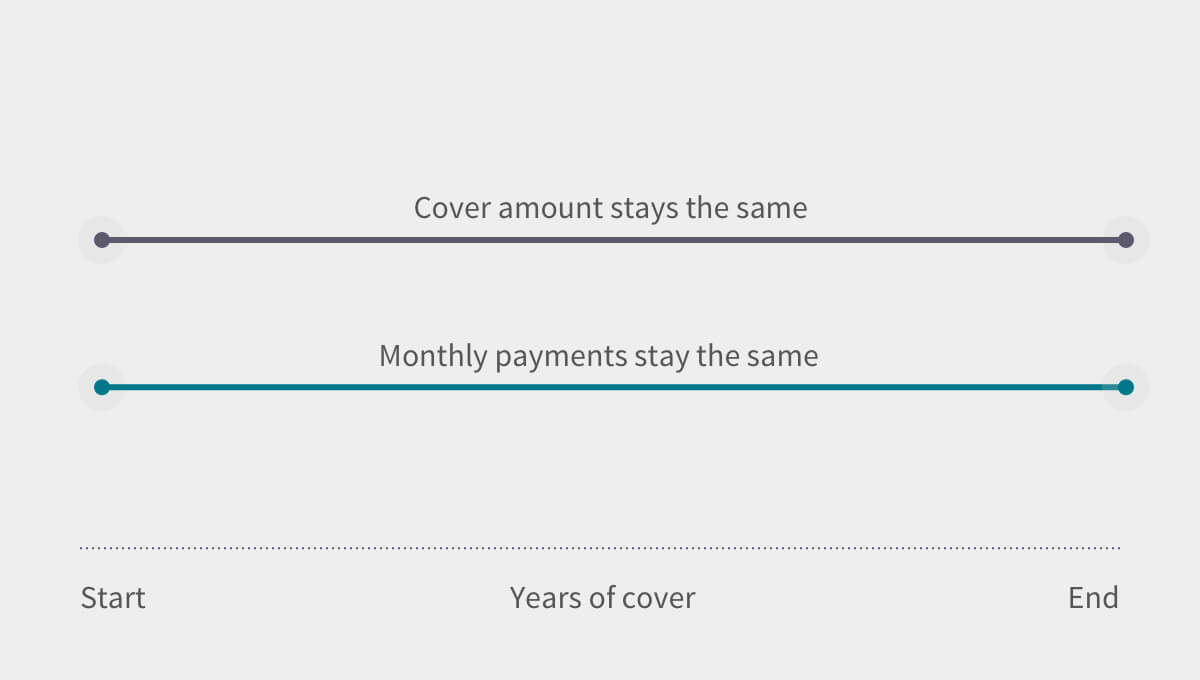 Decreasing cover
This type of cover might be used to help pay off a repayment mortgage, or other debts or loans, if you're diagnosed with a critical illness during the policy term. 
It lasts for a specific amount of time, and your monthly premiums are fixed, unless you make a change to your policy

It usually costs less than level cover, as the value of the loan or mortgage you're paying off gradually decreases over time, and so does the cover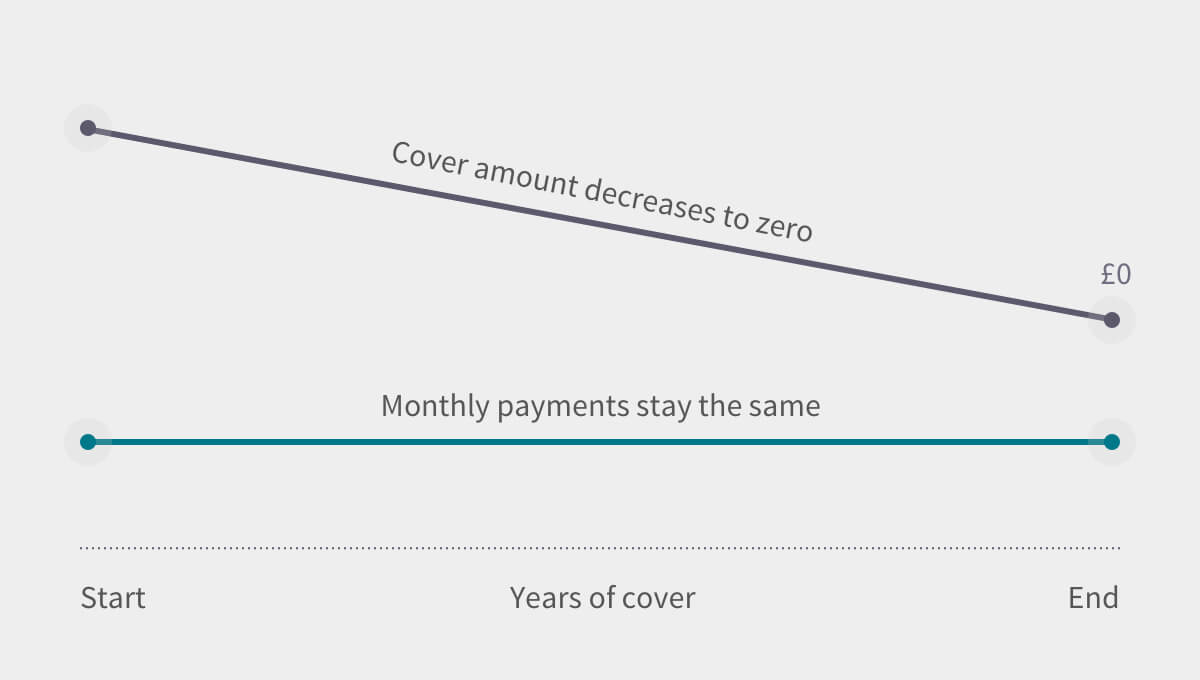 What our critical illness insurance covers
If you already have critical illness cover with us, check what conditions you're covered for in your policy documents, as it may be different from what's detailed below.
What's included
Lump sum payment
If you're diagnosed with a critical illness that meets our policy definition, and survive for 10 days
53 conditions covered
Outlined in our policy conditions
See the list of 53 conditions (PDF 202 KB)
Flexible length of cover
From 5 to 50 years – and the cover can last until you're 75
Cover for your child
If your child has a critical (not terminal) illness, we'll pay up to £25,000, or 50% of the cover amount (whichever is lower)

Joint to a single policy
If you separate from your partner, you can split your policy into two single policies, and won't have to answer any new health and lifestyle questions
Cover up to £1 million
To help you when you need it most
Additional critical illness benefit
You can claim for some additional critical illnesses – and the policy won't end if we pay a successful claim
What's not included
If you're diagnosed with a critical illness outside the policy term
You won't be covered after your policy ends

If you don't survive 10 days following diagnosis
We won't pay out. For this, you need life insurance
If you pass away
Your policy will end and we won't pay out. If you have a joint policy and one person passes away, cover will continue for the other policyholder
If you don't pay your premiums
Your cover will stop. The policy has no cash-in value at any time
If you're diagnosed with a critical illness not listed in our policy
You won't be covered
Once the policy pays out, it ends
We won't pay out again, unless it's a children's or additional critical illness claim
What's the most common critical illness claim?
Most of the claims we get are for cancer, and we often speak to people claiming for heart attacks, strokes, multiple sclerosis, benign brain tumours and Parkinson's.
But everyone's different, and we can't predict the future. That's why we cover as many as 53 illnesses, which are listed in the Critical Illness Plan policy summary (PDF 137 KB).

Why choose our critical illness cover?
We're proud our cover's 5 Star rated by trusted industry expert Defaqto.

We can help you stay healthier today
Our critical illness cover comes with access to health and wellbeing services through the Aviva DigiCare+ smartphone app
We've got heritage
We've been protecting people like you for over 325 years
We're taking action on climate change
We're the first major insurer worldwide to target becoming a Net Zero company by 2040.
Policy documents for critical illness cover
See a full list of what's covered in our policy wording.
Critical illness insurance claims: the inside story
Life insurance claims
In 2021, we paid 4,367 critical illness claims totalling £309.7m. And that's just for starters. We're lifting the lid on more of last year's claims to bring you facts, figures and essential behind-the-numbers info.
Are you eligible for critical illness cover?
To get cover, you must be:
A permanent UK resident, with permission to legally remain in the UK on a permanent basis
Aged between 18 and 64. For a joint policy, the maximum age applies to the oldest person covered
Linda's story
"You always think that nothing will happen to you, but you never know"

How critical illness cover helped Linda when she needed it most
Linda took out critical illness cover with us when she bought her house. Within a few years, she got some bad news completely out of the blue. Here's how we could help her at this difficult time. 
Ready to get cover?
Get a quote in minutes. And if you want to take out life insurance and critical illness cover together, just apply via our life insurance page.

Looking for more cover?
Here are some other ways to help protect your family's future.

Life insurance
Pays out a lump sum to help your family pay bills, mortgage repayments, school fees and any other debts, if you die within the policy term.
Age: 18-77 

Cover: Up to £5,000,000

Payment: If you die, or get a terminal illness and aren't expected to live longer than 12 months
Income protection insurance
Affordable cover that pays a proportion of your lost earnings, which could help cover your monthly outgoings if you can't work.
Age: 18-59

Cover: Monthly benefit amount between £500 and £1,500
Payment: If you're ill or injured and can't work


Free Parent Life Cover
A year's worth of life cover for parents of children under 4. Absolutely free.

Age: 18-66 with a child under 4 

Cover: £15,000

Payment: If you pass away
Partnering with Macmillan Cancer Support
Offering specialised cancer support
We've partnered with Macmillan Cancer Support to raise awareness of the emotional, medical, and financial support they can provide if you're living with cancer. Our customer team has the information, tools, and necessary training needed to guide you quickly to the Macmillan support service that's right for you.
Need to make a claim?
It's easy to make a claim on a life cover policy — and we're here to help, every step of the way.
Already with us?
Here's where you'll find everything you need to know about your policy, and how to go about making any changes.
View your policy in MyAviva
Use your secure online account to:
See your policy documents
Get offers and discounts
Manage your policy
This is your dedicated page if you have life cover with us. It's where you'll find lots of useful information, including:
How to update your personal details
How to make changes to your policy 
Answers to common questions
Ways to get in touch
Contact us
One of our friendly team will be happy to provide you with a quote and help answer any questions you may have.
Monday to Friday: 8:00am - 6:00pm
Saturday and Sunday: Closed
For our joint protection, telephone calls may be recorded and/or monitored. Calls to 0800 numbers from UK landlines and mobiles are free.