Make the most of your ISA allowance
We know what it takes to get fully prepared so you can enjoy a brighter future. And we're here to help you with that.
Taking out our Aviva Stocks & Shares ISA is one step you could take. It offers a tax-efficient way to save money, the ability to pick your level of risk, and be as hands-on or as hands-off as you want.
From £25 a month
Start with a lump sum of £500 or pay in as little as £25 a month.

Account flexibility
Manage and track your ISA with our online investment service.

Anytime withdrawals
Take money from your ISA whenever you need to.

It doesn't matter if you're an investment beginner or already know your way round a fund, our Aviva Stocks & Shares ISA could suit you. Remember, investment values can fall as well as rise so you could get back less than you put in.
What is a stocks and shares ISA?
Tax-efficient investing
A stocks and shares ISA is a type of account that lets you invest without having to pay Income Tax or Capital Gains Tax. This can make a difference to what you get back on your investment over the long-term.
Instead of receiving a set interest rate each year, like you do with a regular savings account, you invest your money in the stock market by picking from a wide range of funds.
Funds allow you to spread your money across different investments. Depending on how involved you want to be, or how confident an investor you are, you can choose from ready-made fund lists or research and select your own funds.
Why a stocks and shares ISA?
Potential for growth
If you put your money in a stocks and shares ISA it has the potential to grow more than if it was just sitting in a cash ISA or cash savings account.
However, you'll need to be comfortable with the ups and downs of the stock market. As it rises and falls, so does the value of your investments, and you could get back less than you put in.
That's why a stocks and shares ISA should be a mid to long-term savings option. Given enough time, you might ride out a bumpy market and give your money a chance to grow.
The benefits of our Aviva Stocks & Shares ISA
See the value of your investments on mobile, tablet or computer with the MyAviva app

Easy to switch between higher and lower risk funds

Tailor your investment approach and choose from ready-made funds for beginners, a shortlist picked by our investment professionals, and our full range available for more experienced investors

All funds clearly show charges and risk levels
Our flexible ISA lets you withdraw your money and pay it back in the same tax year, without affecting your annual allowance

No charge to withdraw your money

Pause monthly payments and re-start when you want

Change your investments without notice or extra fees
Plus, you can get as much, or as little support, as you need to help face the future with confidence. We've been around for over 325 years, so we've got a lot of expert know-how we can pass along.
No matter how far along you are with planning your finances, our online investment service can help you get started or step up your investment game.
The 2022/2023 ISA allowance
You can only invest a certain amount into an ISA each tax year. This is called an ISA allowance.
For the 2022-23 tax year, which runs from 6 April 2022 to 5 April 2023, you can put up to £20,000 into ISAs.
You can transfer your ISA to us at any point without it affecting your allowance. We've made it easy to do, no matter if you're transferring cash or existing funds. Find out more about transferring your ISA.
Meanwhile, you have the flexibility to pay into your Aviva Stocks & Shares ISA either by setting up regular payments, which can be monthly, quarterly, annually, or with single payments as and when you want. One alternative to putting your allowance in all-in-one go is a drip feed investment strategy known as pound cost averaging.
With our Aviva Stocks & Shares ISA, you can also withdraw your money and pay it back in the same tax year without affecting your annual allowance.
Fair and transparent charges
Our ISA charge is made up of two separate costs.
There's our Aviva Charge, which is up to 0.40% a year of the value of your investments, calculated daily and charged monthly. And your Fund Manager Charge, which depends on the funds you pick. 
Here's an example of how much you'd pay in your first month for £5,000 invested in a ready-made fund with a charge of 0.35%.

Our Aviva Charge
Our platform charge is a percentage of your total investment, up to a maximum of 0.40% a year, and is based on how much you've invested with us. The more you invest, the lower the percentage you'll pay, as shown in the table.
| Your investment | Annual Aviva charge |
| --- | --- |
| First £50,000 | 0.40% |
| Next £200,000 | 0.35% |
| Next £250,000 | 0.25% |
| Amount above £500,000 | 0% |
You can log into your account at any time to check your exact platform charge. Investment platforms can have different types of charges and use different terms to describe them.

Find out more about platform charges in this factsheet (PDF 82KB)
Combined Aviva charge
Got more than one type of investment with our online investment service, including an Aviva Stocks & Shares ISA, Investment Account or Pension? The more money you invest, the more we'll reward you with a lower percentage charge to pay overall.
It's a great way to keep more of your hard-earned money in the long term. 
Find out more in our terms and conditions (PDF 211 KB)

Paying your charge
Your charge comes out of the cash in your account. Interest there is at our variable rate and may be positive, zero or negative. Current details can be seen here (PDF 62 KB). Please note, if the interest rate is less than our Aviva Charge, the amount in your cash account will go down.

If you don't have enough cash in your account, this charge will come out of your investments.
Fund Manager Charge
The fund or funds you choose may incur an extra charge to cover the costs and expenses of managing the investments. Each fund has an individual charge which can be found in the Key Investor Information Document. This also appears as an ongoing charge figure (OCF) on your statement.
How it works
To get started, all you need to do is:
Step

1
Start
Sign up or log in to MyAviva, our online portal for managing your details. Set up your ISA username and password then apply for an account.
Step

2
Invest
Pay into your new account and choose your investments to finish your application.
Step

3
Check anytime
Log in to check up on the performance of your investments and manage your account.
How to pick your funds
See what method of picking a fund might suit you best.
Ready-made funds
Choose from a range of funds fully managed by Aviva Investors - including growth funds run with varying risk levels.
Experts' shortlist
Don't want to browse thousands of funds? Then choose from our experts' shortlist instead.
You've got passive funds which aim to track the value of a particular group of companies or markets, as well as active funds which try to beat the overall return of that market.
To make it into our shortlist, our experts at Aviva Investors believe these funds to be managed by high quality companies and fund managers with strong governance and control processes.
How the shortlist is put together
Self-select investments
If you're confident in picking your own funds to invest in, browse the full list in our self-select investment service.
Pick your funds from sectors including equities, property, gilts and more, as well as specific fund management companies. You can even focus on ethical funds if you want.
Why choose us?
We're the proud owners of The Times Money Mentor gold award for customer experience, Autumn 2021 as well as the Your Money best investment platform for beginners and best investment ISA for a large portfolio 2022.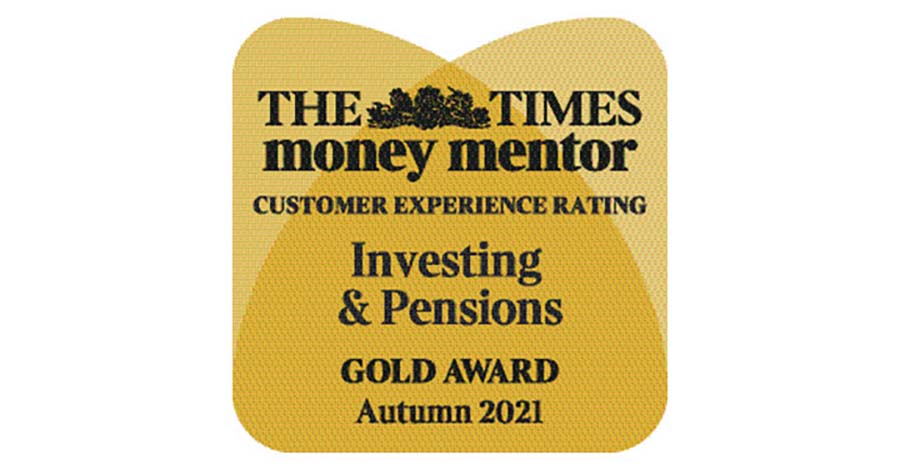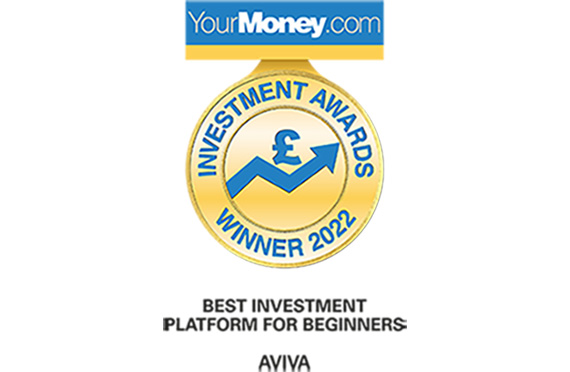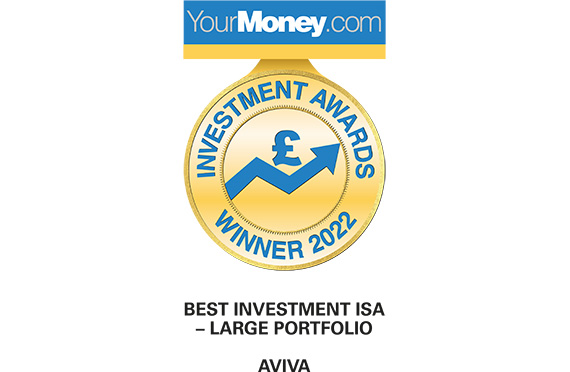 Important documents
Before opening an Aviva Stocks & Shares ISA, take a look at  these helpful documents.
Ready to start?
To open an account or transfer an existing ISA you'll need:
A MyAviva account – if you don't have one, registration is free and only takes a few moments
Your National Insurance number 
Your bank details or debit card information to set up payments into your account
Other ways to invest
There's more than one way to make your money work harder. Here are a few other ways you can do it with us.
If you've used your ISA allowance you can open an investment account and manage everything on our easy-to-use online investment service.
Our straightforward process makes transferring your ISAs and investments to us easy and simple.
Wealthify offers ISAs, Junior ISAs and general investment accounts in a remarkably simple way.
Help and support
We're always here to help – if and when you need it.
If you're not sure if investing is right for you or which funds to pick, you might need to speak to a financial adviser.

Already have an investment with us? If it's linked to your MyAviva account, log in to manage it. If it isn't, we can help you find out how to access it.

Learn more about savings and investments
Not sure if you should save or invest? Our educational articles and videos will help you learn more.
Top up your knowledge
Keen to open your first savings account, understand investment risk or learn all about ISAs and ethical funds? Our saving and investment articles can help beginners and keen investors understand how to manage their money. 
Contact us
Still need some help? Give us a call
Monday to Friday: 8:00am – 6:00pm
Saturday and Sunday: Closed
Telephone calls may be monitored and will be recorded and saved for at least five years. Calls to 0800 numbers from UK landlines and mobiles are free.
This is not a personal recommendation. If you need a personalised recommendation based on your personal circumstances, you should seek financial advice.
Platform provider and ISA Manager: Aviva Wrap UK Limited. Registered in England No. 4470008. Aviva, Wellington Row, York, YO90 1WR. Authorised and regulated by the Financial Conduct Authority. Firm Reference Number 231530.