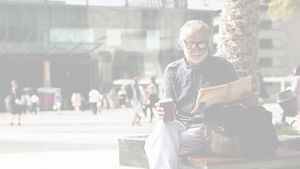 Flexible income
Money when you want with income drawdown
What is income drawdown?
Take money from your pension as and when you want it. It's a flexible way to take an income from the minimum retirement age – currently 55 – and keeps you in control. 
Flexible options
Take money as and when you need it

25% is tax free
Take 25% of your pension tax free

Change your mind
Take a different retirement option or combine this with another option at any time

The value of your pension can go down as well as up and you may get back less than has been paid in. Tax benefits are subject to change and depend on your individual circumstances.
How it works
Discover how income drawdown works to help you understand if it's right for you – or see how it could work for you with our Retirement Planner.

Step

1
Using your tax-free allowance
Take up to 25% of your pension tax-free or use some of your allowance and save some for later.
Remember that tax benefits are subject to change and depend on your individual circumstances.
Step

2
Accessing more of your pension pot
You can continue to make single withdrawals as and when you like, providing you have the funds available.
You can also set up a regular withdrawal option, and you can change how much and how often you take money at any time.

Step

3
Regularly review your remaining pension
The rest of your pension will stay invested. The value of your pension can go down as well as up and you may get back less than has been paid in.
You can review your investment options at any time to make sure you're happy with the level of risk involved.

What income drawdown offers
No surprise fees or charges
There are no charges for withdrawing money from an Aviva Pension, but you'll continue to pay the same administration and fund management charges for your pension

Manage your pension online
Easily manage how your pension is invested by logging into your MyAviva account

Invest through Investment Pathways
The money you don't withdraw will stay invested. If you're not sure where to invest, or you want some help choosing funds, Investment Pathways is an initiative which could help you with its four simple investment options. The value of your pension can go down as well as up and you may get back less than has been paid in
25% is tax free
Take your 25% tax-free in one go or across multiple withdrawals. Any other payments are subject to income tax. Tax benefits are subject to change and depend on your individual circumstances
Flexible options
You can take money whenever and however you like. Plus, you can make changes to the amount you take and how often you take it at any time by giving us a call
Change your mind
If you decide income drawdown isn't right for you, you can change your mind at any time and take a different retirement option, such as a guaranteed income for life
Before taking income drawdown
There are some things you need to be aware of before choosing to take your pension in several lump sums or as regular withdrawals.
The more money you take, the faster your pension will be depleted and the more likely it is to run out
If you're still working, your salary plus pension withdrawal may push you into a higher tax band than if you just took the tax-free amount from your pension on its own
Money you get from your pension is looked at when working out your entitlement to any state benefits. Taking any withdrawals may affect the benefits you can receive
If you take money from your pension you can still pay into your pension in the future. You can take up to 25% tax free but once you've withdrawn any taxable cash, you will be subject to tax charges if you contribute more than £4,000 in total to any defined contribution pensions in a tax year. This is known as money purchase annual allowance (MPAA). Read more about tax implications
Taking a lump sum counts towards the total amount of pension money you can use for retirement benefits before paying an extra tax charge (your lifetime allowance). The lifetime allowance for the 2021/22 tax year is £1,073,100

If you're planning to put the money you take into savings or other investments, you should compare and think about how it will get treated for inheritance tax purposes
Apply or transfer for income drawdown
You can apply for income drawdown online through the Aviva Pension. Or if you're already with us, your existing policy might offer a flexible way to take an income. Unsure whether it does? Just contact us and we'll let you know. 

Is it right for you?
Before you start using your pension, you need to consider if taking your money flexibly is the right option for you both now and in the future.

Use your money your way
When Paul's daughter got engaged, he wanted to contribute towards the wedding. He took drawdown on his pension to use his tax-free cash to help pay for some of the costs. He kept the rest in his pension fund, so he had the option to take more whenever he needed and still had the option to buy an annuity later 1.

Keep your money invested
Amy was looking at pension options but wasn't sure she was ready to retire. Drawdown suited her because she could take money whenever she needed to, continue paying in and keep her money invested. Plus, she could manage her funds easily through our online investment service without needing to be an expert 1.

Financial advice
If you're looking for help with your pension or retirement options, our financial advice support team can help you decide whether financial advice is right for you.

Pension Wise
This government service offers free and impartial guidance on retirement options for people over 50, either over the phone or face to face.
Other ways to use your money
If you're not sure if income drawdown is right for you, take a look at other options for taking money from your pension once you're retired. You can see more and compare your options here.

1 Examples created for promotional purposes.