What is a Junior ISA?
Do you want to give your child a head start in life when they turn 18? The Junior ISA could be what you're looking for.

It's an investment account on which they'll pay no income or capital gains tax on any returns the JISA earns. It's a great, tax-efficient way to put money away for your loved one.
You can open an account today so long as you're the parent or legal guardian. And your child gets access to the money as soon as they turn 18.
How a Junior ISA could work for you and your child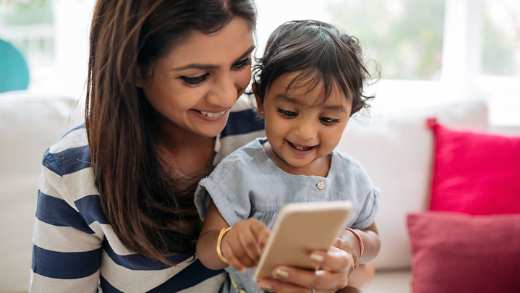 It's simple. Your JISA money goes into funds that track the performance of companies around the world. When they do well, your money goes up, like any other investment.
Of course, all investments rise and fall in value. While they trend towards a profit in the long-term, they could lose money in the short term and get back less than you put in.
That's why we encourage you to hold your child's JISA for a minimum of five years. This gives your child the best chance to collect tax-efficient profits when they turn 18.
Make sure you take advantage of their £9,000 JISA allowance while you can. The sooner you pay in, the sooner you could see a return on your money.
What to think about when taking out a Junior ISA
You're in control until your child reaches 18
You can keep adding to your JISA, up to the maximum ISA allowance each year (currently £9,000), and any returns or interest are free from income tax or capital gains tax.
Anyone can contribute
You can invite anyone to pay into the Wealthify Junior ISA by using the 'Friends and Family' feature..
You can check on performance anytime
You'll have access to a dashboard, enabling you to check-in 24/7.
Things to consider
It's for the longer term
Experiencing market movements up and down is a normal part of investing. Leaving your money invested for five years or more gives it the best chance to grow. Remember, no investment is guaranteed to deliver returns.
It's managed for you
Your money is looked after by Wealthify's investment managers, who monitor your plan and decide where to invest your money. So you don't need to be an expert to get started.
It's your child's money
Once you put money in, you can't take it out again, except in exceptional circumstances. Your child can only get access to their money when they turn 18.
Junior ISA FAQs
What are the charges?
Who can have a Junior ISA?
Who can open a Junior ISA?
Who are Wealthify?
Your investments
This is not a personal recommendation. If you need a personalised recommendation based on your personal circumstances, you should seek financial advice. Your money will be invested in low-cost funds carefully selected by Wealthify, each containing a diverse range of investments such as stocks, bonds and property. Fund provider fees are between 0.12% and 0.17% a year for the Original portfolios, or between 0.29% and 0.86% a year for Ethical portfolios.
Your privacy
If you click through to Wealthify, we'll share some of your personal information with them so that you can receive the offer and to help fill out any forms in case you want to apply. To see how we take care of your data, visit here. For information on how Wealthify process your data, check their website.
Wealthify and Aviva
Wealthify is part of the Aviva group of companies and is authorised and regulated by the Financial Conduct Authority. Aviva UK Digital Limited acts as an introducer to Wealthify Limited for ISA and General Investment Accounts. The underlying investment management services are provided by Wealthify Limited, not Aviva UK Digital Limited.Aviva UK Digital Limited is registered in England No. 09766150. Registered office: St Helen's, 1 Undershaft, London EC3P 3DQ. Authorised and regulated by the Financial Conduct Authority. Firm Reference Number: 728985. Aviva UK Digital Limited and Wealthify Limited are subsidiaries of Aviva Group Holdings Limited.
Wealthify and you
This offer is being made to you without regard to your specific investment objectives, financial situation or particular needs and therefore this offer doesn't imply that Wealthify is suitable for you, and isn't a personal recommendation of any kind. If you're unsure about investing and need advice, have a chat with our Advice Support Team who will put you in touch with a financial adviser. Call us on 0800 092 8215 or visit aviva.co.uk/advice