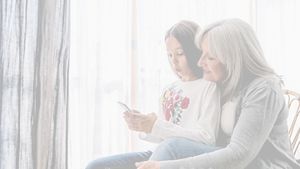 Over 50 life insurance
Want lifelong cover?
Call 0800 046 2778* for a quote or stay online
Get a quote
What is over 50 life insurance?
It's a type of insurance that lets you leave a guaranteed fixed lump sum to your loved ones when you're no longer around. To apply, you just need to be aged 50 to 80 and a UK resident. 
Your monthly premium won't rise, and there's no need to think about how long you want it to last, as it's whole of life cover. Bear in mind that, if you pass away in the first year of your cover and it isn't due to an accident, we'll pay back premiums already paid, but not a lump sum.
While our cover offers protection for your loved ones' financial future, it brings benefits to the here and now too. As soon as your policy starts, you can use our Aviva DigiCare+ smartphone app, powered by Square Health, to access annual heath checks, nutritional support, mental health counselling and more. So you have the tools and services you need to enjoy life today. Please be aware the benefits of DigiCare+ do not form part of your cover and they could be changed, or removed in the future.
No medical
You won't be asked any health questions or need a medical examination
Lifetime cover
Cover lasts for life – and once you turn 90 or after 30 years, you won't pay anything 
Aviva DigiCare+ app
Offers health and wellbeing services, including mental health support and an annual health check
How does over 50 life insurance work?
You choose a cover amount and monthly payment, and we pay a lump sum when you pass away. You won't need a medical or have to answer any health questions to be accepted.
Do you need over 50 life insurance?
If you're looking to leave your family a guaranteed lump sum when you're gone, you might want to consider this type of lifetime cover. They could put the cash payout towards the cost of your funeral, home improvements, a holiday, household bills, or anything else they need it for.
If you're looking for something that just takes care of your funeral costs and safeguards the send-off you want, you might be interested in a prepaid funeral plan.
If you'd like a joint policy with your partner, or if you only need cover for a certain length of time, you could consider our term life insurance. 
How much cover do you need? 
It depends on what you want the lump sum to be used for, and what's affordable.  
Our cover's available from £5 to £100 a month, depending on your age, and how much cover you'd like.
How do you leave the lump sum to a loved one? 
When you pass away, the insurance payout becomes part of your estate and goes to loved ones you've named in your will, known as beneficiaries. If you put your policy in a Trust, you get control over who the payout goes to, and it will usually be exempt from Inheritance Tax 1.
How long are you covered for?
It's a whole of life policy, so it lasts a lifetime, instead of a specific number of years. You pay a premium of between £5 and £100 a month, depending on your age and how much cover you'd like, and the payout is guaranteed whenever you pass away. After that, the cover ends.
---
Your premiums won't rise
It might be reassuring to know that that what you pay each month will never rise.
Once you've had your policy for 30 years, or from the plan anniversary after your 90th birthday, you'll no longer pay anything, but your cover will continue.
It's worth being aware that, depending on how long you live, you could pay more in total premiums than the cover amount.
What our over 50 life insurance covers
Your premiums are fixed, there's no medical, and a payout is guaranteed. Here's more about what's covered.
What this cover offers
Guaranteed acceptance
If you're a UK resident aged between 50 and 80
The same price for life
Just choose how much you want to pay each month 
Lifetime cover
You won't pay any premiums after 30 years or after your 90th birthday

A guaranteed cash lump sum payout
If you pass away or have an accident within the first year
The option of more than one plan
If the combined total monthly premiums don't exceed £100
What to consider
It has no cash value 
We only pay out when you pass away. If you stop making payments that are due, your cover will end after 30 days
It can't be joint cover
It's a policy for one person
The payout could be less than what you paid in
Depending on how long you live
Inflation will reduce the value of the payout
The cover amount doesn't increase with inflation
If you pass away in the first year not due to an accident
We'll pay back premiums already paid, but not a lump sum
Are you eligible for over 50 life insurance?
You don't need to have a medical or answer health questions – you're guaranteed to get cover, if you're the right age and a UK resident. 
To apply, you need to be:
A permanent UK resident
Aged between 50 and 80
---
Ready to get cover?
Try our simple quote calculator to see your monthly payment and cover amount options.
Get a quote
Prepaid funeral plans
If you're looking for a plan that specifically covers funerals, we can help.
Go to Funeral plans
Looking for more cover?
Here are some more ways to help protect your family's future. There is no cash-in value at any time.

Partnering with Macmillan Cancer Support
Offering specialised cancer support
We've partnered with Macmillan Cancer Support to raise awareness of the emotional, medical, and financial support they can provide if you're living with cancer. Our customer team has the information, tools, and necessary training needed to guide you quickly to the Macmillan support service that's right for you.
Already with us?
Here's where you'll find everything you need to know about your policy, and how to go about making any changes.
It's important to tell your family you have over 50s life insurance with us, and to share your policy number with them. This will help make things easier if they need to make a claim on your policy at what might be a difficult time.
View your policy in MyAviva
Use your secure online account to:
See your policy documents
Get offers and discounts
Manage your policy
This is your dedicated page if you have life cover with us. It's where you'll find lots of useful information, including:
How to update your personal details
How to make changes to your policy 
Answers to common questions
Ways to get in touch
Contact us
Still need help? Give us a call
Monday to Friday: 8:00am - 6:00pm
Saturday: 9:00am - 2:00pm
Sunday: Closed
For our joint protection, telephone calls may be recorded and/or monitored and will be saved for a minimum of 5 years. Calls to 0800 numbers from UK landlines and mobiles are free.