Our Investment Account
Invest beyond your ISA allowance with our professionally-managed funds and track how they're performing at any time. Whether you're new to investing or know exactly what you want, we can help. Remember, investment values can fall as well as rise, so you could get back less than you put in.

Flexible and affordable
Start with a lump sum of £500 or pay in as little as £25 a month.
Fair charges and no hidden costs
Our maximum yearly charges start at 0.40% plus any Fund Manager Charges.

Your investments in one place
Manage and track your investments with our online investment service.

Plus, access a selection of tools which could help you understand how investments work, as well as useful articles and guides for further insight into the world of investing.
Is investing right for you?
Every investment decision is based on your risk and return appetite and the way you'd like to invest.
Why an investment account?
Investment accounts allow you to invest in professionally-managed funds that trade in investments on your behalf. There's risk attached to it, as the value of your investment could go down, but it has the potential to give you bigger returns than a savings account.

How do you choose?
If you're not sure where to start, we have 4 ready made growth funds you can choose from, based on the level of risk you're happy to take. If you'd like a little more choice, our Aviva Investors experts have put together a shortlist of funds, or you can build your portfolio from our full range of funds.
Alternatively, you can transfer existing funds from current investments if we are able to accept them.
What our Investment Account offers
Choose our Investment Account if you've already used your yearly ISA allowance. Choose from a wide range of fund options and effortlessly manage your account online.
Access your money any time
Put money in or take it out when you want to
You can withdraw your money whenever you need it. Keep in mind that the funds are designed to perform over 5 years or more, so taking money out might not maximise your potential returns.
Keep track of your investments
View your investments on any device, anytime
With our online investment service, you can track and manage your money easily. Check in on your phone, tablet or computer, and search for specific funds quickly and easily.
Expert advice
We're here to help, when you need it
If it's application or transfer information you're looking for, tools, videos, and guides, even financial advice, we can point you in the right direction.
Fair charges up-front
So you know exactly what you're paying
Our charges start at just 0.40% a year for investments under £50,000. Each fund also has a Fund Management Charge clearly set out in its Key Investor Information Document or Key Information Document.
Transfer existing investments
Move your existing funds across to an Aviva Investment Account so you are not out of the market . This means your investments will continue to be subject to market conditions and may go up or down in value whilst the unit transfer takes place. Whilst the unit transfer is in progress you will be unable to trade on the funds until the process is complete.
Switch investment funds
Change your funds without charge
Our online investment service enables you to change your funds and contributions by type and amount and we don't charge you for switching funds or making withdrawals. In exceptional circumstances there may be a delay in switching funds.
Fair and transparent charges
Our Investment Account charge is made up of two simple costs.
There's our Aviva Charge, which is up to 0.40% of the value of your investments, calculated daily and charged monthly. And your Fund Manager Charge, which depends on the funds you pick. This charge is incorporated into the price of the fund rather than being taken out of your account.
Here's an example of how much you'd pay in your first month for £1,000 invested in a ready-made fund with a fund charge of 0.35%.

Our competitive Aviva charge
Our charge is a percentage of your total investment, up to a maximum of 0.40% a year, and is based on how much you've invested with us. The more you invest, the lower the percentage you'll pay, as shown in the table.
| Invested value | Annual Aviva charge |
| --- | --- |
| First £50,000 | 0.40% |
| Next £200,000 | 0.35% |
| Next £250,000 | 0.25% |
| Amount above £500,000 | 0% |
You can log into your account at any time to check your exact platform charge. Investment platforms can have different types of charges and use different terms to describe them.
Find out more about platform charges in this factsheet (PDF 82KB)
Combined Aviva charge
Got more than one type of investment with our online investment service, including an Aviva Stocks & Shares ISA, Investment Account or Pension? The more money you invest, the more we'll reward you with a lower percentage charge to pay overall.
It's a great way to keep more of your hard-earned money in the long term.

Read our terms and conditions (PDF 212 KB)
Paying your fee
Your fee comes out of the cash in your account. Interest there is at our variable rate and may be positive, zero or negative. Current details can be seen here (PDF 62 KB). Please note, if the interest rate is less than our Aviva Charge, the amount in your cash account will go down.
Alternatively, this charge will come out of your investments if you don't have enough cash in your account.
Fund Manager Charge
The fund or funds you choose may incur an extra charge to cover the costs and expenses of managing the investments. Each fund has an individual charge which can be found in the Key Investor Information Document. This also appears as an ongoing charge figure (OCF) on your statement.
How to pick your funds
See what method of picking a fund might suit you best.
Ready-made funds
Choose from a range of funds fully managed by Aviva Investors - including growth funds run with varying risk levels.
Experts' shortlist
Don't want to browse thousands of funds? Then choose from our experts' shortlist instead.
You've got passive funds which aim to track the value of a particular group of companies or markets, as well as active funds which try to beat the overall return of that market.
To make it into our shortlist, our experts at Aviva Investors believe these funds to be managed by high quality companies and fund managers with strong governance and control processes.
How the shortlist is put together
Self-select investments
If you're confident in picking your own funds to invest in, browse the full list in our self-select investment service.
Pick your funds from sectors including equities, property, gilts and more, as well as specific fund management companies. You can even focus on ethical funds if you want.
Tax you'll pay
You may need to pay Income Tax or Capital Gains Tax on any returns or income you make from an investment account. So you might want to think about investing using a stocks & shares ISA as a first step.

How much?
The amount of Income Tax and Capital Gains Tax you pay depends on your personal circumstances.
We'll pay interest to you gross, which means no income tax is deducted. You will have to settle any tax liability on interest income to HMRC.

Dividends
Any dividends we pay you from your investment will have no tax credit or Income Tax deducted. You're usually entitled to the Dividend Allowance, meaning you'll receive the first £2,000 of dividends reach year tax-free. But any dividend amount above that will be taxable.
Gains
We  won't make any deduction for Capital Gains Tax, but you may have Capital Gains Tax to pay (through self-assessment to HMRC) if your total gains in a tax year are higher than your annual allowance.

Need help?
If you need a recommendation based on your personal tax position, you should seek professional financial advice. Visit our Investment Advice page for more information. We've based our information on current UK legislation, but this may change in the future.
Why choose us?
We're working hard to have the best platform in the business. But there's no need to take just our word for it. Our platform won a gold award for customer experience from The Times Money Mentor, Autumn 2021 and the Your Money best investment platform for beginners.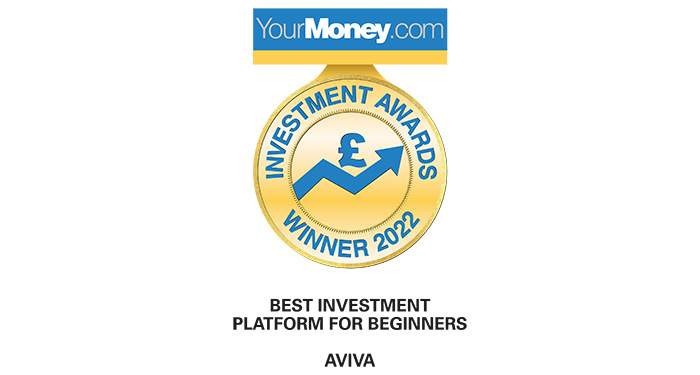 Important documents
Before opening an Investment Account, take a look at these helpful documents.
Ready to start investing?
To complete your application you'll need:

A MyAviva account - if you don't have one already, registration is free and only takes a few moments
Your national insurance number at hand
Your bank details or debit card information to set up payments into your account
Other ways to invest
Looking for a different kind of investment? Haven't used your ISA allowance this tax year? Our stocks & shares ISA could suit you.
Aviva Stocks & Shares ISA
Make the most of saving for tomorrow by investing in a tax-efficient stocks & shares ISA.
Help and support
We're always here to help – if and when you need it.
Already have an investment with us? If it's linked to your MyAviva account, log in to manage it. If it isn't, we can help you find out how to access it.

If you're not sure if investing is right for you or which funds to pick, you might need to see a financial adviser.

Learn more about savings and investments
Not sure if you should save or invest? Our educational articles and videos will help you learn more.
Top up your knowledge
Keen to open your first savings account, understand investment risk or learn all about ISAs and ethical funds? Our saving and investment articles can help beginners and keen investors understand how to manage their money. 
Contact us
Still need some help? Give us a call
Monday to Friday: 8:00am – 6:00pm
Saturday and Sunday: Closed
Telephone calls may be monitored and will be recorded and saved for at least five years. Calls to 0800 numbers from UK landlines and mobiles are free.
The value of your investment can go down as well as up and you could get back less than you paid in. This is not a personal recommendation. If you need a personalised recommendation based on your personal circumstances, you should seek financial advice.
Platform provider: Aviva Wrap UK Limited. Registered in England No. 4470008. Aviva, Wellington Row, York, YO90 1WR. Authorised and regulated by the Financial Conduct Authority. Firm Reference Number 231530.