Running an electric car - meet the family road trippers
"Plug in, charge and off you go." With a bit of research and route planning, Estee and Jason tell us why driving an electric car has been a joy for the whole family.
Transcript
The electric car that we drive is extremely easy to drive, it's a really lovely experience.
We've still got a lot of family in the midlands, so we go into Birmingham a lot.
The only thing that you have to do is you have to obviously plan your route and you have to know where the charging stations are.
A lot of these stations have got lots of good facilities.
When the cars charging the children aren't going to get bored. You can go inside and get yourself a coffee, get something to eat.
I think they see it as a benefit because we would've travelled without any stops and obviously lots of the time children do want to stop. So I think it's more of a benefit because they think, 'oh great, mum and dad are going to stop now, because we've got an electric car we need to charge'.
One piece of critical advice I would give is to do your research on the car, the apps, the phones, where the chargers are, get yourself sorted out with your charger in your house.
Once you've done that, it's ideal. I would never go back to a conventional diesel or petrol, because it's so easy.
Plug it in, charge and you go.
The views and opinions expressed in this video are those of the speakers and do not necessarily reflect the views or positions of Aviva.
The ultimate EV
The results of our poll are in! Introducing the ultimate electric concept car as voted by you.
Transcript
for video Eviva results
This video has no voiceover, and the transcript below is for the text seen within the animation.
Introducing the ultimate electric concept car, as voted for by you!
Fully charged in 10 minutes.
Solar and lunar charging.
Anti frost windscreen.
20 year battery life.
1000 mile range.
See what the experts have to say about the future of EVs.
Like the sound of a solar charged car? See what the experts have to say about the future of EVs. 
Running an electric car - what's it really like?
Ready to give EVs the green light?
From hunting for charge points to busting myths about driving an electric vehicle, here's how to get started.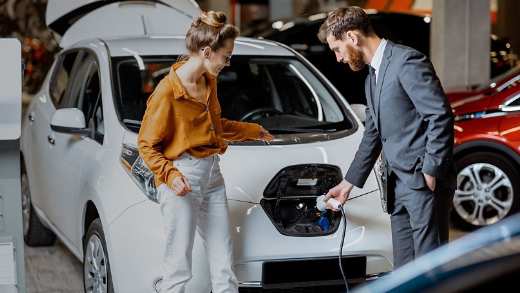 Electric car buying guide
Driving into unfamiliar territory? Our comprehensive guide to buying an EV can help you make the switch.
Electric car myths busted
If you're thinking of buying an electric car, you may be concerned about things like getting insured – but don't worry.
Choosing an EV
Buying or leasing an electric vehicle could be a chin-scratcher, especially when you know your pistons from your crankshafts. Let us help you make the right choice for your lifestyle and budget.
Running an electric car
You've got your hands on an EV and are belting out your favourite tune after discovering disco mode. Once you've pressed the buttons and adjusted your seat, you'll need to think about practicalities like running, charging and protecting your vehicle.
Get a quote for electric car insurance in minutes
You can get a quote faster by telling us your car registration so we can look up the details directly with the DVLA.