Aches and pains are common as you age – but that doesn't mean you should accept them as inevitable.

Often they can be prevented through a combination of exercising, eating well and doing what you can to prevent accidents.

There are also things you can do to make sure you get quick treatment when aches and pains develop, to get you back to your usual self.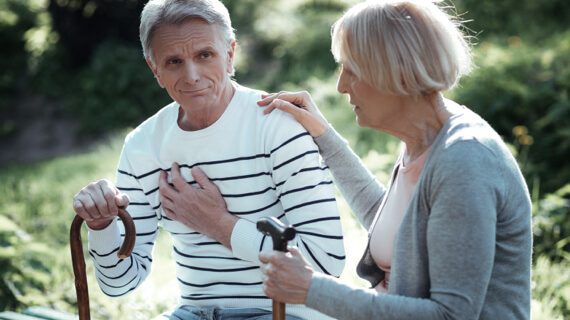 Anti-ageing exercise

Exercise has an incredible array of benefits and is an important part of protecting your health as you age.
Government guidelines advise us all to be physically active every day, totalling 150 minutes a week 1. As long as you're in good health and have full mobility, you should aim to meet the same guidelines if you're over the age of 65.
But if you have any problems with your joints, particularly your hips and knees, you might want to limit your physical activity to low-impact exercise, like swimming or cycling.
Government guidelines also recommend two weekly sessions of strengthening exercise – exercise that uses resistance from weights, elastic bands or your own body weight to work your muscles. This is particularly important as you age, as many people experience natural muscle loss.
Some strengthening exercises have also been found to have specific benefits for older people. Yoga can ease discomfort in joints 2, while Pilates can help to prevent falls 3.
With our health insurance,  you can get a 25% membership discount at many gyms, which could help you get the amount of exercise you need.
Anti-ageing foods
Many of the principles of a healthy diet remain the same as you age. But some nutrients become more important, both in terms of preventing disease, and strengthening your body in case you have an accident. Aim for a diet rich in:
Protein  4 
Found in meat, nuts and eggs, eating more protein can help to slow ageing-related muscle loss
Vitamin D  5
Found in fish, some studies have shown that a lack of vitamin D is linked to cognitive problems like dementia. It's also good for your joints
Calcium 6
Found in dairy products and leafy greens, calcium is essential for healthy bones and can help prevent osteoporosis (especially in combination with vitamin D)
Omega 3  7
Found in eggs and fish, omega 3 helps to prevent heart disease, the leading cause of death in older people. Read more about eating for a healthy heart
Preventing falls
A common cause of aches and pains as you age is accidents and falls. A good exercise routine can help your stability, and diet can make you more resilient to damage when you fall, but what else can you do?
Take care of your eyes
Changes to your vision as you get older, and conditions like age-related macular degeneration or cataracts, are some of the causes of accidents around the home. Here's how to protect your eyesight 
Get your hearing checked
Hearing loss can also increase your likelihood of a fall,  so if you notice any changes to your hearing, speak to your GP

Wear sensible shoes
You're far less likely to fall when wearing a rubber-soled, flat shoe that laces up
Get a good night's sleep
As we get older we tend to have more sleep problems, but when you're tired you're more vulnerable to a fall. Practise good sleep habits , like keeping a consistent schedule and developing bedtime rituals to sleep more soundly
Make adjustments to your home
Whether it's something simple like improving lighting on your stairs, or a bigger change like adapting your bathroom, look at where you can make things easier
If you are injured, getting back to everyday activity can be a little more difficult than when you were younger.
One thing that can make a big difference is easy access to physiotherapy, either face-to-face or through virtual physiotherapy  in your home. Our Physio Essentials cover is designed to make this easy and affordable, so you can get back to everyday activity as quickly as possible.