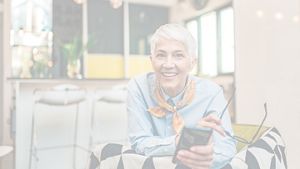 What we offer
Want to plan your retirement with your defined benefit pension, also known as a final salary pension? Then you've come to the right place. Our specialist advisers will help you plan your retirement income with Aviva pensions, annuities, income drawdown and more.
You'll also have access to our Gold Standard advice on transferring your defined benefit pension from one provider to another. This is important, because you're required by law to take advice if the value of your pension is worth more than £30,000.
Thankfully, with our accreditation from the Personal Finance Society, you can rest assured our transfer advice is focused on the best outcome for you.
No obligation
You won't pay a penny for your first meeting, and you don't need to go any further if advice isn't right for you 
Gold standard accreditation
Trusted professional advice on whether or not you should transfer your pension
Open to all
You don't need an Aviva Pension to contact us and there's no minimum pension value required
---
Gold Standard advice on defined benefit transfers
Our transfer advice is accredited with the Gold Standard by the Personal Finance Society, which holds us to the highest standards of professionalism and public trust.

How our advice works
Step

1
Contact us
You call us or book a call back to find out if financial advice could help you. We'll either set up a meeting or refer you to a trusted partner instead.
Step

2
Talk to us
An adviser meets you in-person or online at no cost and no obligation. You'll talk about your financial situation and goals, and if your adviser thinks our advice could help you, they'll go over the charges before you choose to proceed or not.
Step

3
Get your plan
Your adviser gives you a recommendation which lays out your best retirement options, based on your needs. You can also choose our annual review service to stay on top of your plans.
How much does our financial advice cost?
You won't pay a penny until you ask your adviser to go ahead and build your personalised retirement plan. And you don't need a minimum amount in your pension before you can call us for help.
Your charge for a personalised retirement plan will be 2.5% of your pension pot, capped at a maximum of £5,000.
Here's how much you'd pay on a £100,000 pension: 

You can also choose our annual review service to stay on track of your retirement plans and make changes where necessary. This costs 0.45% of your pension pot, capped at £2,200 per year.

Here's how much you'd pay on a pension pot worth £100,000:

To keep things simple, we'll take the advice charge from your existing pension rather than your bank account where possible.
Our advisers aren't incentivised on how many customers they sign up to our service. Their only goal is to make sure you take the best retirement product and services to suit your future goals. If your adviser doesn't think our advice will be of any value to you, they'll let you know – you'll be under no obligation to take things any further.
What our defined benefit advice customers say
Paul Grosvener
I was looking for advice on my retirement and pension options…the first being a defined contribution and the second a defined benefit pension. I was very happy with Ben as my financial adviser. He was very professional and focussed as well as helping to make the whole experience informative in the broader sense of addressing my aspirations for retirement. I ended the review feeling much better informed and confident that I better understood what my position could be and the options I have going forward.
Michael John Fitzpatrick
Throughout the entire process I felt very comfortable having chosen Aviva for the purpose of overseeing my pension aspirations. I was totally at ease with Mitesh's professional and courteous approach. He was extremely thorough and explained everything clearly. My pension is now in place and I am eternally grateful to Mitesh's hard work in bringing the process to a conclusion. Everything was literally plain sailing.
Things to know
Have your pension details ready
To help get things moving, we'd be grateful if you have your pension details to hand before you call us.
Defined Benefit scheme valuation
If you have over £30,000 to transfer from your pension, then you're required by law to take financial advice. To calculate how much you can transfer, we use what's called a Defined Benefit scheme valuation – also known as a Cash Equivalent Transfer Value (CETV).
It's possible you've already been given a CETV by your current pension provider. If so, then you need to let us know as soon as you contact us.
Don't have a CETV from your current provider? Then don't ask them for one – it can slow the whole process down and end up costing you more in the long run. Let us do the hard work for you to keep things easier and more cost-efficient.
Speak to us for free
Call us now or book a call back for later. We'll take a look at your situation and let you know if our financial advice could help you.
Call us on:
*Monday to Friday 9am - 5pm
For our joint protection, telephone calls may be recorded and/or monitored and will be saved for a minimum of 5 years. Calls to 0800 numbers from UK landlines and mobiles are free.
Want to reach us outside of office hours?
Tell us when you'd like us to contact you and we'll get in touch