20 ways to be smarter with your money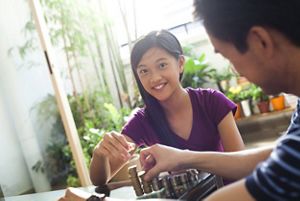 Wish you had a bit more left in your bank account at the end of the month? Or are there things you'd like but it's taking forever to save up for them? We've put together some simple tips to help you save money and make what you have work harder.
Carry out a money audit
Knowing where your money actually goes makes it easier to spot where you could save. Dig out your latest bank statement and make a list of your incomings and outgoings. Add up everything you owe, marking the interest rates so you know which debt costs the most. And ditch any silly bills if you're still paying for something you no longer need or use.
Clear your debts first
If you owe money, such as on credit cards, tackle this first before starting to save.  If you've got money on your card, unexpected costs can push you further into the red, so it usually makes sense to cancel it out as soon as you can.
Set savings goals
Write down your savings plans – setting out the things you want to save for in the short, medium and long term. Writing them down can make it much easier to re-motivate yourself if you start to veer off track. Work out how much you can realistically afford to save so you're not taking the money back out again.
Cut down on treats
Hard to stick to but an area where big savings can be made! You don't have to cut things out completely but try to reduce them – it's about finding a balance.
Have a clear-out – sell, swap and recycle
Swapping items with friends can help you save a small fortune, and selling items you no longer use or taking unwanted clothes to clothes recycling stores can bring in money and boost your savings.
Make small changes
Ditching your morning coffee purchase, taking the bus when you could walk and scrapping your gym membership and going for a run instead – these may seem like tiny changes but the savings soon add up.
Find a way to save that suits you
Some people find it easier to save if it's done with 'real' money. Such as saving cash in a pot each week and taking it to the bank to deposit. Another option is to set up a regular standing order.
Use a budgeting app or tool
There are so many online budgeting apps and tools out there and most, are free.
Stick to cash
Try going to the cash point on pay day and taking out money for that week/month. You won't be tempted to just put it on a credit card as you can only use the money you've budgeted for.
Buy in bulk
It's surprising the savings you can make by buying in bulk online.
Stop being so British and haggle
Haggle – you'll be surprised at the savings you can make simply because you ask.
Use different accounts for different goals
Setting up a few different savings accounts or savings pots could help you save more – for example set up an emergencies pot for when the boiler breaks, have separate savings accounts for the children, and get yourself a 'treats' pot when you want to treat yourselves to something nice.
Make the most of loyalty cards
Voucher websites and discount apps can offer some fantastic bargains and short term offers. Making good use of store loyalty cards can also get you some great offers and discounts.
Get cashback
In an age of internet shopping, many online purchases are made every day – you can often save money by using cashback online websites to get money back on items you were going to buy anyway.
Check your tariffs regularly
By checking your tariffs every six months, such as mobile, broadband TV and energy bills you can make huge savings. A few minutes spent checking your options can be well worth it. It's possible to save pounds each year by switching to another provider or negotiating a better deal with your current one. Just remember to check you won't be charged for leaving a deal early.
Do free things in your free time
Activities don't have to cost a fortune. Take your bikes to the park, go to a museum or the beach – and take a packed lunch with you to save even more.
Overpay your mortgage
If you're able to, overpaying your mortgage can give your finances a big boost in the long run. You'll pay it off quicker and you won't pay any interest on the amount you overpay. Whether it's right for you will depend on your circumstances, so make sure you read up on the topic first.
Consider investing for medium and long-term goals
If you have goals that are 5 or more years away, like helping your children through university or buying a dream home, then you may want to consider investing some of your money. All investments involve some degree of risk, as their value can go down as well as up and you may not get back as much as you originally invested. But they also have the potential to grow your money over the medium to longer term. Whether investing is right for you will depend on your individual circumstances.
Make it a habit
Make a habit of being smarter with your money – it will be much easier to motivate yourself to continue, and reward yourself - you'll be much more likely to keep up the good work.
Talk to someone if you're struggling
If you're in money trouble, there's loads of help and advice available. At the very least call companies you are behind with.