Meet the anxious drivers that learnt to beat the nerves and get back behind the wheel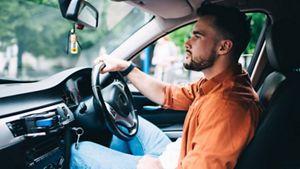 As many as 70% of drivers sometimes feel nervous behind the wheel, and millions of British people feel anxious driving on motorways. But what do you do when the nerves don't go away?
By Remy Maisel
According to instructor Jim Doran at Lanes Driving School, all drivers are nervous about taking the driving test – that's why the DVLA allows up to 15 minor faults for a pass - but passing the test is just the start of the journey.
"The perception is that once you've passed your test, you're a driver. Yes, you might be a driver, but you're an inexperienced one," says Jim. If their first drive alone doesn't go to plan some drivers put off driving again for years. But the longer you leave it, the harder it is to start again.
Jade – the long-term nervous driver
Jade passed her test in 2011 but had quite a few lessons before that because she was such a nervous driver. "It still doesn't feel like it's been nine years," she says.
What makes Jade most nervous about driving is the other drivers. "They're completely unpredictable – you just don't know what the others are doing to do. You get so many bad drivers on the road. I've had a few bad instances on the road. Like being cut off, and a couple of times having hand gestures thrown at me. I'm a young female as well, and when you've got a fully grown man angry it can be really intimidating."
Jade says she had a few incidents at first, which she attributes to her lack of experience. But at the top of her mind is a recent situation when she was on a roundabout and another car purposefully cut her off because they were in the wrong lane. The other driver retaliated when she used her horn and tried reversing into her car. "It was really scary, the vulnerability of it. He was pretending to get out of his car to confront me."
It was really scary, the vulnerability of it.
To calm herself down, Jade has a few strategies. "If I feel myself getting really anxious and jittery, I roll down the window and put the music on, hopefully, find a decent song that cheers me up a bit and use breathing techniques – in through the nose, out through the mouth. Sometimes that works, but I've had to pull over once."
Jade believes that there are some circumstances when you shouldn't be on the road if you're anxious. "I think when you get so overwhelmed by something, you're not thinking rationally, like when I was, I knew I had to get off the road and luckily I was able to get off the road quick. Driving is a big responsibility, you've got to be quite sensible.
 "While anxiety can feel like it's quite limiting, as long as people know what triggers you, you can be safer. I wish I knew the techniques I know now."
Juliet – the international driver
Juliet is originally from Michigan, USA and started driving at 16, supported by family and driving lessons. She got her licence at age 16 (the legal age where she lived) and immediately started driving to take the pressure off her parents. "I got comfortable very quickly. I was always a good driver," she says.
"And then I moved to Europe and it was a completely different game. I knew finding an automatic car would be more difficult, so I took manual lessons four years ago and it always ended in tears. Thinking about it now makes me emotional."
And then I moved to Europe and it was a completely different game.
So when she moved to the UK, she was grateful to discover there were automatic cars available.
"But now my panic has nothing to do with manuals – I feel completely backward and I literally am. The sense of spacing makes me nervous. And because of other bad drivers, I'm so overly cautious and so nervous."
When anxious, Juliet does have a strategy to calm herself down. "I always just take a moment to really acquaint myself with my surroundings, remind myself on what side of the road I'm driving, that side of the car. It's become easier the more I'm doing it. I'm less anxious now than I was two years ago. I remind myself that I am a good driver."
If you're unable to get your anxiety under control, Juliet believes it's time to stay off the road. "Anxiety affects your reaction time. So if you can't find a way to get out of your own thoughts then it's time to stay off the road."
Tom – getting back on the road
It took Tom three goes to pass his driving test when he was 17. Luckily, his dad gave him plenty of lessons to help get him through the test. "I then drove lots and lots because I was 17," Tom says. "I had a Nissan Micra."
Tom was quite confident then, making short trips around Milton Keynes. "That's the iron confidence of a teenage boy who doesn't understand mortality."
When Tom went to university his sister took ownership of his car, so he reckons it's been seven years since he's been behind the wheel. "I've not been on the road for a long time and I think, while I was a confident driver back then, it's been so long."
Tom thinks taking refresher lessons might be sensible, but part of him just wants to get back out there and figure it out. But then, his worry isn't necessarily the danger to himself but the danger to others.
"I'd be mortified if I were to cause an accident or if I killed someone. It's something my mum always passed on to me when I first started driving. 'You are driving a murder machine! This is a weapon! Be very careful with it!'"
It's something my mum always passed on to me when I first started driving. 'You're driving a murder machine!'
Overall, Tom feels that driving is quite an important skill to have when you go outside London. He sometimes feels his family must consider him a failure. "They'll say, 'Everyone else has a car and you're taking the bus? A man of 30 on a bus?'"
To overcome anxiety when driving, Tom recommends a cycling trick he recognises is controversial – listening to music. Never so loud you can't hear your surroundings, but it can help. "It really helps get out of your moment and reset and focus on something else."
Advice for nervous drivers
Jim doesn't believe that nervous drivers are safer. "If given the choice of being the passenger of either a nervous or confident driver, who would you choose? The confident one surely? However, there's a big difference between confident and cocky. You can develop confidence. It takes time."
Here's his advice:
If you're not progressing with your instructor, if they make you uncomfortable or if they're negative about your abilities – change. Some instructors are better than others
Ask your instructor to take you on unconventional routes
If you're nervous after passing your test, go back and ask your instructor for help
Don't be in denial. The longer you leave it, the harder driving becomes
Avoid stimulants like caffeine before a drive
Find ways to calm yourself down before. Some people find breathing exercises or going for a walk helps