The dodgy home maintenance that could knock thousands off your property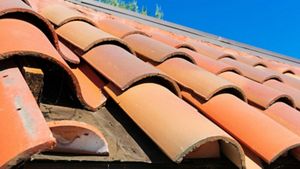 British homeowners might be underestimating the impact of cracked walls, loose tiles and dripping taps on potential buyers.
By Sarah Lewis
Picture this – you're viewing what might be your dream home. It has the perfect number of bedrooms, is on a desirable road, there's even a pub nearby. It's 100% your type on paper.
The estate agent welcomes you at the doorstep with a smile. This is it! 
Oh, she's having a problem with the door, it creaks loudly and doesn't seem to want to open. Phew, you're in. The hallway is spacious but ouch, watch for that broken tile. You're okay. You look up – what's that? A large crack in the ceiling. Yikes! And, oh dear, what's that unpleasant smell?
This house of horrors has quickly lost its appeal. You make your excuses and escape as fast as you can. Something else will turn up… you hope.
Maintenance means money. A lot of money.
While most homes have one or two things that could do with a little TLC, British homeowners might be underestimating the impact of missing tiles, signs of damp and dripping taps on potential buyers.
Four out of five homebuyers told us they would consider reducing an offer if they found maintenance issues when viewing a property [1]Footnote 1. This is in spite of record-level house prices and super speedy sales in some areas.
More than half of viewers (54%) said they would definitely reduce an offer, while a third (32%) would possibly do the same. A discerning 7% simply wouldn't make an offer at all if they saw a problem.
And those minor issues can add up to a huge loss on a sale. Research suggests that between 5% to 20% can be knocked off the value of a residence if certain home maintenance tasks are neglected [2]Footnote 2. This could mean a reduction of up to £56,600 [3]Footnote 3 based on the average UK house price of £283,000.
Home maintenance hall of shame
The repairs repelling buyers are as follows:
| Home maintenance issue | Percentage of home-viewers who would find this off-putting |
| --- | --- |
| Signs of damp or dry / wet rot | 65% |
| Cracks in the walls / ceilings | 59% |
| Loose or missing slates / roof tiles | 46% |
| Blocked drains | 44% |
| Draughty or unsecure windows / doors | 43% |
| Unserviced / out-of-date boiler | 41% |
| Loose / overflowing guttering | 35% |
| Dripping taps or showers / leaky toilets | 29% |
| Uninsulated loft / roof-space | 29% |
| Wobbly / worn / crumbling paths, paving or steps | 28% |
| Poorly painted or maintained windows / doors | 26% |
| Damaged seals or tiles around baths / showers | 25% |
| Overgrown trees / garden | 24% |
| Broken garage door | 23% |
| Wobbly / damaged fences or gates | 19% |
| Unswept chimneys | 14% |
A lack of time, money and skill
Despite so many people being put off by poor maintenance, many admit to not repairing things quickly when it comes to their own homes.
When asked what they would do when faced with a minor issue such as a loose tile or a wobbly fence, only two-fifths would deal with it straight away.
More than a third (35%) would get around to it 'when they had the time', and one in five (20%) would leave it until it became a bigger problem. An optimistic 2% would ignore it in the hope someone else would deal with it.
When questioned about why they might delay a task, the most common reason was not being able to afford to put things right (35%).
Time is also an issue with a quarter of people being too busy to deal with minor maintenance issues, and 23% simply wouldn't know how to fix them. One person in eight (13%) says they have better things to do with their time.
Give your home a maintenance MOT
With poor maintenance potentially knocking thousands off the value of a home, here are our tips for keeping your property in top condition.
Check your roof. Look out for any missing or damaged tiles or slates and replace where necessary. Loose tiles are vulnerable to high winds and rainwater can spread far and wide, so make sure it can't get in.
Clear your gutters and make sure they're securely fixed. Debris and greenery can fill up guttering and weigh it down, so now's a good time to make sure they're empty and sturdy.
Use an expert where appropriate. If there are any jobs where you don't feel confident or safe doing yourself, call in a professional.
Secure any wobbly fences and gates and replace any missing panels. These are susceptible to damage during stormy weather.
Call a chimney sweep. If you plan to enjoy a real fire this year, make sure your chimneys are clear and safe to use before you light your stove or fire.
Book in your boiler for a service, preferably before it gets too cold. Make sure you choose a qualified engineer.
Check grouting and seals around your bath or shower and replace if there are any gaps or damaged sections. Water can do untold damage if it gets behind tiles.
Insulate your loft. This can help to stop heat escaping from the top of your house, so may help to keep energy costs down.
Look for signs of damp or mould. This is the biggest turn-off for house-hunters, so if you find any, take steps to deal with it as soon as you can.
Monitor walls for new cracks. Small shrinkage and movement cracks are normal after hot, dry weather, particularly in plaster and wood, but signs of subsidence are normally visible on external walls too. Keep a close eye if any cracks are vertical. Read our article on how to spot subsidence.
Check your doors and windows for any gaps or damaged seals. New seals and door brush strips can prevent the wind from whistling through.
Ignoring problems can affect a claim
Home insurance can usually help with serious issues like subsidence or burst pipes. However, general wear and tear tends not to be covered so if a small, pre-existing maintenance issue is left unchecked and made worse by weather, you may not be able to claim on your insurance.
Property Claims Director for Aviva UK, Kelly Whittington, says: "Our research suggests millions of householders are disregarding minor issues around the home. But left untreated, a small snag can turn into a major issue – particularly if poor weather exacerbates an existing problem, such as a loose roof tile or wobbly guttering. This can mean more time, greater effort and additional expense may be required to put things right.
"Now is the perfect time for residents to review their homes so they can start to tackle any problems – either themselves or using a professional where appropriate - ahead of the wintry weather. By taking steps now, people could save themselves time, money and disruption in the long run."
Find out more about protecting your home against winter weather.