While having needles poked into your body may not sound appealing to everyone, modern medical acupuncture is a type of complementary or alternative medicine.[1]

Footnote 1
The treatment, which comes from ancient Chinese medicine, is thought to be beneficial for a range of conditions and is used in many GP surgeries, pain clinics and hospices. [1]

Footnote 1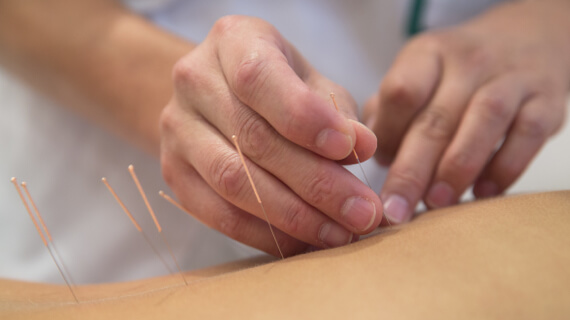 How acupuncture works
Acupuncture involves placing fine needles into various parts of the body, which are known as acupuncture points.
Traditional acupuncture practitioners believe this can help restore the flow of Qi or life force around the body and improve health.
In western medical acupuncture, it's believed these needles stimulate sensory nerves under the skin and in the muscle. This releases natural pain-relieving chemicals, called endorphins.
What can acupuncture help with?
Acupuncture is used to treat a range of health conditions, but not all of these are officially recognised because of a lack of research.[1]Footnote 1
The National Institute of Health and Care Excellence (NICE), which advises the NHS on the treatment and care of patients, only officially recommends acupuncture for tension headaches and migraines and for chronic primary pain, which is pain that lasts for more than three months.
For chronic pain, NICE guidance states that people over the age of 16 should have access to a single course of acupuncture, so long as it's delivered in a community setting by a healthcare professional with the right training. This course of treatment should be no more than five hours in total.
However, within the medical community acupuncture is also used for a range of other problems, including:
joint and neck pain
dental pain
postoperative pain
back and knee pain 
to relieve nausea and vomiting in some situations
What happens at an acupuncture session
At your first session you'll get a general medical check-up, and the practitioner will take your medical history.
They'll then insert thin sterilised needles into various acupuncture points on your body, depending on what you're suffering from.
These are added just under the skin, or deeper into the muscle. Once the needles are in place, they'll either be left there for a length of time or be adjusted.
You shouldn't feel any real pain when the needles go in. If you do, let your practitioner know straight away.
Finding an acupuncture practitioner
At the moment acupuncture isn't regulated in England, so anyone can call themselves a practitioner and provide treatment.
When picking a practitioner, the British Medical Acupuncture Society (BMAS) recommends you check they're either a regulated healthcare professional, such as a doctor, nurse or physiotherapist, or a member of a national acupuncture organisation.
You can also find an accredited register of acupuncture practitioners on the Professional Standards Authority for Health and Social Care website.
With our health insurance, you're covered for medical acupuncture so long as your acupuncture practitioner is a doctor who is registered with General Medical Council (GMC) and who is also either a medical member or accredited member of BMAS or a registered member of the British Acupuncture Council, and who is recognised by us.
Is acupuncture safe?
When carried out by a properly trained health care professional, acupuncture is extremely safe.
Some people experience mild, short-lasting side effects, such as:
slight pain
some bleeding or bruising where the needles enter
feeling tired or dizzy
feeling sick
a worsening of symptoms
It's normally safe to have acupuncture if you're pregnant but let your practitioner know because there are some acupuncture points that can't be used in pregnancy.
You're advised not to have acupuncture if you have a metal allergy or an infection where any needles will be inserted.
Remember, acupuncture won't cure a serious underlying problem, such as lung disease, heart disease, tumours or cancers. You should always seek regular medical advice and continue with any other treatment advised by your doctor.