Back pain comes in various forms. It can be a sharp pain or a dull ache. Sometimes it comes and goes or can be kept at bay with painkillers. 
Whatever sort of back pain you have, it's important to get it checked out. Niggling aches and pains can seem like a minor irritation…until they start to affect your quality of life. 
If you have health insurance in place and you pick up a back niggle then you'll be able to get it looked at quickly and easily.
You'll also be given access to our spine treatment network - a specially selected group of experts offering quality treatment for the spine - at no extra cost and with two years of after care included.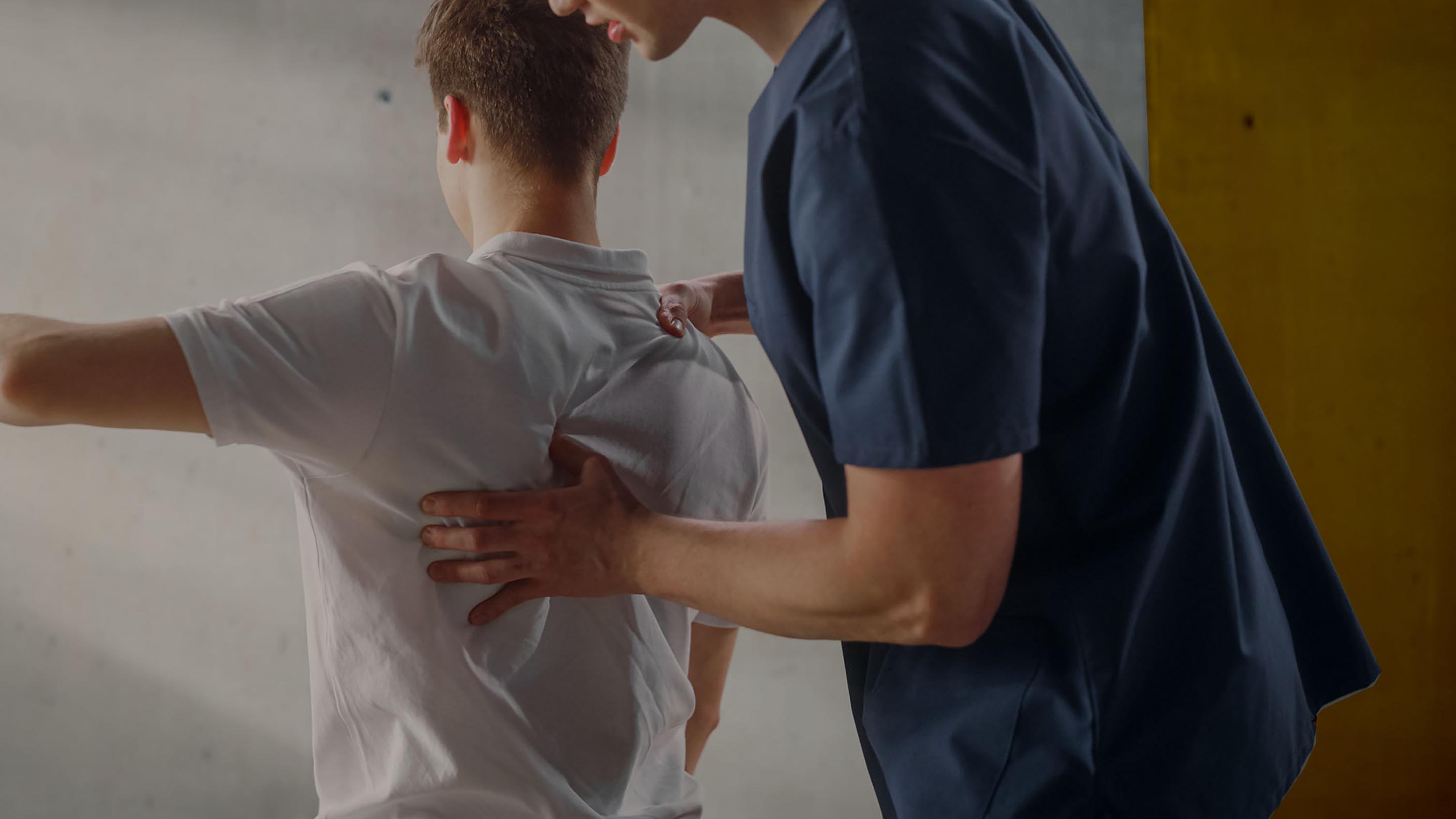 Back pain
Back pain is sometimes a result of the lifestyle you live. Modern life means we spend a lot of time sitting down, especially if you work a desk-job. 10,000 steps a day, plus the school run, plus work commitments can seem out of reach. Unfortunately sitting for prolonged periods of time can result in weakness all over the body, leaving the back to bear the brunt of your upper-body weight by itself. Poor posture and, you guessed it, back pain are the result.[1]Footnote 1
Away from the desk, there can be intense pain for those who have injured their spine playing sport or (the classic) spraining a muscle while bending over to pick something up.
Health insurance can help you avoid the wait times and get better faster, safeguarding your future health and getting you back to living.
Let's look at some of our treatments and the ways they could benefit you and your back.
Physiotherapy
Maybe the kids aren't as little as they used to be, you're playing with them in the garden, and you feel a twinge in your back that puts that skiing holiday next month in jeopardy. A trip to the physio could be in order.
Physiotherapy is a highly recommended route to improving back pain and one that deals with weaknesses, imbalances, and a lack of mobility in the body. Aviva health covers physiotherapy, with the choice of either face to face or virtual treatment, meaning you don't have to make the journey down the high street if you don't have time to.
Getting a referral is easy too.  With Aviva's digital GP* you'll speak to a GP who'll either refer you to a specialist or straight to a physio (depending on which cover you have) to decide the best course of treatment. You can book appointments 24/7 and most people are seen the same day, meaning that ski trip could still be a goer, and you're only three steps away from getting the treatment you need.
Step

1

of 3
Reach out to your GP
Your first step is to get checked out by your doctor or through our digital GP app.* Let them know you've got health insurance with us and ask for an open referral for your treatment.
Step

2

of 3
Make a claim
Contact us to make a claim. We'll ask a few questions about your health and referral. If your claim's approved, you'll be able to start private treatment. Get in touch by calling 0800 068 5821 or log in to MyAviva.
Step

3

of 3
We'll pay the tab
Unless you've gone over your benefit limit or you have an excess, you won't need to lift a finger for this part. We'll settle any eligible claims with your healthcare provider.
 * These services are non-contractual and can be withdrawn by Aviva at any time.
Alternative therapies
Why let the physios have all the fun? You could be given a helping hand by an osteopath [2]Footnote 2 or a chiropractor [2]Footnote 2 instead. 
Sometimes you need a helping hand, but sometimes needles can do the trick…and lots of them! Depending on your cover you could be referred to acupuncture treatment to help loosen your muscles and relieve the pain. Yes, we said 'lots' of needles, but don't worry it's not as scary as it sounds.
And fear not, if you don't see an improvement from any of these treatments, you'll be referred back to your GP or specialist to determine the next course of action. We'll be with you all the way.
Surgery
Diagnostic tests can help determine issues with your back and sometimes surgery may be required.**
Surgery may not fill you with excitement, but we'll provide you with a bevy of information and support both pre- and post-op. Best of all, you'll likely have shorter wait times if you go private, so we can get you fixed up, healthy, and back to living. 
Health insurance doesn't just help your back problems, it gives you easy access to health professionals and the peace of mind that you won't be at the back of a long queue to get fixed up.
Getting a quote online today can take as little as five minutes. Remember that you'll only be covered for conditions or symptoms that start after the policy has been taken out. Pre-existing issues with your back won't be covered.
** Policy limits and conditions for surgery may depend on the cover in place. Treatment through the Aviva spine network won't impact any out-patient benefit limits, we'll provide two years of after care, and we'll settle eligible bills in full with the treatment provider.
To find out more, download our Spine treatment network leaflet (PDF 250KB).
Want health insurance?
Our extensive cover gets you the healthcare you need, when you need it.
Health articles
Keep on top of your health and wellbeing with our guides and articles.