Aa a regular driver, at some point you've probably experienced a vehicle breakdown. Here are some tips to prevent, prepare and stay safe in case it happens.
Preventing a breakdown
The most common causes of breakdowns include problems with the battery, tyres or wheels. Keeping your car in good running order and getting it serviced regularly can help fix these issues before they result in a breakdown.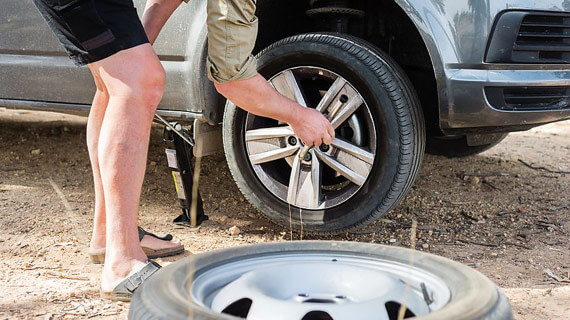 Make sure you keep your tyres inflated to the correct pressure – especially if you're about to go on a long journey. And try not to let your fuel tank drop to below a quarter full. You don't want to run out of fuel mid-journey, and keeping it to this level also helps preserve the engine.
How to be prepared for a breakdown
Even if your car is running well and in good condition, it's sensible to be prepared for the worst. Make sure you have a spare wheel and jack in the boot of the car in case of problems with your tyres, as well as a warning triangle in case you need to alert other drivers if you break down.
It's a good idea to keep items such as warm clothing, blankets, waterproofs and drinking water in your vehicle in case you need to wait for a breakdown vehicle or get stuck in bad weather. 
What to do if you break down on the road
Your top priority when you break down is your own safety and the safety of others. If you can, move your car well away from traffic and turn on your hazard lights to alert other drivers.
If you have to use the hard shoulder on a motorway in a breakdown, don't stay in your vehicle. Instead, exit the vehicle from the side away from the road and step over the crash barrier to wait for help, if you can.