Battles in the back seat, badly timed bathroom breaks and calls of "are we there yet?" can all fray a driver's nerves. In fact, having children in the car has been found to be 12 times more distracting than talking on a mobile phone 1
.
Here are our top tips to help you stay in control of both the car and the kids.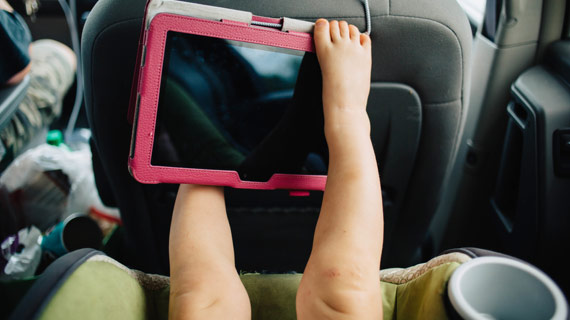 Timing is everything
You'll find the journey's much smoother if the children sleep through the bulk of it, so work with their schedule and time your trip with their afternoon nap, or consider setting off in the early evening.
Check the calendar
If you're travelling in Europe, bear in mind that many motorways don't allow lorries or trucks at weekends, making travel easier. 
Look out for festivals or holidays wherever you're driving through as these can have a huge impact on traffic and congestion. 
Plan some pit-stop points
Check the route in advance for attractions that might make a good break for the kids. But don't be too fixed with your itinerary – any plans you make may have to change due to traffic or other circumstances on the day.
Entertaining the kids
Pass the time with songs that everyone enjoys by creating a music playlist before you set off (and prevent fights breaking out over who gets to play DJ).
You may be able to stream music or audiobooks directly from your smartphone to your car's speakers via the USB port or with Bluetooth. 
ApplePlay and Android Auto systems come in some vehicles and let you display your phone's music and apps on your car's dashboard or rear screens. 
A DVD player can keep kids entertained for hours, and can be found relatively cheaply these days. A tablet computer is another good option, but make sure it's fully charged and that you've downloaded any movies the night before you travel so there's no stress or disappointment on the day.
Mount your tablet or DVD player to the back of the headrest for a better view and don't forget the headphones.
Stay connected 
Older children (and adults) will appreciate an internet connection on a long trip. 
While some newer vehicles come with in-car WiFi, most family cars won't be equipped.
A simple solution is to use your smartphone as a hotspot (you might have to pay extra to your network provider for this). If you don't want to use your phone's data, you could invest in a portable WiFi hotspot that plugs in to your car. Many come with the first year's worth of data included in the price, so shop around.
What to bring on a road trip
Tasty snacks and treats – food can be a parent's greatest weapon in the war against boredom in the car. It doesn't have to be unhealthy either – pack fruit and healthy nibbles to keep young minds and stomachs busy
Comfortable clothes – long journeys can become uncomfortable for kids in the wrong clothing, so make sure they're in something soft and loose to prevent moaning
Blankets – encourage sleep by wrapping the kids up cosily in familiar blankets. These are best kept handy in the car rather than in the boot
Wipes – things are bound to get messy on a long journey, so you'll want to keep these handy in case of spills