Whether you've just passed your test – or you're taking a long trip for the first time – motorway driving requires a different approach to the road. Here are our top tips to help you stay safe on high-speed motorways. 
Travelling at speed
For cars, motorcycles, car-derived vans and dual-purpose vehicles (designed to transport passengers and goods), the maximum speed limit in the UK is 70 miles per hour.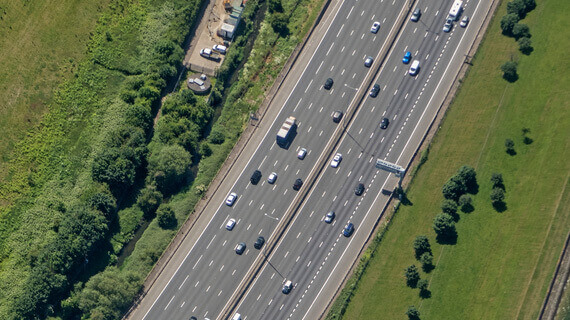 Remember that if you're towing a caravan or trailer, the limit drops to 60 miles per hour. 
When driving at these speeds, you should leave a gap of at least 2 seconds between you and the vehicle in front in case you need to brake suddenly. In wet weather, you'll need to leave a gap of around 4 seconds and more for icy or poor conditions.
Joining and leaving the motorway
Leaving and joining a motorway using a slip road can be difficult for the most experienced drivers.
When you need to join the motorway, give priority to traffic already on the road, match your speed to that of the flowing traffic, signal in advance and join when it's safe to do so.
Don't be tempted to cross any hatched road markings or solid white lines around slip roads - as flowing traffic won't be expecting you to make a move here.
Overtaking on the motorway
Remember that you should always drive on the furthest left-hand lane on the motorway and use the right-hand lanes to overtake. However, you should return to the left-hand lane once you've completed the overtake.

First, check your mirrors and ensure you have sufficient space around you to change lanes. Signal your intention to move once it's safe to do so, check your blind spot for oncoming vehicles, then move out.
When re-entering the left-hand lane, check there's a sufficient gap between you and the oncoming vehicle on the left - so you don't cause them to brake.
Using the hard shoulder
The hard shoulder is the area to the left of the left-hand lane on the motorway. It must only be used in case of emergency, to let cars stop out of the flow of traffic in case of an accident or breakdown, for example.
If you find yourself in this situation, indicate to other drivers your intention to use the hard shoulder and come to a gradual stop. Don't be tempted to stay in your vehicle – the hard shoulder is a dangerous place to be. Instead, exit your vehicle on the passenger side and cross over the crash barrier to a safe distance from the vehicle before calling for help.