Introduced in 1996, the UK driving theory test is the first step to getting behind the wheel.
But with 2 parts to the test and 50 questions to complete, it's not always an easy task. In fact, just under half of learner drivers don't pass on their first attempt 1.
To help you prepare, here are our top tips to help you pass your theory test including the common questions people stumble on.
What is the driving theory test?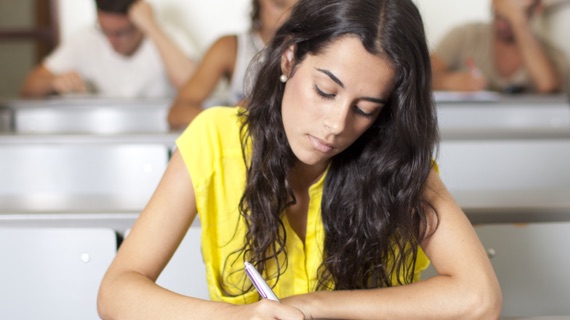 Whether you're a new driver or you're applying for a new type of licence (eg a motorbike), you'll need to pass your theory test before your practical driving test.
The test consists of 2 parts – a set of 50 multiple-choice questions and a hazard perception test made up of 14 short video clips. And you'll need to pass both parts to successfully complete the test.
If you pass your test
You'll be given a pass certificate and your scores in the test centre. You'll need the certificate number to book your practical driving test.
Remember that your theory test pass only lasts for 2 years, so if you don't pass your practical test within this time, you'll need to retake the theory test too.
If you fail your test
You'll be given a letter at the test centre showing which parts of the test you got wrong – so you know what to practise for next time.
After 3 working days, you can then resit the test.

Preparing for your theory test

Like any exam, the best way to prepare for the theory test is to practice.
All the information you need is included in The Highway Code. You'll also need to understand traffic signs and the DVSA guidance on safe driving.
The DVSA also offer some practice tests online. They're not the exact questions you'll be given in the test, but it gives you a good idea of what to expect.
Abridged theory test
If you have a Safe Road User Award from the DVSA, you can apply to take a shorter version of the theory test (or 'abridged theory test').
Rather than answer 50 multiple choice questions, you'll only need to answer 35. The hazard perception test is exactly the same.
You'll need to book this type of test over the phone (not online) and provide your Safe Road User Award certificate number to qualify.
Top 7 mistakes on the theory test
We've put together a list of the most common mistakes people make on the theory test (and how to avoid them).
When is it OK to undertake a vehicle?
This is the most commonly failed question on the entire theory test.
While most people assume that undertaking is never allowed on UK roads, in fact undertaking is allowed:
In slow-moving traffic when vehicles in the right-hand lane are moving more slowly
When the vehicle in front is signalling to turn right
When you're on a one-way street
In good conditions, what's the typical stopping distance at 70 mph?
In normal conditions, the stopping distance at 70mph is 96 metres (about 24 car-lengths).
But remember there are other factors than can affect stopping distance, such as the weather and road conditions.
You're driving down a long, steep hill. You suddenly notice your brakes aren't working as well as normal. What's the likely cause?
In this situation, the most likely reason your brakes aren't working normally is because they've overheated due to prolonged use.
You can help avoid this problem by maintaining a low, downhill speed in a lower gear. This way, you won't need to keep your foot on the brake for as long, allowing them time to cool down.
At a pelican crossing, what must you do when the amber light is flashing?
The rule of thumb here is that all lighting signals mean stop except for green (which means 'permission to continue if safe to do so').
So in this situation, you must give way to pedestrians already on the crossing.
You take the wrong route and find you're on a one-way street. What should you do?
Although your instinct may tell you to turn around or reverse, you should always continue to the end of the road.
As well as holding a full licence, what is also a requirement for someone supervising a learner driver?
In addition to holding a full licence for at least 3 years, you must be at least 21 years old to supervise a learner driver.
Depending on the type of insurance you have, you might even need to be aged 25 and over – so remember to check with your provider before you head out on the road.
Also, remember that your supervising driver is subject to the same laws as if they were driving (so they need to be awake, sober and alert).
You're towing a small trailer on a busy, 3-lane motorway. What must you do if all the lanes are open?
According to motorway rules and regulations, you must only use the left-hand and centre lanes.
Any vehicle that's towing a trailer isn't allowed in the outside lane of a motorway if the road has 3 or more lanes.