If you won an award from the Aviva Community Fund 2018, congratulations! The next step is to shout about your success.
There are lots of ways to tell people about your project, let them know you've won and thank everyone involved – you might choose social media, video or a short film, photos or even a press release or media interview.
The first thing we wanted to do is thank everyone who took the time to vote for us. Writing a blog and celebratory posts on Facebook, Twitter and Instagram were a great way for us to share the good news.

Nathan Hunkin, Chaos Farm Sense Park, 2016 Winner
Here are some tips to help you, whatever you decide to do.
Share your success on social media
You can use Facebook, Twitter or Instagram to raise awareness of your project and the work you'll be doing with the funding. The award is a great excuse to get posting!
A post can include short text, photos and video, so make sure yours are clear, visual and fun. If you have your own website or blog you can also link people to that.
You could post something like: We're an Aviva Community Fund 2018 winner! Thank you so much for voting. We're using the funding for 3 new outreach projects in 2019, keep an eye on our website and social media for details #AvivaCommunityFundUK #StrongerCommunities
Remember to ask your fans and followers to like your posts and share them with friends and family. And look out for the #StrongerCommunities hashtag to see what everyone else is sharing.
Use our winners' Facebook frames
We've designed 2 profile picture frames that can be used on Facebook. Adding them to your profile is easy:
Click 'edit' on your profile picture, then 'add frame'
In the search that appears, type 'ACF winner'
Set your profile picture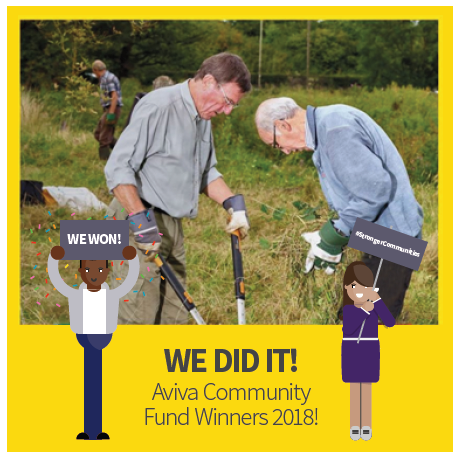 Share some photos of your winning moments
When you tell members of your project and your community about your win, we're sure they'll be excited! We would love you to capture and share these moments of happiness.
Simple video clips and photos make great, interactive content for social media and can be captured on your phone in a matter of moments.

Nathan Hunkin
The picture could be a look of surprise on someone's face as they are told the news, a picture of your project holding up a 'thank you' banner, or images of people benefiting from the new funding.
You can post your pictures on social media, explaining your award and what it means for you and your community. Don't forget to tag us @AvivaUK so we can see it and share it for you, and use the #StrongerCommunities hashtag.
Make a video about your project
You could film a short video on your smartphone to tell the story of what the win means to you and how your project will benefit from the funding, or to capture your success when the funding is making a difference.
You might like to include:
Footage of your organisation in action
People from your project telling the camera what the funding will has helped you to do
Beneficiaries of the project saying how excited they are and what the result means to them
Don't forget to include a piece from yourself too!

You can then use the video on Twitter, Facebook, Instagram or YouTube along with your other posts about your win.
Speak to your local media
Why not spread the news of your success by speaking to your local newspaper or radio station? They might be interested in writing an article or interviewing you about the difference you're making in your local community. 
For more help on promoting your project in the media, see our How to Use PR page.
Follow these simple steps to approach your local media:
Visit the website of your local newspaper or radio station and get contact details
Call up and ask for the newspaper news desk or producer of the radio show
Introduce yourself and explain what your story is about. Tell them about what your community project does and why it means so much to be awarded the funds
Offer to send them images and a press release, put them in touch with anyone who can help and volunteer for an interview
You can also contact the local media through social media or by email, but following up by phone will get the best results.
If you'd like to use our press release template you can download it here (DOCX 22KB)
Congratulations on your win and good luck with sharing your success!