Sight loss affects more than 2 million people in the UK, with common causes including age-related macular degeneration, glaucoma, cataracts and diabetic retinopathy. But according to the Royal National Institute of Blind People, more than 50% of this sight loss is preventable 1.
So what can you do to protect your eyesight? From regular check-ups to eating the right foods, here are some simple ways to take care of your eyes: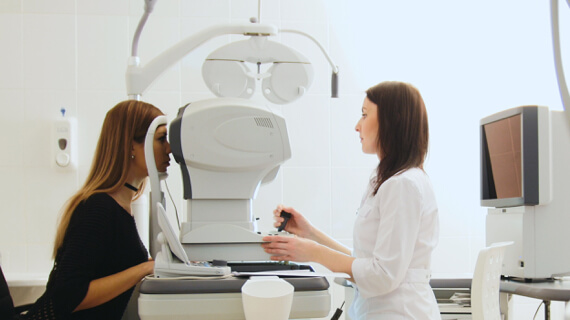 1. Get the right nutrients
A diet rich in vitamins and antioxidants is thought to help protect your vision. In particular, seek out the following:

Vitamin A – along with beta-carotene, this vitamin helps improve your vision in low light. Carrots are high in both.

Lutein and zeaxanthin – these antioxidants are found in green leafy vegetables and help to protect your retinas.

Omega-3 – found in oily fish like mackerel and salmon, this can help to prevent dry eyes and related sight loss.
2. Maintain a healthy weight
Obesity, high blood pressure and high cholesterol can all increase your risk of eye problems, so if you're within a healthy weight range you have more protection.

You're also far less likely to develop type 2 diabetes, which can lead to sight loss. And people of a healthy weight have half the chance of developing cataracts compared to those who are overweight 2.

If you need to lose weight to reach a healthy range, read more about eating a healthy diet and the benefits of exercise.

3. Get an eye test at least every two years
Many common causes of sight loss, such as cataracts, can be easily diagnosed at a routine check-up and treated early, before your vision is affected.

Our standard health insurance doesn't cover the cost of eye tests, but with optional dental and optical cover you can claim up to £200 (with a £50 excess). This cover will also help you to keep your teeth healthy.
4. Wear suitable eye protection
It's also important to protect your eyes from injury.

There's a wide range of everyday circumstances in which it's appropriate to wear eye protection, such as DIY or gardening, or some sports, like squash.

If your job involves use of chemicals, welding or a dusty environment, your employer must supply suitable eyewear.

And don't forget about sun protection, as the sun's rays can be damaging. To stay protected, only wear sunglasses with a CE mark or that carry British Standard BS EN ISO 12312-1. 

These simple guidelines can help you look after your eyes and protect your vision throughout your life, cutting out the causes of preventable sight loss.