5 things to give your partner financial security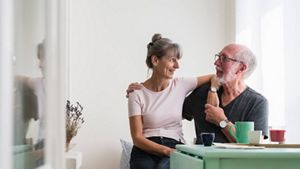 Although it might not be fun, making sure your partner has a financially secure future is one of the most loving things you can do for them.
By Remy Maisel
Getting your finances in order may seem like an unusual romantic gesture, but it'll last longer than flowers.
When you think about Valentine's Day, you probably think about flowers, chocolate – not sitting your partner down for a discussion about your bank balance.
But many couples – both married and unmarried – haven't been talking to each other about their financial future. Our shared finances survey shows that although two-thirds of coupled-up Brits consider their cash shared with a partner, half of us haven't spoken about it with them or thought about what we would do if we were to split 1.
This doesn't mean these couples don't love each other, but a lack of planning – especially among partners who live together but aren't married – can cause serious problems 2.
Here are 5 ways you can give your partner the gift of financial security:
1. Have that talk
It can be awkward to talk about money, but it's important to have frank and honest discussions about finances and your shared goals.
If something were to happen, would your partner know the details of how to access your current account? Make sure your loved one also knows where the important information is kept in case they need to access it. Consider going through the relevant documents together and then storing them in a safe or similarly secure location that your partner could find and access in an emergency. Think of it as another gift to your partner, because you're sparing them additional stress in what would likely already be a difficult time.
2. Update your pensions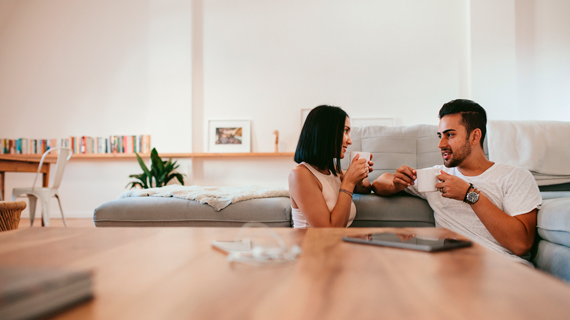 How will you fund your golden years? And what will happen to your spouse? 1 in 4 of us don't have our partner listed as a beneficiary of our pensions – that's who will benefit from it after we die 1.
"You know who your loved ones are, but your pension company may not," says our Head of Savings and Retirement Alistair McQueen.
"And that's where an expression of wish, nomination, or beneficiary form comes in. Despite their various names they all do the same thing.
"They allow you to tell your pension company who you would like to receive your pension upon your death. You should keep this instruction up to date," he says.
If your pension company doesn't have instructions, the company will consult with the executor of your estate to decide who to give the funds to. This will usually be your closest relative, but there can be complications and delays.
"Taking 5 minutes to update this simple form could make a huge difference to your loved ones in the years to come," says Alistair. If you have an Aviva pension, you can update it through MyAviva in minutes.
3. Give your partner legal rights
Another area where marital status makes a big difference is access to bank accounts and property if something should happen to you or your partner. 
Property will automatically go to your next of kin – which could be a parent, sibling or other blood relative – unless you specify in your will that you want it to go to your significant other. That includes money and pensions. "After property, a pension will be the biggest financial asset for many people," reminds Alistair.
You may also want to set up a Lasting Power of Attorney in your partner's name that would allow them control of your financial accounts if you become seriously ill or mentally unfit – this could save you and them a lot of upset at a difficult time.
Remember that 'common law' marriage doesn't exist in the UK, so even if you've been together for a very long time, that doesn't make a difference.
4. Take advantage of tax benefits
The government gives married couples some income tax relief through the Marriage Tax Allowance. If one of you earns less than the current personal allowance – the amount you can earn without paying any tax – you can transfer some of that tax-free allowance to the other. That allows the pair to save up to £238 on their joint tax bill for the year. Although this is called the Marriage Tax Allowance, you can also claim it if you're in a civil partnership – but not if you're just living together 3.
Since April 2016, all basic-rate taxpayers have been able to earn up to £1,000 in interest on savings – this is called the Personal Savings Allowance (PSA). If you think you may go over this amount and your partner won't, consider putting some savings in your partner's name. If you hold a joint account, it's assumed that the interest earned on it is split 50/50 4.
5. Think about life insurance
It's not nice to think about, but what would happen to your dependants if something were to happen to either you or your partner? This is important if you have a mortgage, and even more so if you have children 5.
Life insurance can cost as little as £5 a month. You can also consider getting a joint life insurance policy, though you may not be able to divide this policy later if you break up.
Although it might not be fun, making sure your partner has a financially secure future is one of the most loving things you can do for them. If you're thinking about taking your relationship to the next level (we're talking shared bank accounts) read our articles on how to combine finances as a couple and how to have a stress-free and fair divorce or separation.